With his newest collection, Close to Home—his first since 2019's Everywhere From Here—artist David Wilson offers a peek at those final, pre-COVID days. In the poignantly titled "Come Back to Me", Wilson's vibrant acrylics capture the Stanley's grand marquee as it presides over a rain-slicked South Granville Street, still busy with traffic and—typical to the artist's often-waterlogged work—hunkered pedestrians clutching their umbrellas.
"It's a world that, despite its many monstrosities, seems a little bit whimsical now," says Wilson. "It's a place that, in spite of all of its shortcomings, doesn't seem so bad."
For perhaps the first time in modern history, our experience under COVID-19 is truly universal. With two immuno-compromised family members in his own home, Wilson had especially concrete concerns in those early months of the pandemic. He was used to "uncertainty," but nothing on this scale.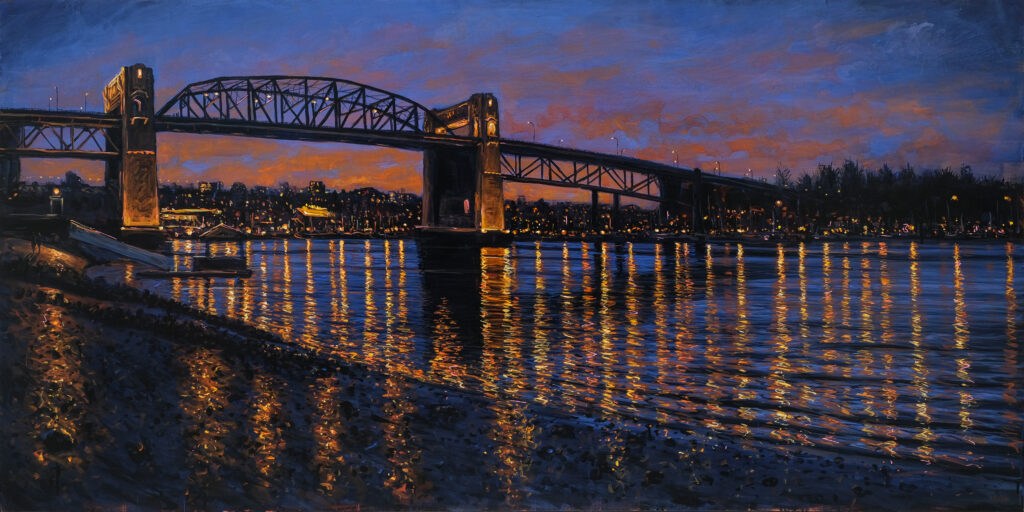 "As the news raged about COVID's ability to spread with impunity and overwhelm populations in great numbers, the thought of making art seemed so trivial, perhaps even a little bit self-indulgent. It was the first time in many years that I did not feel inspired to create. My thoughts were consumed by the crisis at hand and its implications for me, my family, my community, and the world at large. So, I stopped for a while and watched and listened. COVID created a concentrated time for introspection. Not just for me but for all of humanity."
Mercifully, inspiration returned. As such, desire and reverie mingle in Close to Home. With an unknowable future, Wilson turned to the past, emerging from a familiar cycle of grief and despair to find solace in a trove of old photographs. "Feels Like Only Yesterday" takes us back to a thriving Granville strip at night. "A Path Through the Sea" pits the Burrard Street bridge against a twinkling Fairview at dusk, suggesting a city pregnant with energy. That same landmark is given a chilly, vivid rendering in "The Wind in Our Faces." In all cases, Close to Home feels like an attempt to time-stamp the tone of pre-COVID life in Vancouver.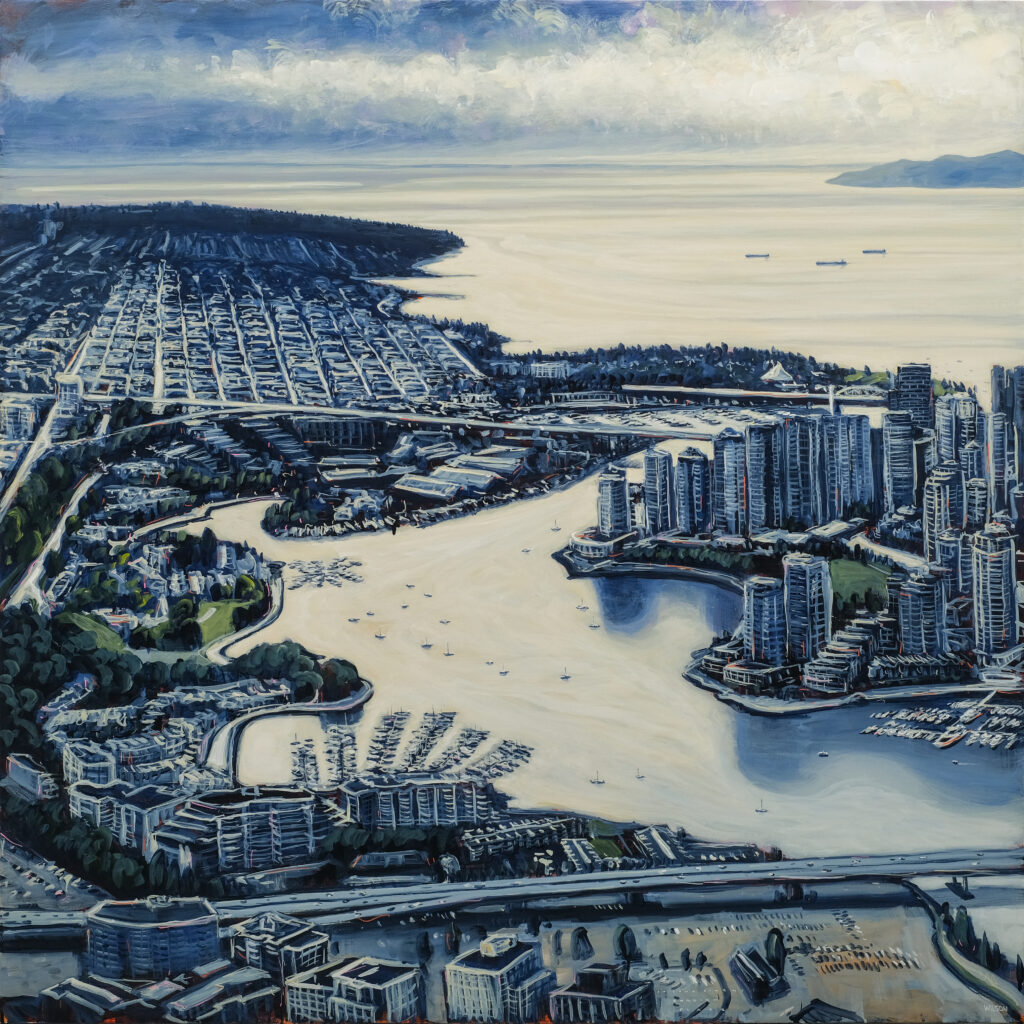 "So much of my work is about the place I occupy, where I live, or where I have been. It's less about being a literal visual documentation and more of a synthesizing of what I am feeling about the time while I was there. It's a very strange alchemy of representation, memory, sound, smell, and feel as I work through those moments that eventually coalesce into something tangible and visibly recognizable. And so, the idea of creating work that spoke to the present and the past, the new and old, seemed to fit into the workings of my mind as both an artist and an individual living through a global pandemic."
As yet another reminder of an extraordinary moment in time—and in observance of the Kurbatoff Gallery's health and safety protocols—there will be no exhibition opening for Close to Home. Let's refer, then, to one of Wilson's favourite quotes, via Woody Allen, to sum up this and every other feature of the New Normal: "If you want to make God laugh, tell him about your plans."
Event: Close to Home: New works by David Wilson
Exhibition Dates: Oct. 1 – 22, 2020
Venue: Kurbatoff Gallery, 2435 Granville Street, Vancouver
Temporary Gallery Hours: Tuesday to Saturday 11 am to 5 pm and Sunday noon to 4 pm
Info: www.davidwilson.ca / www.kurbatoffgallery.com