By Kristin Lim
As you walk into Charles Campbell's exhibition, An Ocean to Livity, at Surrey Art Gallery, the immediately audible sounds of breathing captivate your attention within the dimly lit space. "Livity" is the Rastafarian word that refers to the energy or life force that flows through all living things. Here, through sound installations and sculpture, Campbell gives Black breath presence and space, and uses it to journey into the past and future.
A Jamaican-born, Victoria-based artist, writer, and curator, Campbell's work has explored various aspects of Black history, particularly those connected to the Caribbean, over the last thirty years. He has shown internationally at institutions such as Pérez Art Museum Miami, Brooklyn Museum, Havana Biennial, Santo Domingo Biennial, and, in Canada, at the Vancouver Art Gallery, Art Gallery of Ontario, and Wil Aballe Art Projects. For his latest exhibition, curated by Surrey Art Gallery's Jordan Strom, Campbell expands on previous bodies of work, investigating both the history of slavery in Jamaica and Black identity in the here and now.
Dominating the gallery's central space is Maroonscape 3: Finding Accompong (2021)—a 17-foot tall tree sculpture, made of wood and metal, forked at the trunk, with branches reaching to the sky. The tree references an ancient tree in a forest near the artist's home in Victoria, and simultaneously a tree in a village in Cockpit Country, Accompong, Jamaica, where Maroons (escaped slaves), fought for and won their freedom. The accompanying audio component of gentle nature sounds—rain drops, birds chirping, a flowing ravine— are interspersed with the continued sounds of inhales and exhales, which are in fact, in binary code. If deciphered, the sounds spell out: "the breath that will be taken."
On the deep purple gallery walls surrounding the tree is a series of long, narrow rectangular lightboxes, glowing in a spectrum of colours like stained-glass windows. Titled Breath Portraits (2023), each lightbox is a spectrogram—a visualization of sound—capturing less than one-hundredth of a second of an individual's breath recorded for the Black Breath Archive project on view in the adjacent gallery. No two portraits are identical.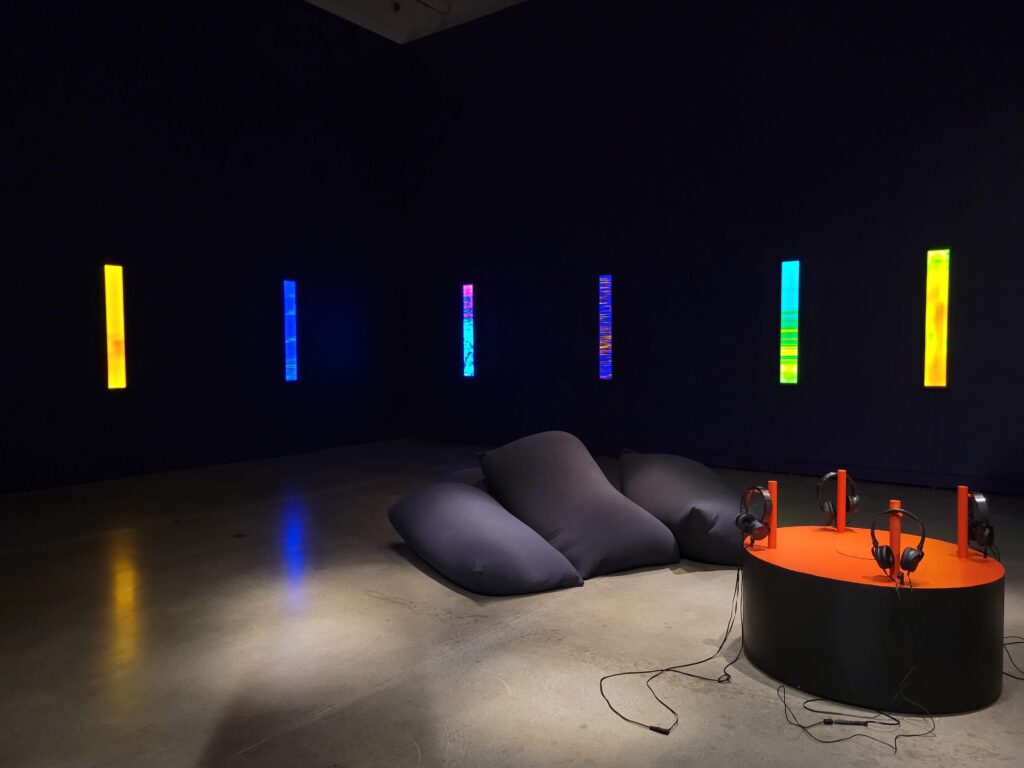 In the audio work, Forest Paths of Ocean, 2023, visitors are invited to sink into beanbag chairs, put on headphones, close their eyes, and follow a guided sensory experience that invites a connection with breath, and a recollection of an ancestor or memory. These are the same prompts as those given during recordings for the Black Breath Archive. Pauses are filled with ambient ocean sounds that grow stronger and stronger as the journey continues, bringing greater awareness to your own breath and body.
Finally, in the adjacent gallery is Breath Cycle 1 (2023), a sculpture referring to the cycles of inhalation and exhalation. The Möbius form made of aluminum, with details outlining lichen, symbolizes the cyclical aspects of life. As you circle the work, the 6-channel audio installation, Black Breath Archive (2023), fills the space with the powerful sound of breath recordings from over 40 Surrey and Lower Mainland residents, including artists and cultural workers, who lent their breath to the project.
West Coast Curated: Much of your work stems from exploring the history of slavery in Jamaica. What struck me about the exhibition was the connection to the West Coast—through the very familiar rainforest sounds throughout the exhibition and references to the local natural landscape. Why was it important to you to weave in elements of the West Coast of BC?
Charles Campbell: One of the fundamental premises of Ocean to Livity is that we carry our history and ancestors with us wherever we find ourselves. This is literally true when we consider our genetic legacies and epigenetic memory but it is also a spiritual truth. So a tree in Jamaica becomes the coastal rainforest, the Salish Sea becomes the ocean which carried my ancestors in chains between continents, and a local salmon stream becomes that which crossed a forest path in West Africa. It's the syncretized experience that you see everywhere in Black Diasporic cultures. The continual efforts to erase and displace us can only result in reinvention, reconstruction and re-inscription.
WCC: In your 2020 solo exhibition at Wil Aballe Art Projects, as it was, as it should have been, the sculptural work Maroonscape 1: Cockpit Archipelago, took the form of a relief map, showing the ridges, hills, and deep valleys of Jamaica's Cockpit Country. Here in Maroonscape 3: Finding Accompong, the series shifts to this dominating, large-scale, free-standing tree sculpture. What informed this shift?

CC: The scale of these works is primarily derived from my relationship with their referents. Each time I return to Jamaica, there is a moment as we fly over Cockpit Country when the tension in my body releases and joy begins to rise. Home. So Maroonscape 1, Cockpit Archipelago's form is based on that bird's eye view.
The scale of Maroonscape 3: Finding Accompong reflects my relationship with trees. I'm fortunate to live in relative proximity to some centuries-old giants and to regularly be in the presence of their accumulated wisdom. Although the work references a specific tree in Maroon territory, I see it in relationship to these ancient beings as well.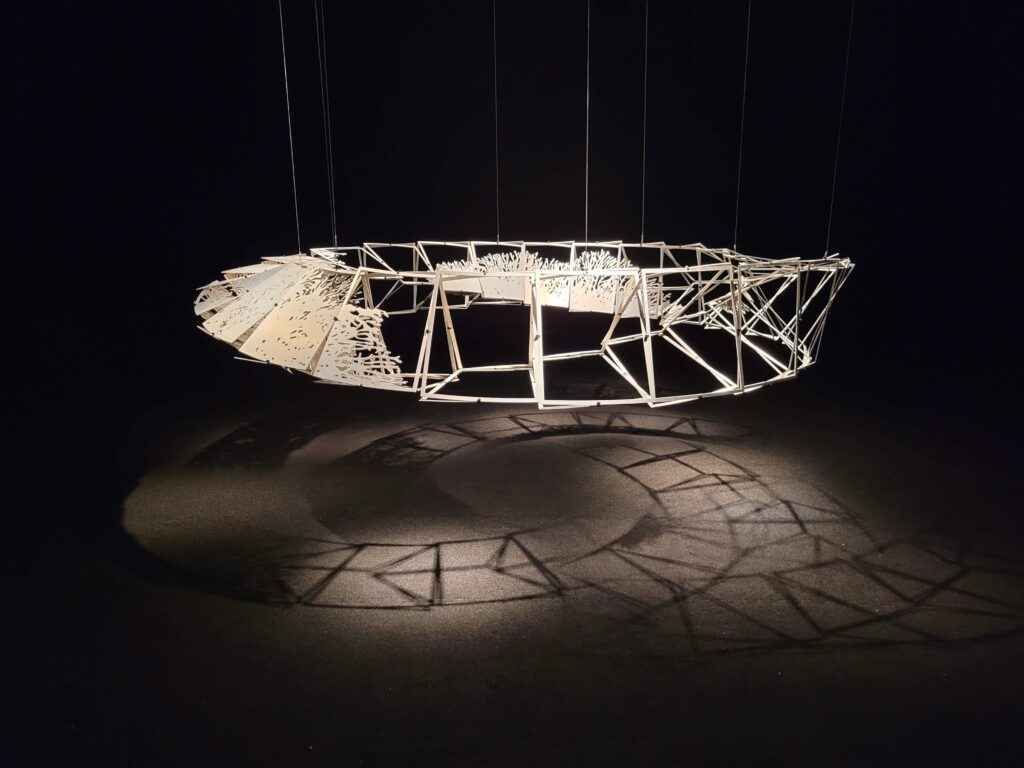 WCC: Black Breath Archive, the audio installation, was developed out of a previous work, Black Breath Spectacle— a 2021 performance and gathering at the Vancouver Art Gallery and later exhibited at Surrey Art Gallery in 2022. Can you share a bit about what you learned from the previous performance work and how that informed Black Breath Archive?
CC: With Black Breath Spectacle, I wanted to bring our breath into the gallery to assert our presence as a subtle disruptor, but I was still thinking of breath in fairly generic terms. What struck me while recording the breath was its variety, how it conveys our history and experience, our genetic legacy and current state of mind. There was also an immediate intimacy that arose out of just sitting and listening to someone's breath. In all honesty, I wasn't ready for this at the time, but when I began Black Breath Archive, I more consciously worked with these elements. The prompts for the recording were aimed at getting people to inhabit the embodied experience of their ancestors. I also wanted the connections that the recordings engendered to extend beyond me, and we worked with an outstanding young Black media cooperative, DDB Media, based in Surrey, to conduct many of the recording sessions. The aim was to expand the web of relationships the project created.
WCC: Through Breath Portraits and Black Breath Archive, you present portraits of individuals in our community through breath. They are intimate and personal portraits without ever revealing or focusing on the individual's face. Can you speak a bit about your choice of portrayal using colour (the lightboxes) rather than, for example, a photograph? 
CC: My practice largely eschews imaging Black bodies as a way to avoid the overdetermination of Black identity, so my instinct is always to look for other modes of representation. The work with the spectrograms began with the Surrey exhibition of Black Breath Spectacle, and was a way to visualize the sound of a community breathing together. With Black Breath Archive the focus was on the nuances of an individual's breath, and the idea of a photographic portrait. Capturing a moment in time became a jumping-off point for creating the Breath Portraits. When you zoom into sections representing one-hundredths of a second, the spectrograms become completely individuated, and, rather than showing general patterns of inhalation and exhalation, they reveal the specific character of breath at that moment. Collectively I think of the portraits as a gathering of spirits, and there is something enjoyable about turning something fundamentally corporeal as breath into light.
Charles Campbell: An Ocean to Livity continues until June 4, 2023.
Join the artist for an exhibition tour on Saturday, May 13 from 2:00-3:30PM on the ideas, histories, and experiences behind the exhibition.
Visit surrey.ca/arts-culture/surrey-art-gallery for details.

Surrey Art Gallery: From Surrey Central or King George SkyTrain stations, take the R1 Newton Exchange or 321 bus to King George/88 Ave and walk five minutes to Surrey Arts Centre.