By Harriet Goodwin

*Cover Photo by Rachel Topham Photography
The work of Emilie and Mike Fantuz explores how the cities we live in and the places we choose to travel to shape our lives, and how we, in turn, shape each place as well. Both artists share a love of travel, constantly seeking new experiences and connections. Gaining a new perspective on the world at each locale they visit, their exploring also reiterates how they feel about where they live.
Having most recently moved to Vancouver from Langley, the couple's work reflects their journeys from place to place, documenting the many different cities that have shaped them as people. The globally inspired sense of home that exists in their paintings seems to be something that their audience appreciates too, as international buyers of their pieces have hailed from the UK, France, China, Cayman Islands, Switzerland, Norway, Italy and the Netherlands.
Earlier this year, the couple opened their bright, spacious new studio live/work space in Mount Pleasant, welcoming a group of art enthusiasts from the Curated Tastes gallery hop tour to mark the occasion. Walking through the studio, it wasn't just the art that inspired, but also the hospitality and generosity that we, as part of the tour group, experienced there. The space is available to view by appointment, and we highly recommend checking it out!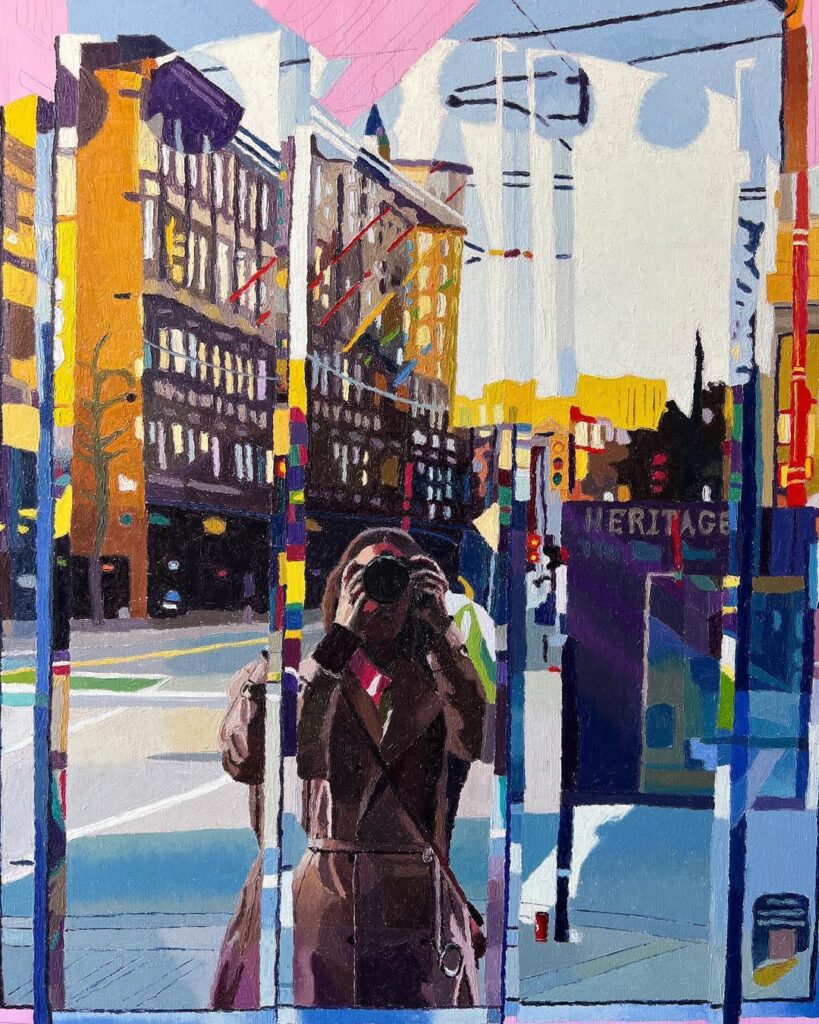 Their latest exhibition, for which they have been working on pieces over the past year, is called Places We Are Found. Each piece depicts urban scenes of St. John's – the capital and largest city of Newfoundland and Labrador, which (unfortunately for us Metro Vancouverites) is also where the exhibit is located (at the Christina Parker Gallery).
 St John's is where Mike grew up, so the paintings have an embedded sense of the nostalgia he experienced when returning home, taking notice of the things that had changed in his absence. Emilie's paintings of St John's, on the other hand, capture the wonder and excitement of experiencing a city for the first time.
While they work separately, their work has many commonalities- a key one being their technique of using a palette knife to paint with oils. The show's title contains a certain poignancy as the couple met serendipitously on Instagram through their love of using that particular painter's tool, via the hashtag, #paletteknife. We know, very romantic (and niche!). 
Normally, palette knives are used to mix colours, but using them as tools to create heavily textured marks representing light and movement was a process that each artist picked up independently, from the legacy of an influential elder. 
Mike inherited his palette knives from his artist grandfather, while Emilie learned the technique from living in Kauai, Hawaii, where she was introduced to the technique by a senior mentor.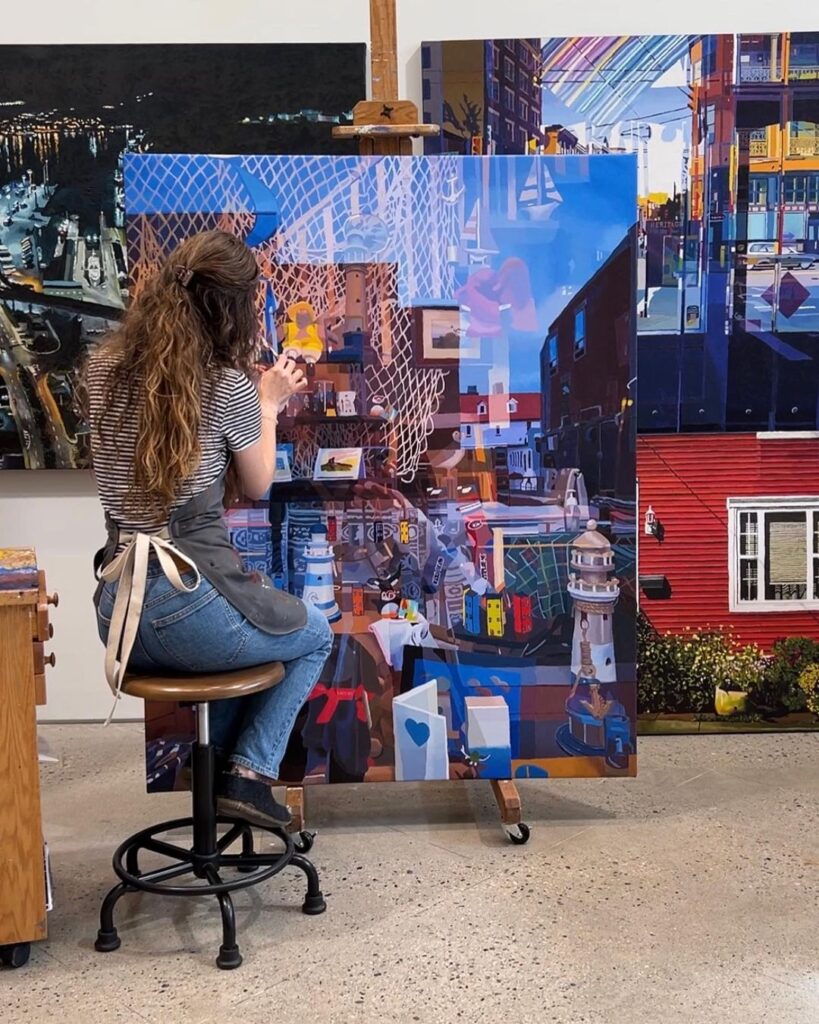 Their studies of urban landscapes are very complementary, so much so that galleries only represent the artists as a pair. Their large-scale, colourful scenes give us a snapshot of a moment captured in time within ever-evolving cities. Mike explores the macro, zooming his frames to display the relief of the land, the vastness of cities and how they're bordered by coastlines or shaped by rivers and hillsides. Emilie leans into the micro details- reflections of herself in store-front windows, immersed in the city. Standing alone, she captures these still moments despite the hustle and bustle surrounding her. In both cases, there's a tangible sense of time slowing down. With the hyper-realistic style that both artists use, it allows viewers to imagine themselves right there sharing the experience.
Mike has a background in aviation, so it makes sense why the landscapes and cityscapes captured in his paintings are from a bird's-eye-view. He has worked as both a pilot, flying skydivers in northern British Columbia, and as an air traffic controller in Newfoundland. His love of geography, maps and landscapes has influenced his work, and he uses drones and aeronautical charts to achieve this perspective. Contrasting Mike's point of view, Emilie's reflections in the cityscapes hint at the anonymity of living in an urban area. She is drawn to diverse lighting, especially at night, the beauty of everyday scenes, and her sense of presence in every spot she visits.
Their new studio, Fantuz Artworks, is located at 237 E 4th Ave and is available to view by appointment. We're excited to watch how their move to Vancouver will inspire their new work!
For more information about both artists, visit their site here: fantuzartworks.com

Fantuz Artworks: From Main Street-Science World Station Skytrain Station, take the #19 Kingsway/Metrotown Station to 6th Ave. It's a short walk from there!
To easily plan the route for your next artistic outing, you can use the 
TransLink Trip Planner
.