*Cover image by Lula-Belle Jedynak
Cobalt & Crone features two performer/choreographers, separated by three decades, each exploring the physicality of time passing and the accompanying sense of self that either develops or fades.
A production by Dumb Instrument Dance, each intimate performance is separated into two halves. First, Cobalt by Shion Skye Carter, followed by Crone performed by Ziyian Kwan.
With the two pieces, audience members get a pair of contrasting but ultimately complimentary perspectives on the curiosities of transforming with age. Kwan's performance, based in improvisation, has a fluidity that acts as a form of visual poetry, while Carter performs her own set choreography. With that, there's a wonderful sense of progression between the two pieces, almost as if Carter's locked-in moves act as the expectation of life, while Kwan, the more senior of the two dancers, shows the adaptability that comes with finding a firm footing.
Speaking with Kwan about the show, it's clear that the concept of getting older isn't something that's making her settle down. "I reject the notion that any person has a best-before date… This performance is not a closing statement, but it is an opening to change." While there's a sense of poetry to her work, there's also an element of the literal, as she navigates each move as it comes. "I'm thinking about aging as movement through time that includes loss, and requires courage."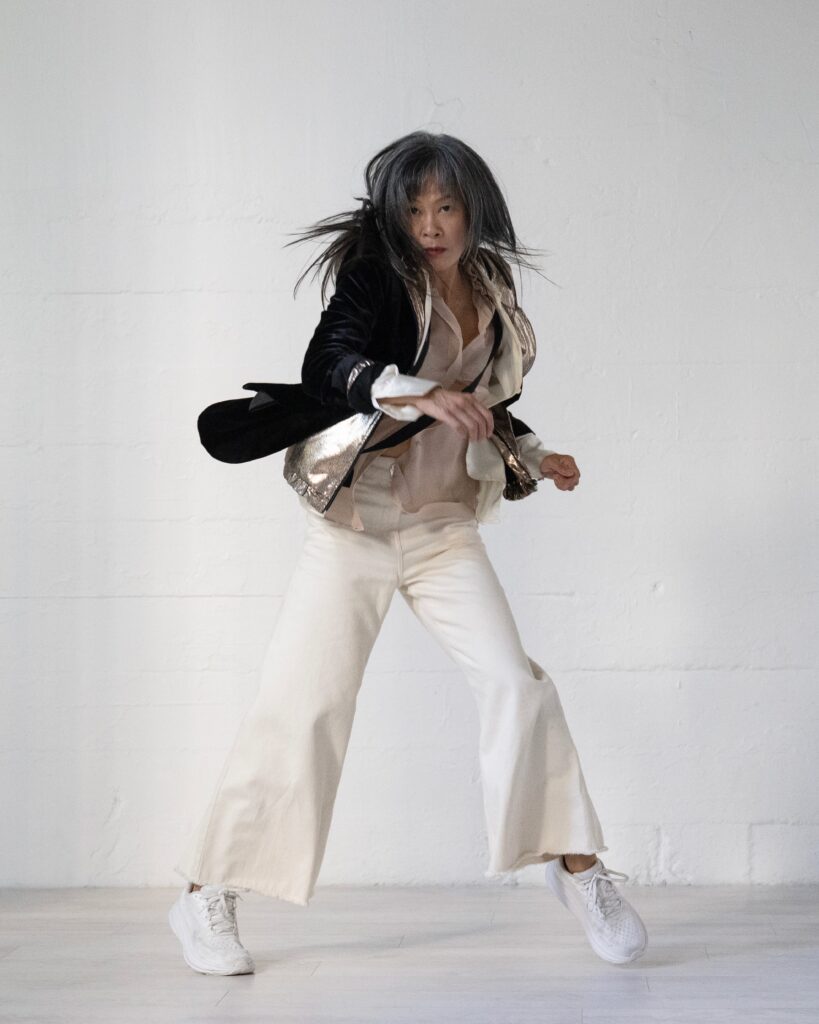 To accompany these intimate themes, the audience itself will be limited to 25 people per performance- making each piece feel all the more personal. As if Kwan and Carter want to share their stories with YOU, not just an audience en masse.
While Kwan explores being present with the uncertainty of the years passing, Carter touches the same sentiment from the standpoint of life being wide open and all the more scary.  Each year bringing harsher forms of criticism from a culture obsessed with appearance. Carter acknowledges how these often toxic ideals can create an echo chamber internally. "Cobalt reflects the vibrant pigmented abundance that I strive to feel in my body," her artist statement reads. "…a body that I constantly scrutinize and critique; a body that doesn't always feel like home."
Cobalt and Crone began as Kwan envisioned a joint performance about these themes, but needed the right co-performer to make it work. "I invited Shion because I admire their work and want to support their artistry as a very talented creative whose aesthetic I jive with." There's a tangible sense of encouragement in Kwan's words that, while we may face tumultuous times in the future as we get older, there's always comfort in telling our stories to each other.
"I love that both approaches are valid and exist side by side. To me, it's a metaphor for the fact that human beings can co-exist on common ground with myriad differences."

Choreography and Performance: Ziyian Kwan, Shion Skye Carter
Music: Stefan Nazarevich, Jo Hirabayashi
Cobalt & Crone runs from Sept 20 – Oct 1, 2023
At Morrow in Downtown Vancouver (910 Richards – Suite 204)

For more info, or to book your tickets, visit: dumbinstrumentdance.com/2023/08/13/cobalt-crone

Morrow: From Waterfront Station, take the Canada Line to Vancouver City Centre. It's only a 5 minute walk from there!
To easily plan the route for your next artistic outing, you can use the TransLink Trip Planner.