When I finished my chat with Vancouver artist Marion Webber about her upcoming show "Sky Cathedrals and Other Stories", I was struck by how time seemed to have flown by when I finally looked at the clock.

Throughout our talk, we often meander off-topic, getting into discussions about where inspiration comes from, and how art has evolved across time. From taking me through the Belle Epoque period to the shift into Art Nouveau, Webber lets muses fly as I wonder how we got to our most recent tangent. I quickly learn that this is someone who has an overwhelming sense of inspiration, and I had better remember to stay on topic. Webber has been expressing herself from the time she was a child right into her first professional steps. After retiring from 25 years as a graphic designer, and ten years as a marketing management consultant, she rediscovered her first love: painting.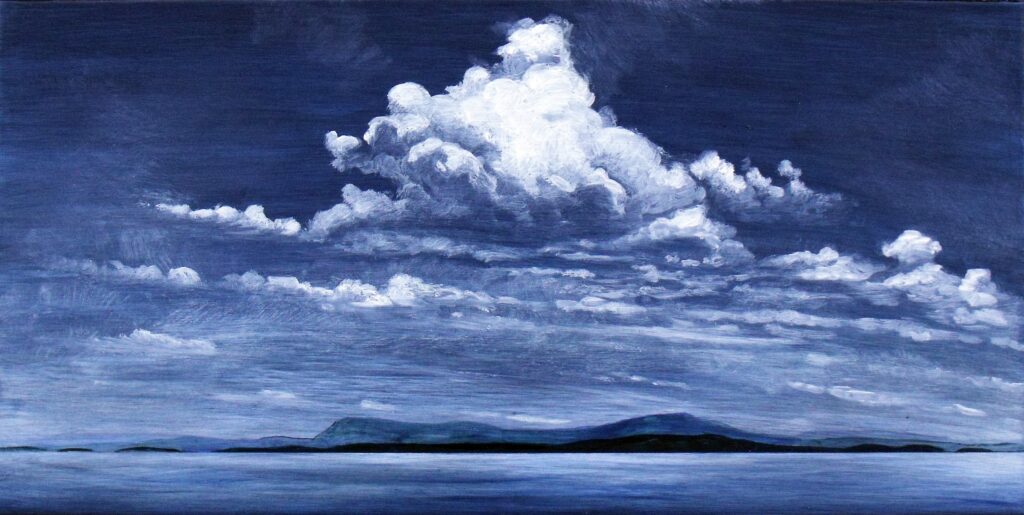 Though 'Painter' seems to be too narrow of a title for Webber. She is also a teacher – leading drawing, oil painting, and mixed media courses – while also undoubtedly being an art historian. With every painting and philosophy reference that flies by, I get an insight into the creative momentum feeding her work. Her passion comes as a stark contrast to our current time when the pandemic has ground many artists' output to a halt.
Despite my first assumption that the shutdown wouldn't have curbed her momentum, she tells me that the first few weeks were incredibly hard. "Initially, I was crushed and very depressed. Mostly just scared about how I would survive. But I accepted where I was emotionally and rode the feelings through until I felt I could work again."

Tenacity and adaptation are themes pervasive throughout our talk. Webber has faced struggles in pursuing an artistic career, but I get the sense she is facing her next phase with the optimism of someone used to adapting. The next phase being, how to navigate what we're repeatedly told is "the new normal."
Even before the pandemic, Vancouver's art scene was seeing the disappearance of more and more display spaces, leaving artists and curators wondering about the community's future. Perhaps in the online shift towards micro-experiences, attending a gallery in-person looks like an unnecessary trip, seeing as you can scroll by the entire exhibit in the blink of an eye. Webber's "Sky Cathedrals..", which opens on Sept 11 at the VisualSpace Gallery, seeks to fill that void of sensation. Instead of giving only passing glances to pieces and moving to the next distraction, Webber is challenging her audience to take a moment and consider their thoughts about each piece.
"We're at risk of losing spaces for people; losing those important conversations, those debates with each other in person about a piece. Our mechanistic world allows us to move and connect far faster than even 30 years ago, but what have we lost in the transition? Intimacy."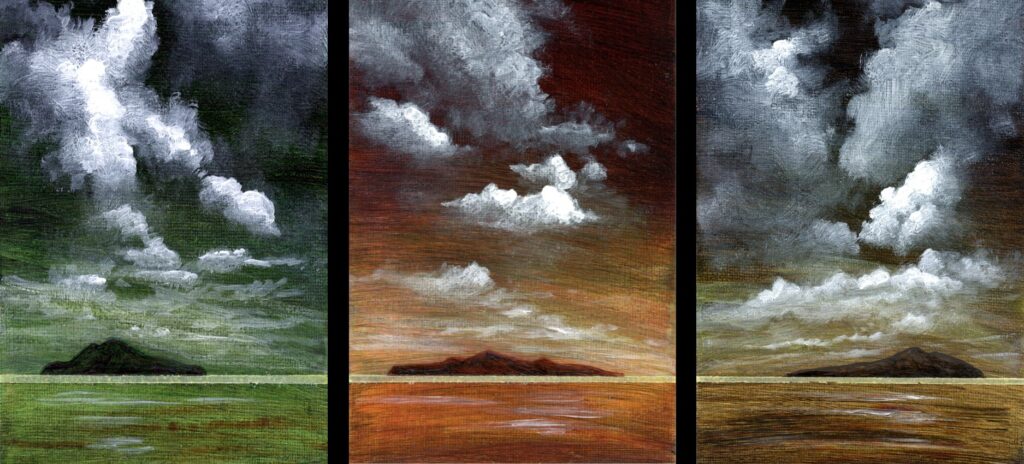 The nature-focused exhibition (which will be socially-distanced with masks encouraged) is one of the few that has opened since the shutdown began. For Webber, she sees it as a chance for people to reconnect with a visceral, physical (if distanced) experience. The pieces themselves offer a natural reprieve from being sheltered indoors. The Sky Cathedral series are grand portraits of vaulted clouds soaring with a sense of openness that seems completely foreign right now. It's her sense of scale that gives a glimpse into Webber's affection for nature. An affection that's given her an understanding of natural beauty and how it can act as a means for survival.
"When I went out for walks when I was a child, it was a place of calmness, an ability to focus on just being. So it gave me a lot of inspiration to create." Communicating the beauty she found in nature became a driving force behind each canvas. "Beauty is about survival and sustainability. Flowers, for example, were created to maintain a species of plants. Colour and camouflage in plants and insects are to guide them towards helping them evolve." It's a lesson in adaptation that Webber's work seems to embody. Her goal of getting people to experience the nurturing inspiration of beauty in-person rather than through the dim glow of a 2D plane shines through in every canvas.
If this is going to be the new normal, then Webber is ready to teach us how to adapt.
Preview more work by Marion Webber: mwebberart.com/home.html

Sky Cathedrals is on from Sept 11 – 21 2020, 12pm – 6pm everyday.
Located at VisualSpace Gallery
www.visualspace.ca
3352 Dunbar St, Vancouver, V6S 2C1