It feels a bit weird to issue a spoiler warning about a gallery show. But we had the benefit of going in 100% blind to the Polygon's current exhibition, Phase Shifting Index by Jeremy Shaw, and honestly, it completely enhanced the experience.
Spanning roughly 20 minutes, the show reaches an incredible moment near the end of its cycle. To fully appreciate the level of technical balance that Shaw and his team have accomplished, though, you really have to go in without any outside knowledge. So consider this your final flag before we dive in!
Originally staged in France in 2020, this marks the first time the exhibit has been shown in North America. It's a fitting premiere, as Shaw originally hails from North Vancouver.
The show uses seven massive screens, showing video of what seems to be archival footage. Each one is a featurette on a specific dance group, with members talking about their processes, warming up, and moving together.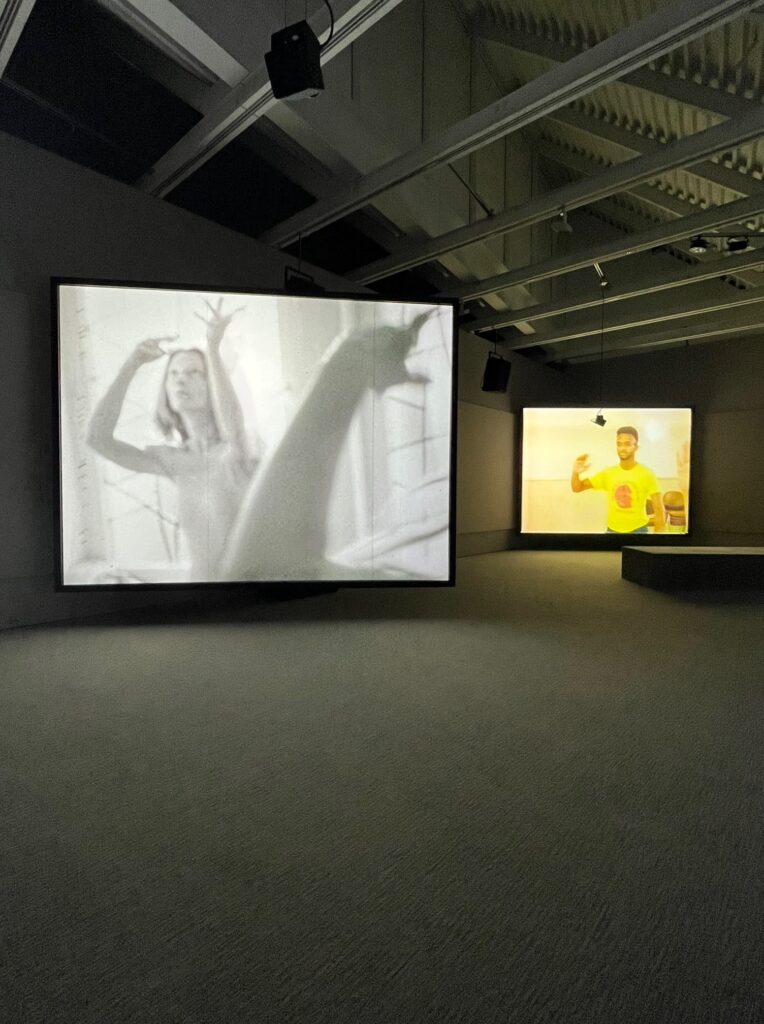 Taking in each stream, it's almost as if the troupes are the subject of old community spotlight programs that have since become fair use in the public domain. VHS tracking lines blur the edges of the frame as a breaking crew pops and locks, while on another channel, grainy black and white footage captures a line of athletes doing synchronized exercises in a gymnasium.
The setup itself can be a bit overwhelming. Each video runs in its own time, with audio overlapping and no consistent form or aesthetic between them. It's as if each one was created by a different videographer, in a different city, at different intervals over the past 100 years. It's a bait and switch that Shaw and his crew use to get viewers on their backfoot, thinking it's all just a presentation of random media.
But then things start to change. First, it begins with recognizing that some of the choreography in each video looks familiar. Then before you can realize what's happening, every dancer across every channel is performing the same movements. It's a stunning moment. What you think is disembodied content is actually pieces of a whole. The dancers begin to move across all screens, and the gallery lighting changes as the once subtle soundscape builds to a thunderous crescendo. Oh, and then there's an explosion of colour that fills the entire room.
It's hard to even describe the sensation of seeing it for the first time. Have you stepped into a rift in time? Are you witnessing a tear in reality? However you describe what happens, Shaw's technical artistry is a staggering feat to witness.
Seeing the show with a room full of strangers, this second half acts as a funnel for attention. Where at first, you're all viewing separately with split focus, you're eventually all led into one collective viewpoint. Being part of a moment like that, where everyone puts aside their distractions to share in one experience, it's well worth the price (by donation) of admission.
Phase Shifting Index runs until September 24, 2023
For more information, you can visit thepolygon.ca

Polygon Gallery: From the Lonsdale Quay Seabus Terminal, you can walk East along the water, and you'll be there in less than five minutes!
To easily plan the route for your next artistic outing, you can use the TransLink Trip Planner.