By Kristin Lim

While Capture Photography Festival, which was my social calendar for the month of April, has officially ended, its public art installations will remain on view through the summer and well into 2023. At Canada Line and Skytrain stations, on billboards, and on the façade of the BC Hydro Dal Grauer Substation, each piece presents the perfect opportunity to take in some outdoor art as the days grow longer and the weather warms.
Founded in 2013, Capture Photography Festival celebrates photography through numerous exhibitions at galleries and institutions in Vancouver and beyond. Its public art program has been a highly-anticipated component of the festival since the beginning, also allowing for collaboration with other organizations. As Capture's Assistant Curator Chelsea Yuill explains:
"Capture's vision is to connect Vancouver to the world through lens-based art. I think we do that successfully with our public art program by highlighting a diversity of lens-based practices from local to international artists. We don't program all the stations, many of them are collaborations with other non-profit organizations! For example, with the King Edward Canada Line Station, we do an open call for submissions with Booooooom in the Fall."
You may have noticed brightly coloured, glossy images of fruit, food, and recognizable objects at Canada Line stations since April. This year's theme of still life—artwork that incorporates inanimate objects —provides a sense of cohesion for the nine sites, from Waterfront Station in Vancouver to Lansdowne Station in Richmond.
Here are 6 public art installations to visit, beginning with Yuill's favourite:


Michelle Bui, Mutable Materialism
Yaletown-Roundhouse Station
Through August 31, 2022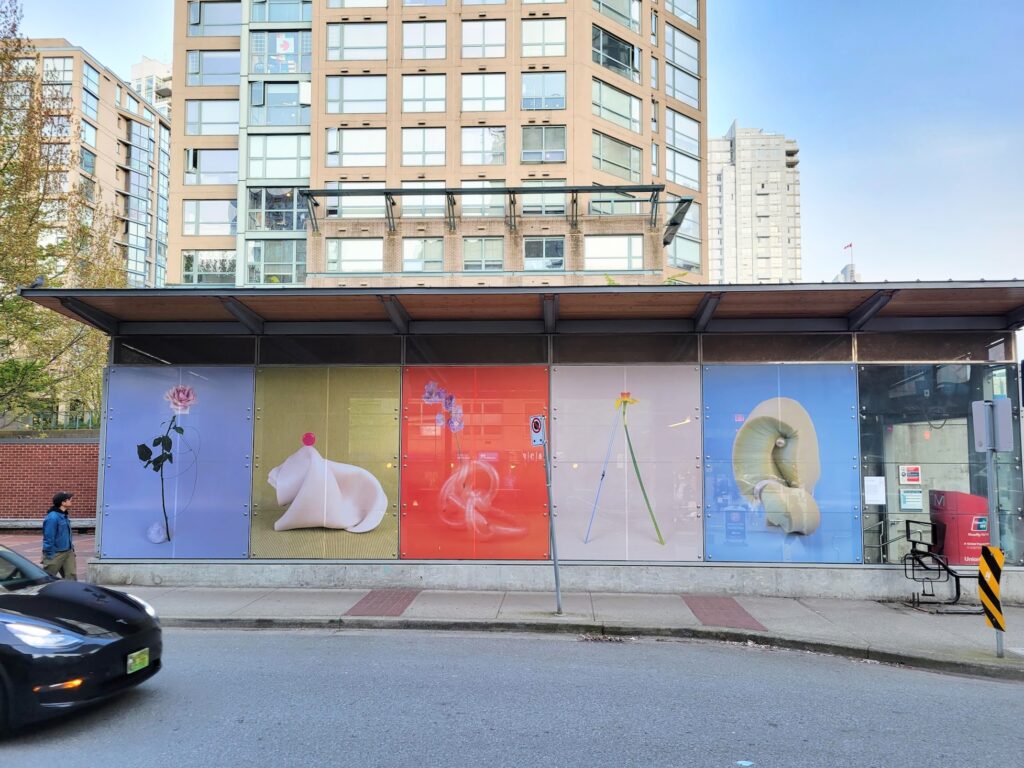 When asked if she had a favourite work along the Canada Line, Yuill answered:
"Each station expands the idea of the still life genre so it's a hard choice! If I were to choose one it would be Michelle Bui's Mutable Materialism at Yaletown-Roundhouse Station. This is Michelle's first public art project that showcases vibrant yet unsettling arrangements of everyday objects against eye-catching backdrops. The print quality is exceptional, and the effect of the larger-than-life installation creates a feeling that the station is wrapped in a cloth, almost like a veil. It fits in well with the architecture of the site."


Joseph Maida, Things "R" Queer series
Olympic Village Station, Vancouver
Through August 31, 2022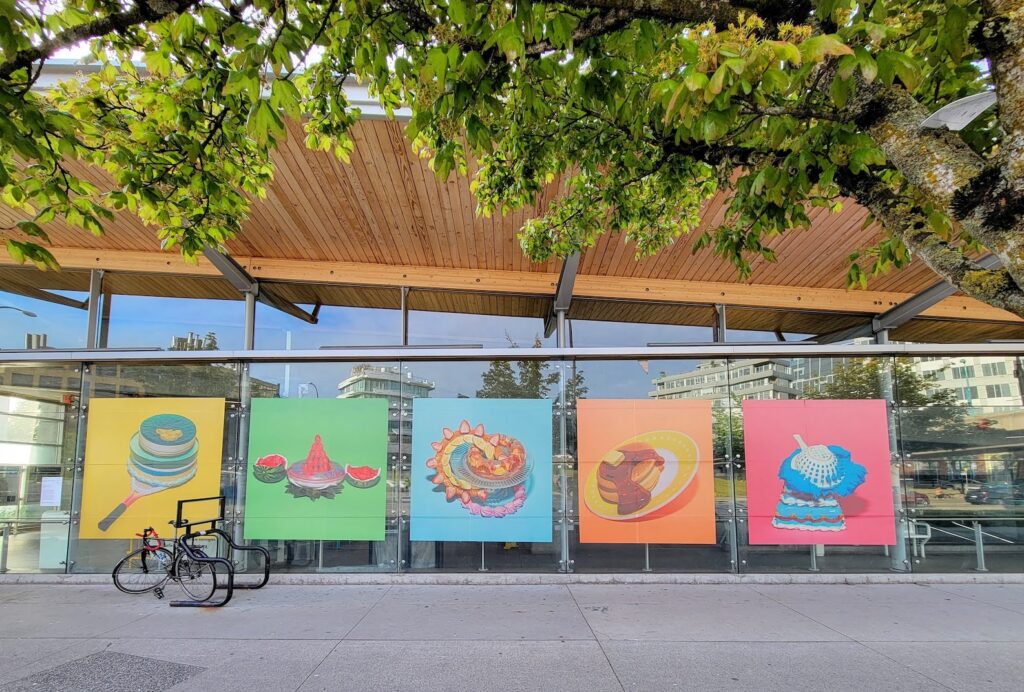 One of the works I've been passing by every day is Joseph Maida's colourful series of photographs of 1970s-style jello fruit salads, pancakes, and other combinations of (artificial) food and objects. The series began as "a photo a day" project for Instagram and references food porn, Japanese kawaii culture, and ads so easily distributed and consumed on Instagram. Yuill provides a bit more context:
"This series is inspired by American artist Duane Michal's Things are Queer series from 1973, which is a short narrative piece that queries the truth of photography by using different tricks like scale and perception to reflect how the world is known only through representations, much of which are fragmentary and in this way, queer. I think it's very interesting how Joseph takes up this idea, especially in the context of creating artwork specifically for Instagram."


Svava Tergesen, Crudités series
Marine Drive Station, Vancouver
Through August 31, 2022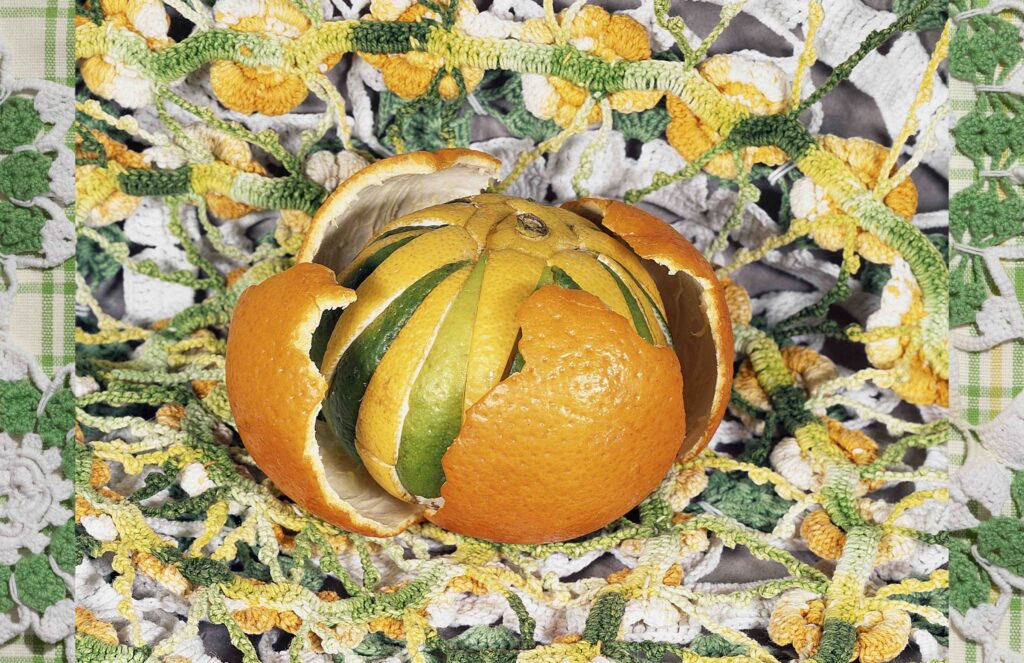 For her Crudités series displayed at Marine Drive Station, Svava Tergesen uses fruit such as citrus, melon, and squash for their texture and colour, by cutting and arranging them into ornamental and geometric patterns. Much of the produce was sourced at nearby T&T Supermarket and recalls vintage recipe cards, and domestic textiles like doilies. This installation is curated by Andrea Valentine-Lewis, Gallery Manager, Burrard Arts Foundation. Tergesen has shown at Polygon Gallery, had her work featured on transit shelters across Vancouver, and currently has work on view at Telephone Gallery until May 21st.
Chad Wong, Empty Spaces that Fill My Heart
Aberdeen Station, Richmond
Through February 28, 2023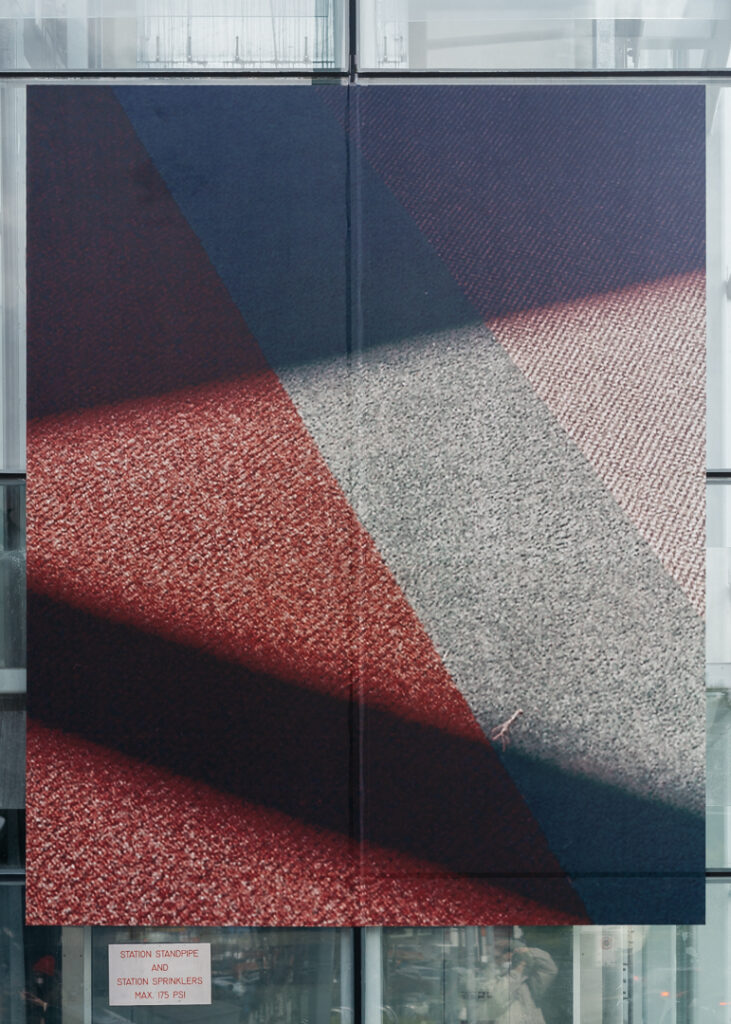 Two large images by photographer and installation artist Chad Wong flank the entrance to Aberdeen Station. Sunlight from behind permeates through the work beautifully, emphasizing the light, composition and blocks of colour within the work. The images are of abstracted fragments from the awnings of Hong Kong-style cafes and the Chinese-Canadian malls the artist grew up visiting from Vancouver to Richmond, many of which are disappearing with gentrification. The work is part of an ongoing series documenting discarded, semi-abandoned, half-forgotten places.


Kyla Bourgh, Objects given to my mother because she is Asian
Lansdowne Station, Richmond
Through February 28, 2023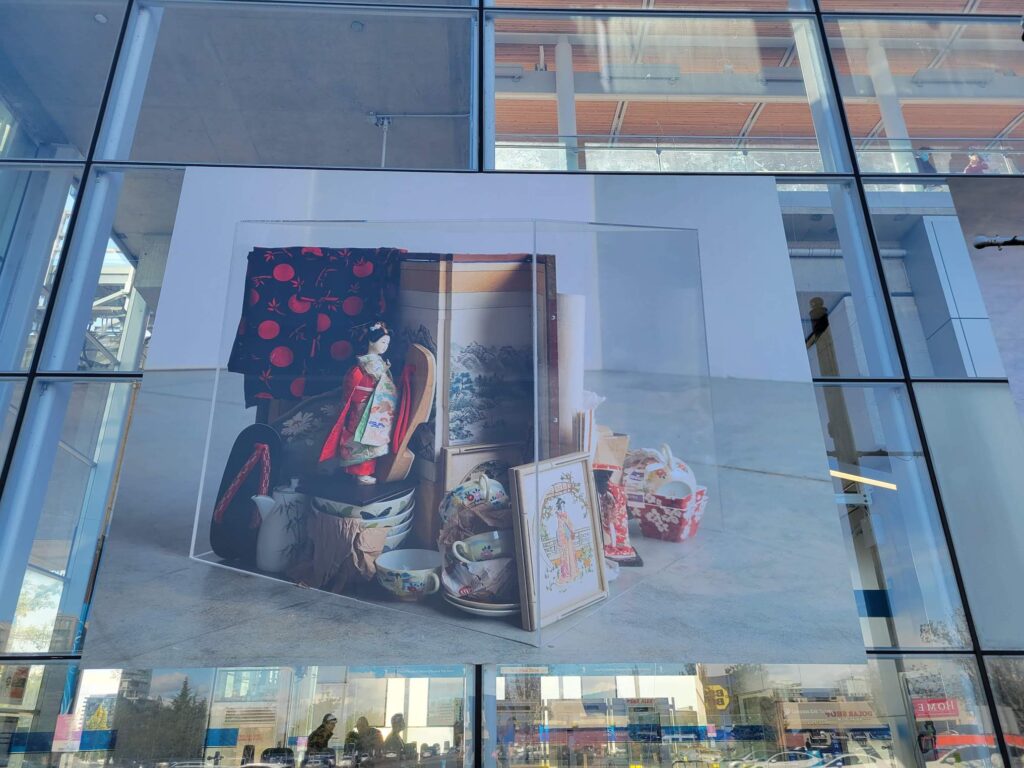 The premise of the project was to document the objects that visual artist, curator, and educator Kyla Bourgh's mother had been gifted (and kept) over the past 50 years. Many of these gifts were found at thrift stores and selected because they reminded these people of her. The three images on display show assorted objects like tea cups, fans, and dolls (all obviously "Asian" themed), removed from their home setting, and crammed into a plexi box. While it's a deeply personal project, rather than focus on that emotional aspect, Bourgh says, "This work simply states the facts and describes what the objects are in this way." She challenges the viewer to unpack their own cultural biases and for the viewer to be uncomfortable—"Where there is discomfort, learning occurs." Both Wong and Bourgh's works are curated by Shaun Dacey, Director, Richmond Art Gallery.

Sara Cwynar, Umi
BC Hydro Dal Grauer Substation, Vancouver
Through March 18, 2023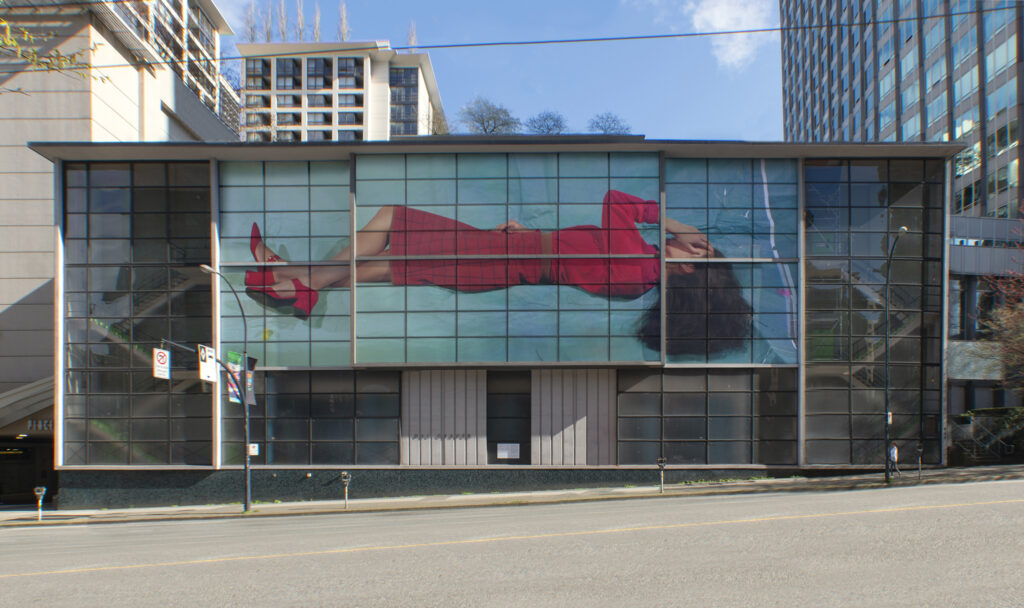 Umi by Sara Cwynar will stop you in your tracks. This site-specific installation for the façade of the Dal Grauer Substation (944 Burrard at Smithe), curated by Capture's Executive Director Emmy Lee Wall, features a large-scale reclining figure in an unmissable bright pink sweater, skirt, and sandals, with her back to the viewer. As the artist states, "I thought of a giant, monumental image of a woman who is sort of having her own private moment, as if she is actually in a very small space, looking up at the sky and disregarding the gaze of the viewer. It's also a play obviously on all the traditional advertising we see where women are posed forward-facing, looking at us, as if they are there for our gaze."
For more information, visit capturephotofest.com



Michelle Bui, Mutable Materialism: Take the Canada Line to Yaletown Roundhouse Station
Joseph Maida, Things "R" Queer series: Take the Canada Line to Olympic village Station
Svava Tergesen, Crudités series: Take the Canada Line to Marine Drive Station
Chad Wong, Empty Spaces that Fill My Heart: Take the Canada Line to Aberdeen Station
Kyla Bourgh, Objects given to my mother because she is Asian: Take the Canada Line to Lansdown Station
Sara Cwynar, Umi: Take the Expo Line to Burrard Station, and walk South for about 8 mins!