The 7th annual Lind Prize returns to Polygon Gallery with one of our favourite winter arts traditions. This showcase of BC-based artists working in film, photography, and video has quickly become a reliable (and engaging) diversion from the often bleak winter forecast. Big expressive ideas, and boundary-pushing pieces are what this show has become known for, and this selection is no different. During our recent visit, we marvelled at the variety voices nominated for the top honour by curators, artists, and art faculty from across the province.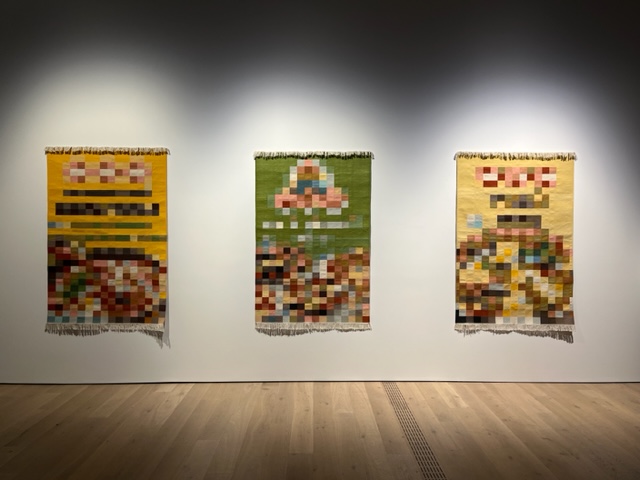 With insatiable desires of a bourgeoisie, artist Simranpreet Anand, creates three hand-woven dhurries that, upon first glance, resemble 8-bit collages of pastel squares. But when reading the piece description, each pixel comes into focus, showing that the weavings are an abstract interpretation of spice "products" you might find in a Western grocery store. The spices- curry powder, chaat masala, and butter chicken masala were all chosen because of their complex ties to British colonialism. As if articulating how each ingredient in a culture can be blurred to show only the basest commodities of profit. Each dhurrie brings its own aha moment as you first might only see random patterns on the wall, but then learning the context, you can begin to make out the images, and realize the intention of the artist.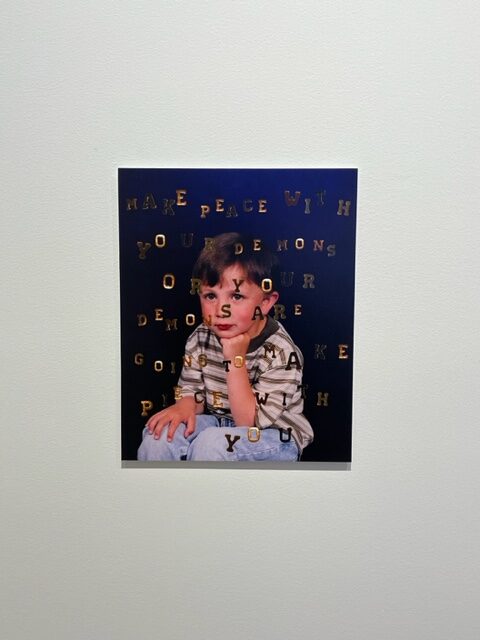 Walking further into the gallery, another piece that spoke to us was Jake Kimble's Grow Up. A series of personal photographs with text layered over top, each image acts like an invitation into the intimate moments of a life, with vulnerable and often stark thoughts added in hindsight. A photo of Kimble as a child, looking stoic in a cowboy hat, at first contains relatable humour- the idea of what growing up means to someone with only the briefest of life experience. But with the words "I was told peace was mine to keep" placed over the image, a sense of sadness begins to permeate what first seemed like a light-hearted memory. It's this sense of protecting your child self from what your adult self knows that really echoes. As the artists' statement says, these pieces also invite the viewer to reflect on the truths and traumas they've lived through, and suggest humour and pathos to process them both.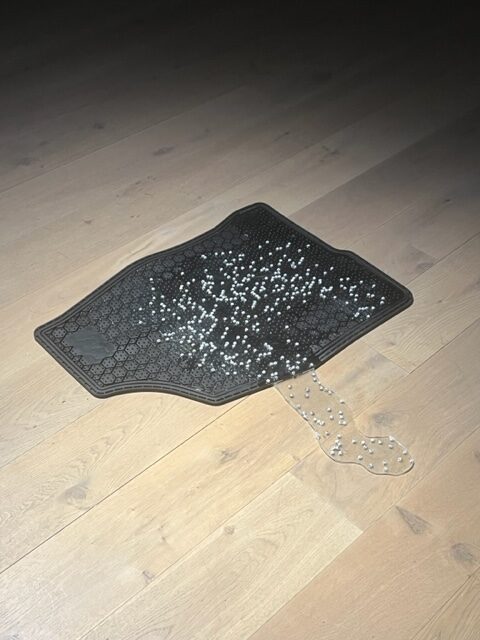 Reaching the exhibition's final area, Katayoon Yousefbigloo's sprawling piece, How to Lift a Curse (Amazing Transformation Video!), is an engaging way to end the walk-through. This mixed media project gives a physical presence to the intangible essence of editing- specifically, the editing style of a YouTube tutorial video. With each component, Yousefbigloo breaks down the process of "aesthetic conditioning" that we've embarked upon via the digital world's influence. The process of lifting this "curse", as the artist sees it, takes the form of various rituals primarily involving the deconstruction and modification of a 1993 Honda Del Sol convertible. It's a striking series of physical vignettes that bring a gritty sense of erosion to the overly polished veneer of consumerism and the ideals of the auto industry.
The finalists featured in the show were chosen from over 50 nominees with the winner announced at an award ceremony on January 26. The artist chosen receives not only a cash prize of $10,000 but also a commitment from Polygon to showcase their work in the future. It's a prestigious honour that all of the participating artists deserve: Simranpreet Anand, Wei Chen, Sidney Gordon, Natasha Katedralis, Jake Kimble, Aaron Leon, and Katayoon Yousefbigloo. Visit the North Shore gallery soon and let us know who you think should take top honours.

You can visit The Lind Prize at Polygon Gallery until January 29
For more information, visit thepolygon.ca

From Waterfront Station, you can take the Seabus to Lonsdale Quay. It's only a 5 minute walk from there!
You can also double-check your route with the Translink Trip Planner