By Kristin Lim
Get ready for 18 days of innovative, risk-taking performances at the PuSh International Performing Arts Festival. From January 19th to February 5th, PuSh brings groundbreaking, contemporary works of theatre, dance, music, and multimedia to venues across the Lower Mainland and online.
The 2023 festival lineup features 20 original works from 12 countries, including Zimbabwe, Belgium, South Africa, South Korea, France, Argentina, Bulgaria, India, Italy, the United Kingdom, Finland, the United States, and Canada.
As Gabrielle Martin, Director of Programming explains, this broad sense of scope is essential to the progression of PuSh.
"We are prioritizing innovative works that have a sense of necessity, that wake us up or offer new dreams for the disenchanted. Delivering a festival takes a community, and PuSh continues to centre collaboration."
Where to start? What to see? As a newbie PuSh goer, I've pored over the extensive program (which you can find online) and watched all the trailers to figure out how best to experience all that the fest offers.
First, with the breadth of content available, getting a firm grip on every performance simply isn't possible! Two, it's always refreshing not to know exactly what you're getting into, and being open to experiencing something new- a philosophy that will serve you well when planning your PuSh outings.
So, with that in mind, here are five performances that excite and intrigue me, that showcase the range and diversity of the festival, and demonstrate the necessity of live performance.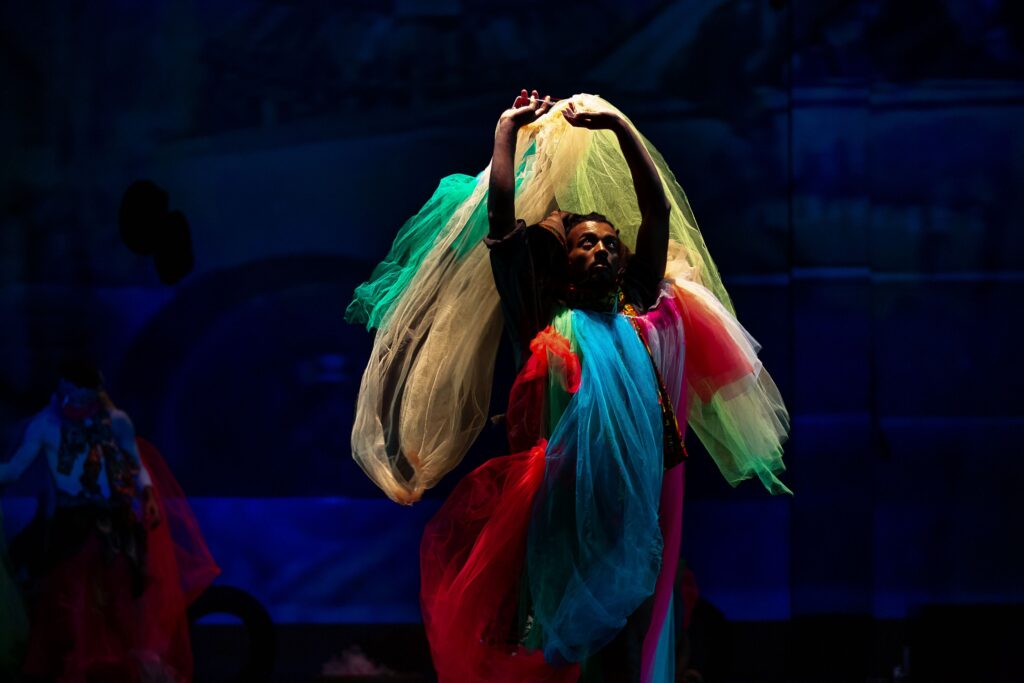 In its Canadian premiere, Coloured Swan 3: Harriet's reMix combines dance, digital projection, vocal effects, and audience interaction to explore one of our many collective futures.
This performance is the third part of the Coloured Swan series by Johannesburg-born, Brussels-based dancer/choreographer Moya Michael. Each component of the series showcases a 'solo' that questions how an artist's various identities influence how they move, speak, and sing.
In the first, Michael collaborated with performance artist Tracey Rose. In the second, she collaborated with dancer/choreographer David Hernandez. For this third part, the 'solo' is performed by four artists—Loucka Fiagan, Oscar Cassamajor, Milo Slayers, and Zen Jefferson. The carnivalesque production takes inspiration from the Nigerian capital of Lagos, different forms of spirituality, and the voices of these four young creatives. In an interview with KVS (The Royal Flemish Theatre in Brussels), Michael explains, "With this creation, I want to turn the spotlights to the future, still in relation with the present and past… These young artists are the voices we need today but don't hear enough of. Or maybe we just aren't listening well enough?"
Jan 20-22 (Jan 20-21 at 7:30pm + Jan 22 at 2pm) | Orpheum Annex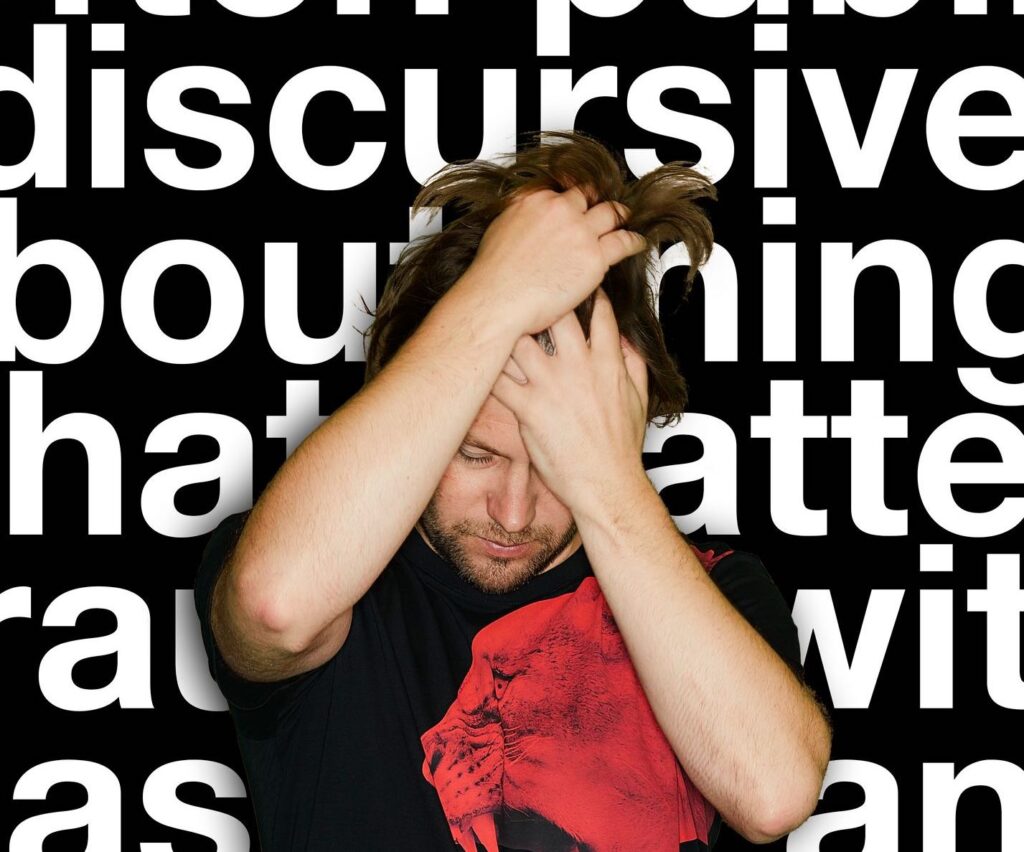 Presented with Music on Main, virtuoso percussionist Joby Burgess performs pieces from his latest album, A Percussionist's Songbook, at The Orpheum Annex. The album is a collection of nine mesmerizing "songs without words", inspired by texts including short stories, poetry, and folklore. In this Canadian premiere, we can look forward to a visually fascinating set-up, with the performer navigating percussion instruments such as marimba, vibraphone, aluphone, space harp and an array of electronics. Ever heard a piece inspired by United Nations population growth statistics? Have a listen to Burgess playing 'Species' by Graham Fitkin here.
Jan 25–26 at 7:30pm | Orpheum Annex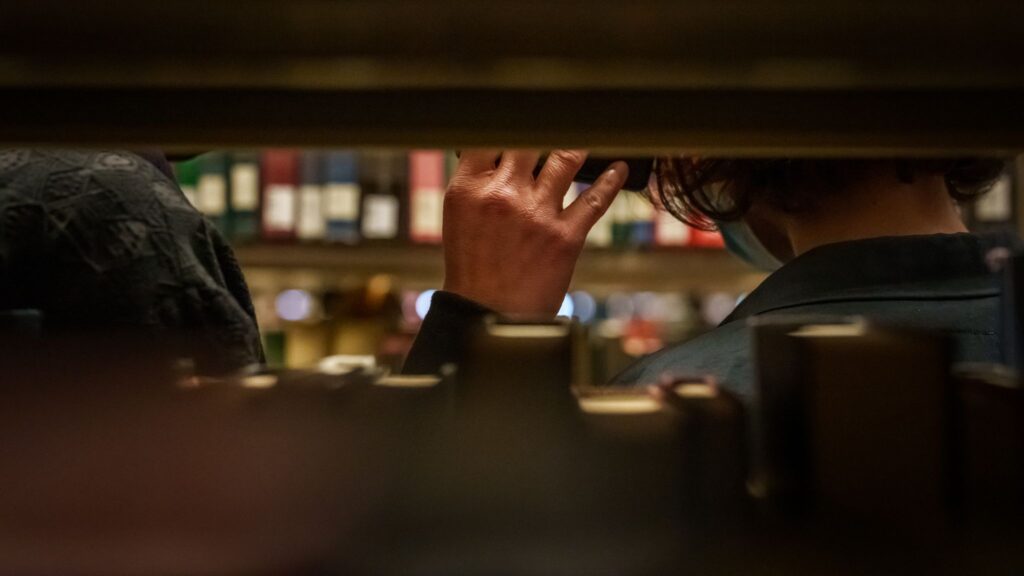 Slow down and awaken your senses with MANUAL, an interactive performance presented to one spectator at a time, taking place at the Vancouver Public Library's Central Branch. Here, the audience member is equally a performer. The premise: participants arrive on-site with instructions to meet a guide; from there, they're silently led through a series of actions, following written notes and immersive audio via headphones. They walk through the space and listen together, looking at books and reading to each other. As the piece progresses, sensations combine and blur as the materials encountered come to form a manual for slowing down.
From the artists Adam Kinner and Christopher Willes: "Through a slow and careful process, this piece stages a quiet meditation on the library as a meaningful space of connection and awareness."
Performances take place every 20 minutes between 11:40 AM – 6:00 PM. Participation is free, but registration is required.
Jan 28–Feb 1: 11:40am to 6pm (every 20 mins) | Vancouver Public Library Central Branch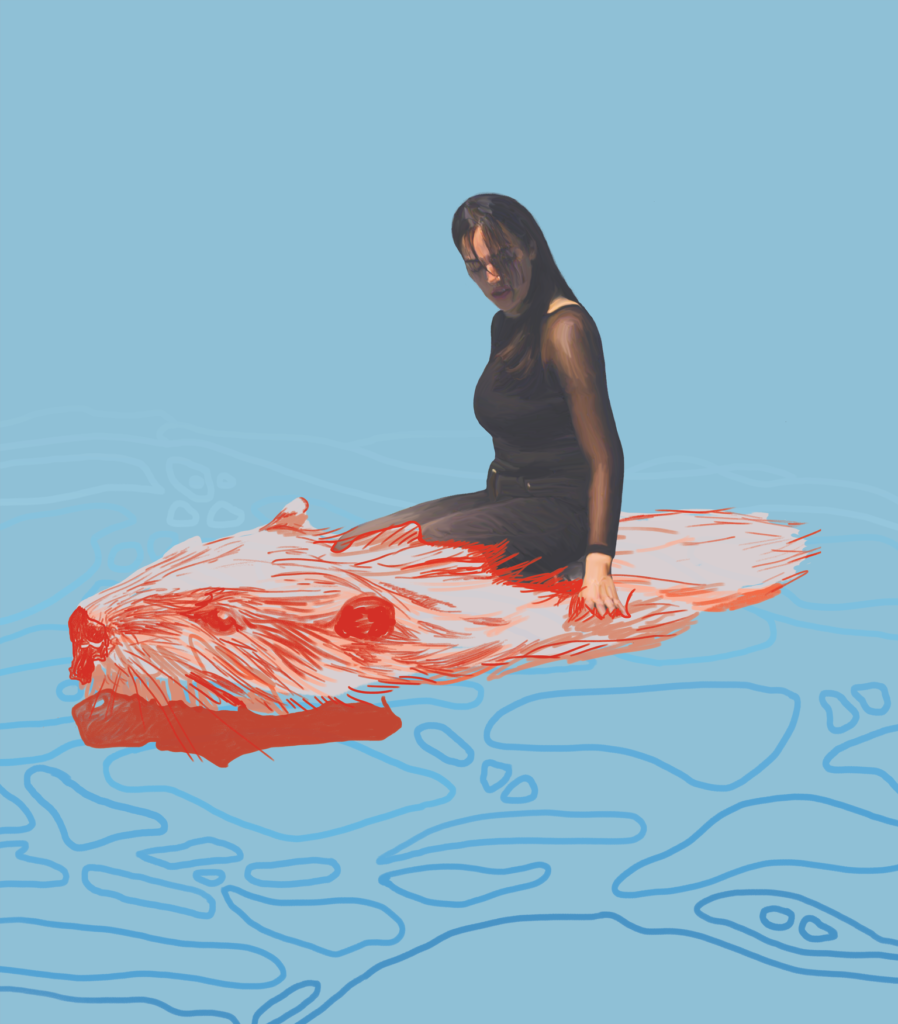 From interdisciplinary artist and founder of Onishka Productions, Émilie Monnet, Okinum is a monologue performance that deciphers a recurring dream of a giant beaver. Okinum means' dam' in the Anishinaabemowin language. The work is an intimate reflection on the notion of inner dams, an ode to the power of dreams and intuition. Monnet mixes three languages—English, French, and Anishinaabemowin—to explore multiple identities, memory, and to reconnect with her Anishinaabe ancestry.
Feb 2-3 at 7:30pm | Anvil Theatre + Feb 2-5 | Online
Post-show talkback: Feb 2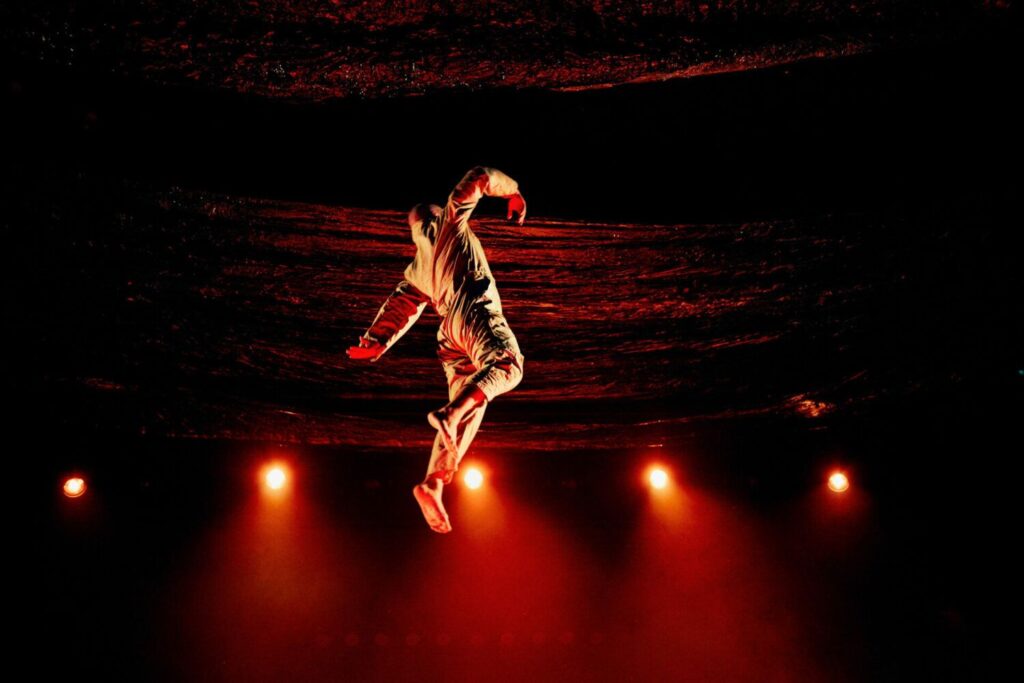 There aren't any clowns in this circus! In the North American premiere of O'DD by Rauli Dahlberg of Race Horse Company from Finland, expect exceptional trampoline skills and acrobatics in an exploration of humanity. The work begins with a man wrapped in giant piece of cellophane, emerging from his plastic cocoon as if being born. We then follow him through phases of existence as he interacts with a single object introduced in each scene. The sci-fi-like work is accompanied by pulsing, live electronic music by Miro Mantere.
Feb 4-5 (Feb 4 at 7:30pm + Feb 5 at 2pm) | Vancouver Playhouse + Feb 2-5 | Online
Post-show talkback: Feb 4
---
To enjoy performances in a relaxed, casual setting, check out Club PuSh, taking place nightly at Performance Works on Granville Island, with each evening curated by a different company of artists. If you want to dig deeper, check out the PuSh Industry Series (Jan 29-Feb 5, $60 for the Industry Pass) and connect with professional artists, cultural workers, and arts enthusiasts, during a series of events, workshops, and talks.
Tickets to performances are from $34 ($25 streaming online) plus pay-what-you-can and free events. Or consider a PuSh Pass for savings on 4 or 6 shows.
For more info about the 2023 PuSh Festival, visit pushfestival.ca

To easily find all PuSh performances, and plan your route you can use the TransLink Trip Planner.