Photo credit: Trace Exhibition: Arnauld Colcomb & Bertrand Planes
It was just a ten-minute ferry ride off the coast of Vancouver Island. Another ordinary everyday commute for hundreds of passengers that day, save for one chance meeting that would help shape the picture of contemporary art on the West Coast for years to come.
Back in Canada after a long spell in Europe studying, teaching and discovering all the way non-traditional art could be, the husband-and-wife team behind New Media Gallery, Sarah Joyce and Gordon Duggan struck up a conversation with a fellow passenger on their way home to Denman Island.
"I saw someone wearing a t-shirt from somewhere in Europe that we'd been, so we started talking," Sarah recalls. "And it turned out he was part of a task force from the city of New Westminster who were looking to open their first civic art gallery."
"He suggested they might want the gallery to have a specific rather than a general focus," Gordan adds. "Like painting, sculpture, or new media – whatever that is, he said."
What luck then, that the man was talking to the former Senior Conservator of Digital, Electronic and Time-based Media Art at Tate Modern, and her husband, the former Electronic Media Manager at the Lisson Gallery in London. They could tell him all about the Electronic & New Media art; and so they did.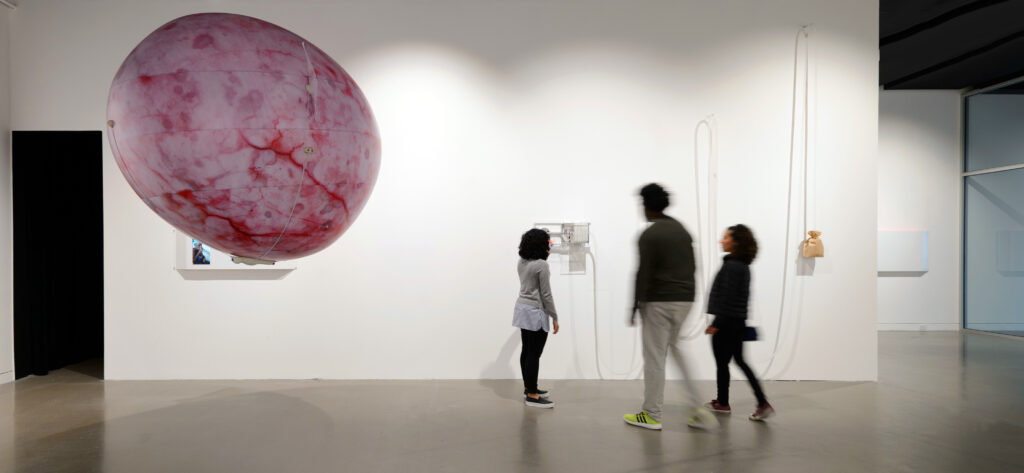 A year later, New Media Gallery had its name and the City had gone through the process of hiring its first curator-director team. What followed involved imagining and building a contemporary new media art gallery from scratch. They began bringing in some of the most interesting and thought-provoking work shown on the West Coast – and thanks to Sarah and Gordon's connections, some of the most challenging contemporary artists in the world. They came out of the gate at full speed with their first exhibition in 2014, Musicircus. It included Video Quartet, a massive 4-screen, 40-foot wide projection-installation masterpiece from Christian Marclay as well as significant installations by award-winning Canadian artists Jean-Pierre Gauthier and Tim Lee. The community responded enthusiastically and immediately, and all predictions of attendance and engagement were eclipsed at least threefold by the end of the second year.
Not ones to rest on their laurels, Sarah and Gordon continue to push the boundaries of what an art gallery can be, earning a reputation for exhibiting works that are difficult or impossible to show elsewhere, including numerous installations not shown anywhere else in Canada and a world premiere. An example of these more challenging works includes David Bowen's fly revolver, a sculptural installation in which a .45 calibre revolver is controlled and fires according to the random movement of house flies housed in a plexiglass sphere. As you can imagine, it took more than a little negotiating to bring about, but the volumes it speaks about our modern world made it worth it. "It absolutely makes the case for gun control," Sarah says, "because it's terrifying."
It's pieces like fly revolver that speak to crucial issues of our times that excite Sarah and Gordon and make them work a little harder to bring them into the gallery. It's their goal not just to show interesting works, but to generate vital conversations around these pieces and why they exist. That's why, on any given day when you visit the gallery, you are most likely going to have one or both of the curators walk through the show offering you a chance to pick the brain behind why the show exists in the first place – a very rare privilege anywhere. "It's an important role of the curator to disseminate information," Gordon says. "And the most effective way to do that is to engage with the public and make ourselves available."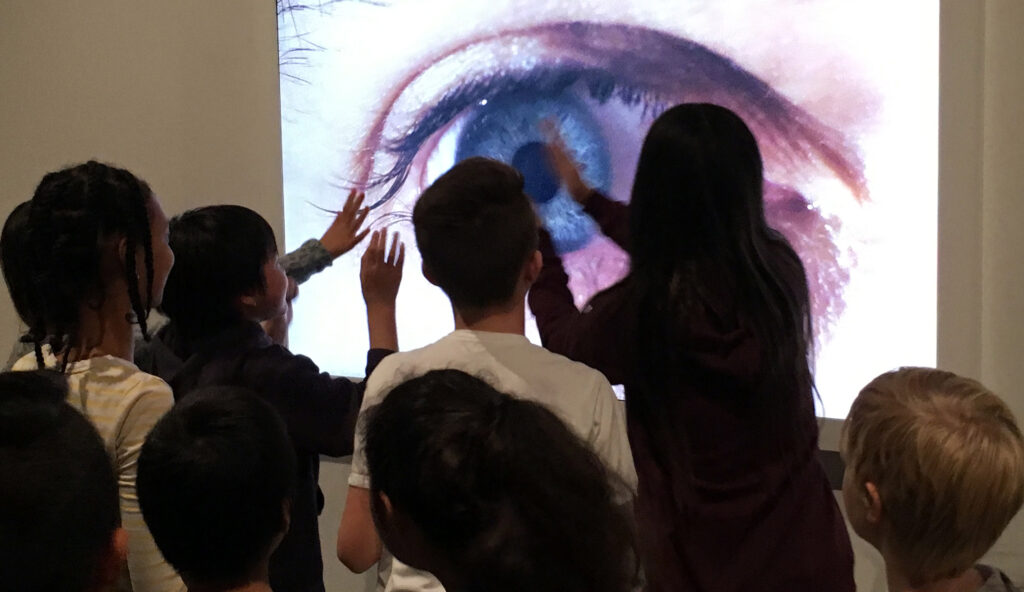 No matter if it's a group of pre-schoolers on a field trip or a visiting dean for a faculty of contemporary art, Gordon and Sarah are there to talk about the work at whatever level it can be best understood and appreciated. It means they're almost always on, "but the payoff is incredible," says Sarah. "To have people come up and hug us because they've connected with the work. Or to say, "Every time I come here, the way I see the world changes."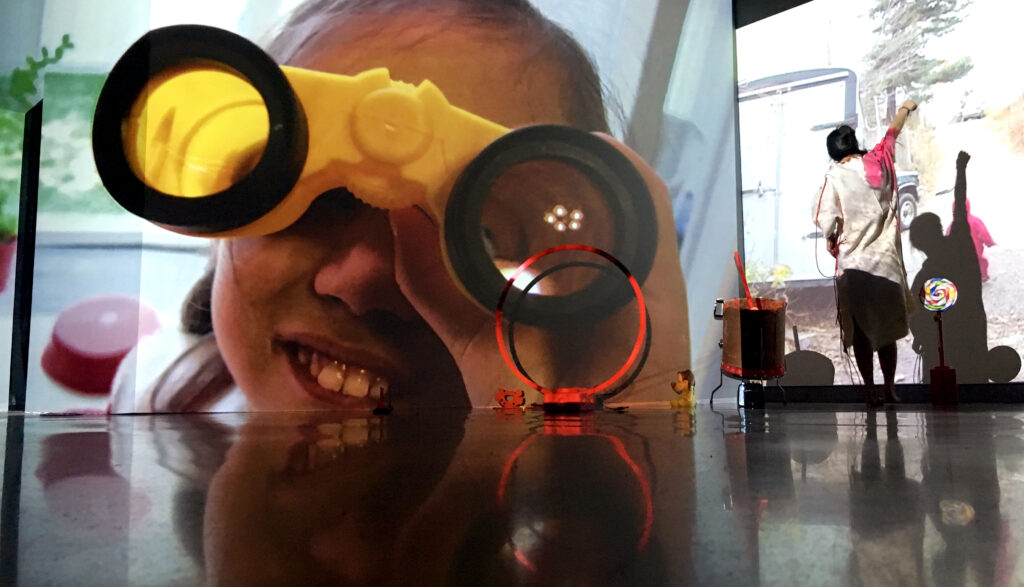 And every time you go there, the gallery itself will have changed. As each artist shown re-imagines how art can exist, each exhibition re-imagines what an art gallery is, as Gordon and Sarah strive for the experiential wonder that is missing from so many galleries. "People don't know what our gallery actually looks like because we change it so much," explains Gordon. "We change the way it looks, the way you move through it, the way you sit in it and this changes the way you interact with the artwork and how it interacts with you."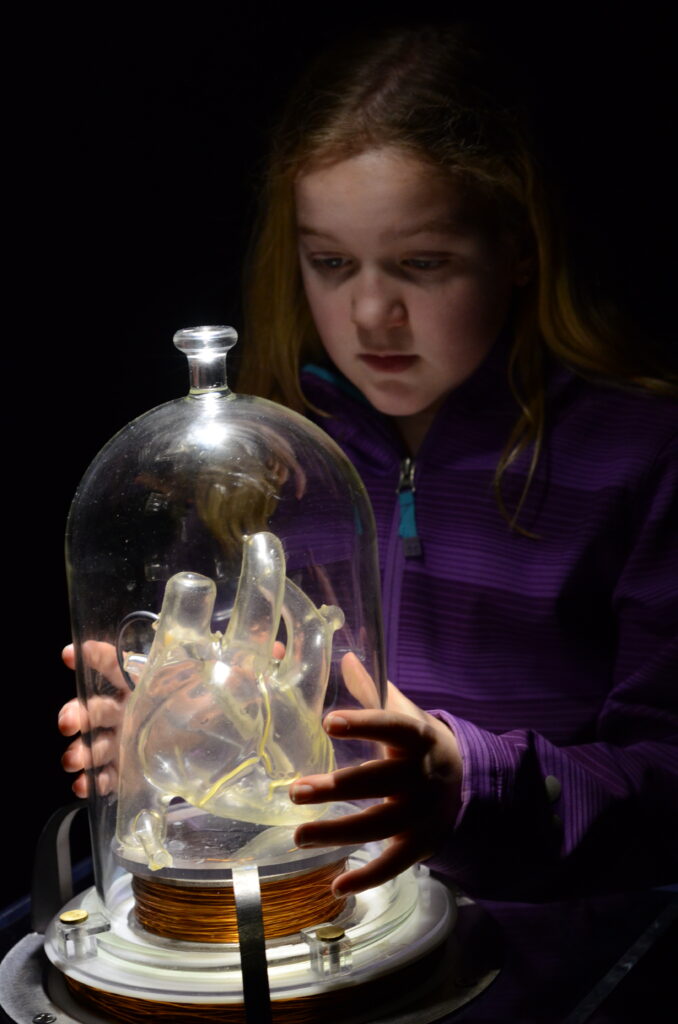 Interaction with creative ideas is a key component of the initiative at New Media Gallery, as witnessed by their Learning Lab, a dedicated educational facility devoted to creative experimentation in arts + technology. The BC Core Curriculum is paired with themes from the current exhibition to provide students from K to 12 the opportunity to not only make things but make meaning. On a recent visit, a 3-D printer whirred in the corner, building student's designs, while a circle of iPads charged in ready for a stop-motion animation workshop that weekend.
Like the spark of serendipity that started it all, exciting things are afoot at New Media Gallery, and with the conversations going on there, the promise of more to come. Because for all the cutting edge technology on display, it's the human touch, the human conversation that makes this place so special.
"It's a funny thing," Sarah says, "because it's so simple."
Story by Wade Kinley for West Coast Curated