By Kristi Alexandra
In stark contrast to European royal portraits—with inflated stature and jewels—comes Morgan Asoyuf's exhibition Royal Portrait, a collection of carvings, jewelry and portraits that honour Indigenous matriarchs and two-spirit activists at the Bill Reid Gallery.
The Bill Reid Gallery—located at 639 Hornby Street in Vancouver—is Canada's only public gallery dedicated to contemporary Indigenous Art of the Northwest Coast.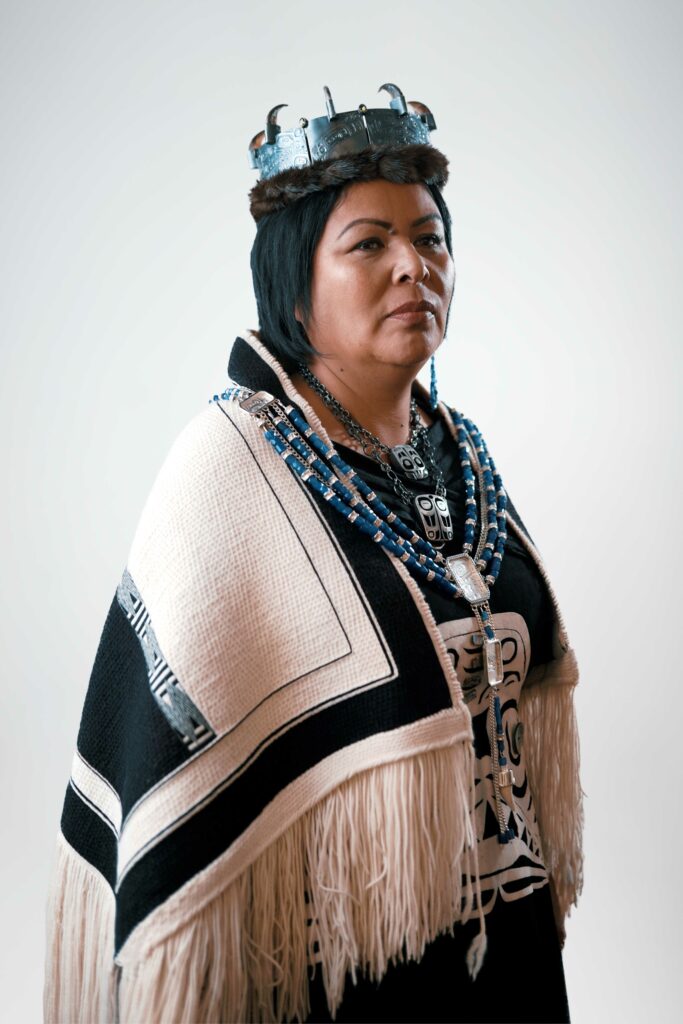 Christine E. Martin is a community leader and land defender of Ts'msyen ancestry who works within the Renewable & Environmental community. She believes that "Culture is the cure for everything." Christine is wearing the beautiful Sky Blanket by Jaad Kuujus – Meghann O'Brien along with Morgan Asoyuf's jewelry.

Crowns, frontlets and headdresses punctuate Asoyuf's Royal Portrait, drawing a visual parallel between European royal portraiture and Indigenous Northwest Coast matriarchs—while highlighting a thematic contrast.
"I called [the exhibit] Royal Portrait because, if you look at what Europe and colonizers consider royalty, it's very based on the crown, and it's very based on colonization; the idea of coming in and taking. Taking diamonds, extracting resources, how wealthy we can get with money and palaces and how many giant diamonds can we steal from Africa," says Asoyuf, a contemporary Ts'msyen jeweler.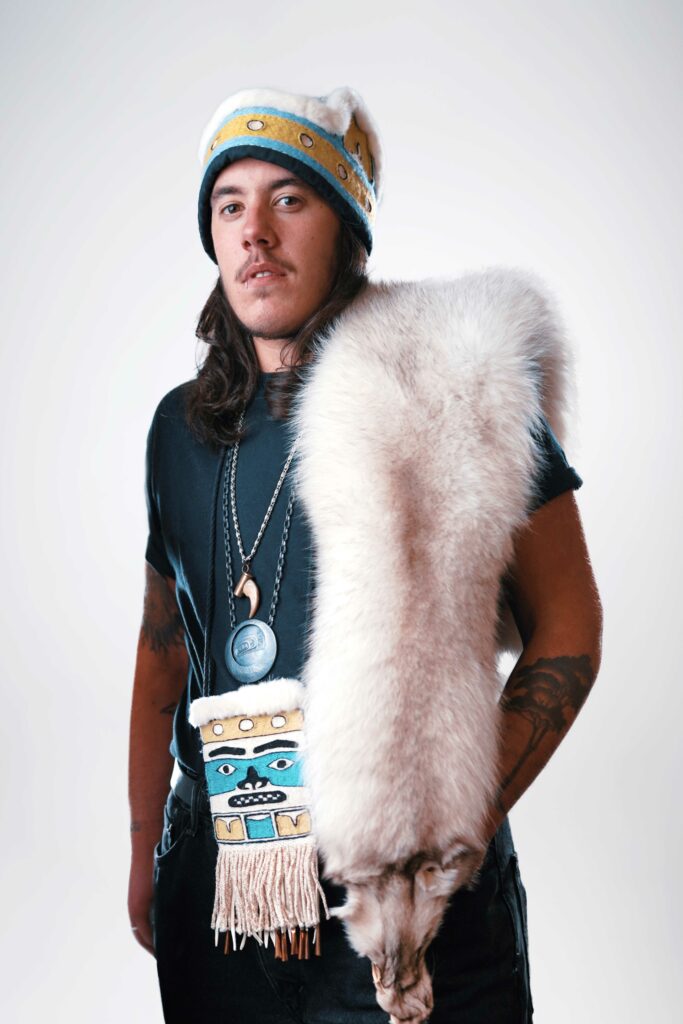 Kota Gallipeau is a trans, Indigiqueer DJ and events producer from Tyendinaga, Mohawk Territory. A passionate advocate for trans rights and education, their mission is to produce and contribute to inclusive events which hold space for decolonial progression and Indigiqueer expression, by applying anti-oppression principles from the street to the dance floor. Kota has been based on the ancestral and sovereign unceded territories of the Musqueam, Tsleil-Waututh and Squamish peoples since late 2016. In this photograph he is wearing necklaces by Morgan Asoyuf and weaving by William White.

All the pieces in the exhibit–save for three historical pieces–are handmade by Asoyuf, who has apprenticed under Haida artist Richard Adkins, Ts'msyen carver and engraver Henry Green (who happens to be her dad), Ts'msyen artist Phil Gray and German Goldsmith Gerold Mueller.
Her jewelry–including a necklace made of pearls and carved silver, and an engraved crown with inset jewels, fur and grizzly claws–adorns those in the portraits.
"I wanted to highlight that, in Northwest Coast culture, our idea of royalty is very different and while the crown might not understand or deem our people as royalty, they are. Royalty, to us, is protecting our land base, taking care of the people within those bases. You aren't considered a good chief or a good matriarch if your people aren't taken care of and if your land is dying. I wanted to highlight that as a visual comparison, but also a different ideal of what we hold high."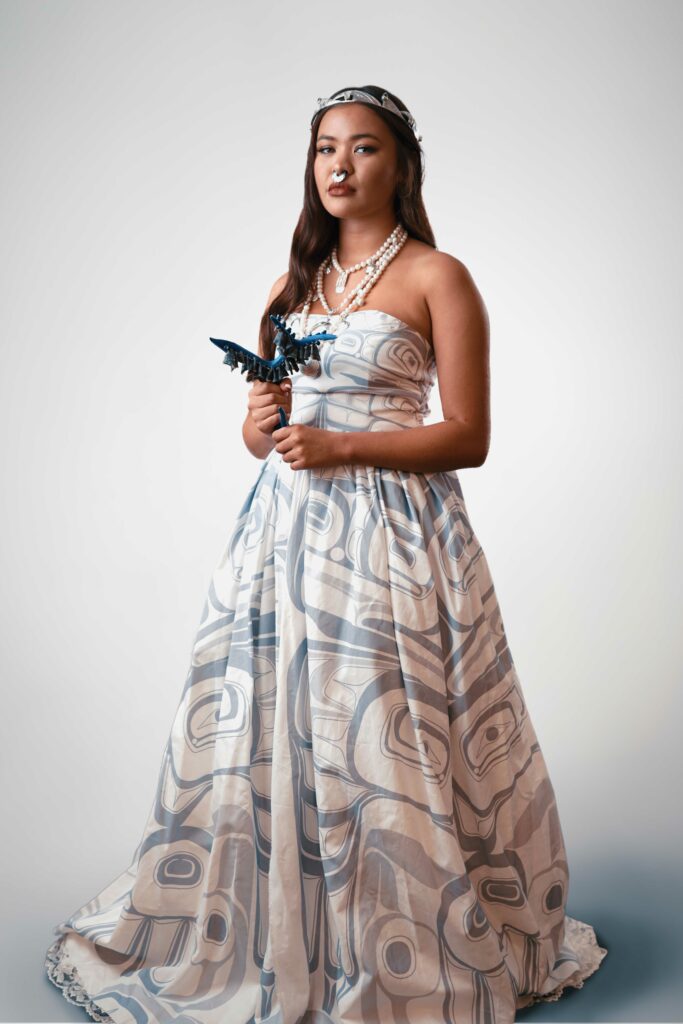 Ta'Kaiya Blaney is Tla'amin Indigenous land and water defender. Since the age of 10 she has been vocal within movements combatting extractive industry, climate change, and oil pipelines that threaten the present and future survival of her people. She seeks to address colonialism as the root of climate change as well as the linkages between environmental violence and violence against indigenous women, girls, and two-spirit people. No justice without Land Back.

In this exhibit, Asoyuf expands her artistic practice to become more political and to talk about upholding land defenders, youth, and women.
"I'm specifically honouring land defenders, water protectors and MMIW2S activists," she confirms.
"I chose to honour Northwest Coast women and two-spirit [folks] because I feel like there's been a lot of recognition for certain people out there, but there hasn't really been a specific pull on the Northwest Coast to do that. And we do have a lot of people doing incredible work here."
And doing that work, Asoyuf says, is one way a person might find themselves being honoured as a matriarch.
There are two sides to that, however, she explains. Like the English monarchy that we know, Indigenous matriarchy can be a hereditary inheritance.
"Names and positions would be passed down, and it can be changeable because different people can inherit things. And it also can be earned," Asoyuf says.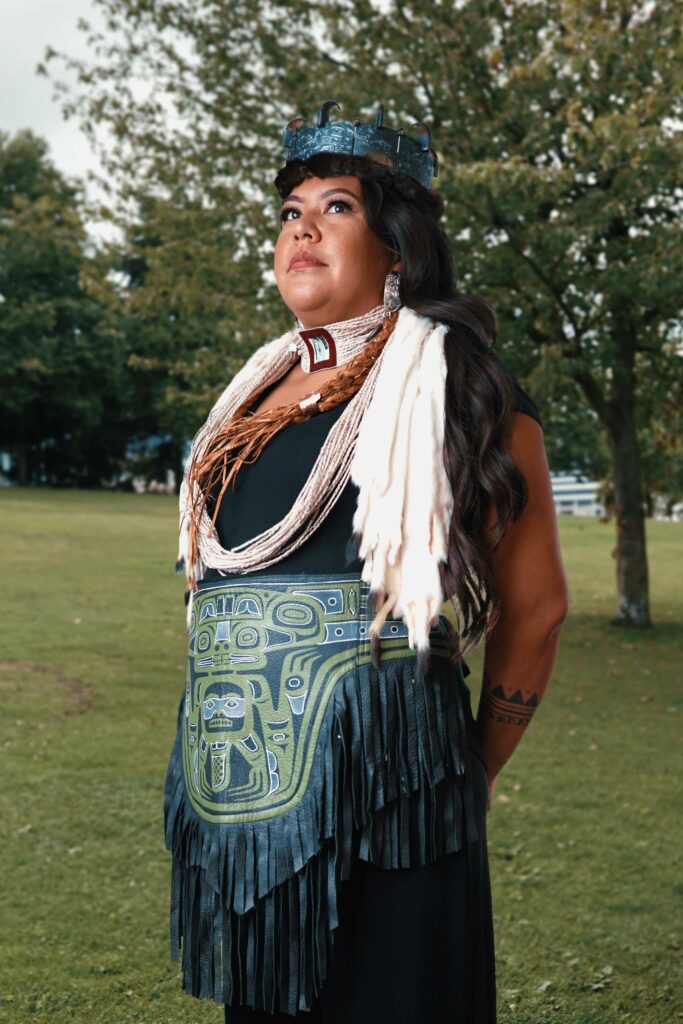 Snutetkwe Manuel is a Secwepemc Doula and land defender working with the Tiny House Warriors, to stop the Kinder Morgan TransMountain pipeline from crossing unceded Secwepemc Territory. The group is building ten tiny houses that will be placed strategically along the 518 km pipeline route to assert Secwepemc Law and jurisdiction. Snutetkwe is wearing a woven necklace by Jaad Kuujus – Meghann O'Brien, and a cedar necklace and dance apron painted with a supernatural Raven and Bear design by Morgan Asoyuf.

In all, Royal Portrait begs the question: what does royalty mean for Northwest Coast cultures in comparison to our own nation's head of state, the British monarchy?
"It's highly contrasted," Asoyuf offers. "Colonial power is based on the subjugation of other people, and how much material wealth you can acquire. Our wealth, historically, is based on the wealth of the land and how well your people are fed and taken care of. And your respect and power come from the community."
Royal Portrait is on at Bill Reid Gallery until January 19, 2020.
Photographs by Patrick Shannon.