When trying to describe 'Mouthpiece', currently exhibiting at New Media Gallery in New Westminster, it's hard not to feel a bit like you're looking through the eyes of an AI at times.
The show emphasizes the significance of voice and speaking to the human condition and how we express ourselves. But when witnessing vocal expression via inorganic matter, the results can cause what feels like an Error 404 message.
This isn't meant to be a slight in any way; what the four presenting artists have done in this exhibition accurately portrays how a machine would earnestly attempt to be human. The clumsiness and emotional stutters accompanying all three pieces make it feel like an artificial mind created them. As if they were cobbled together from spare parts, and overheard references to what it means to exist.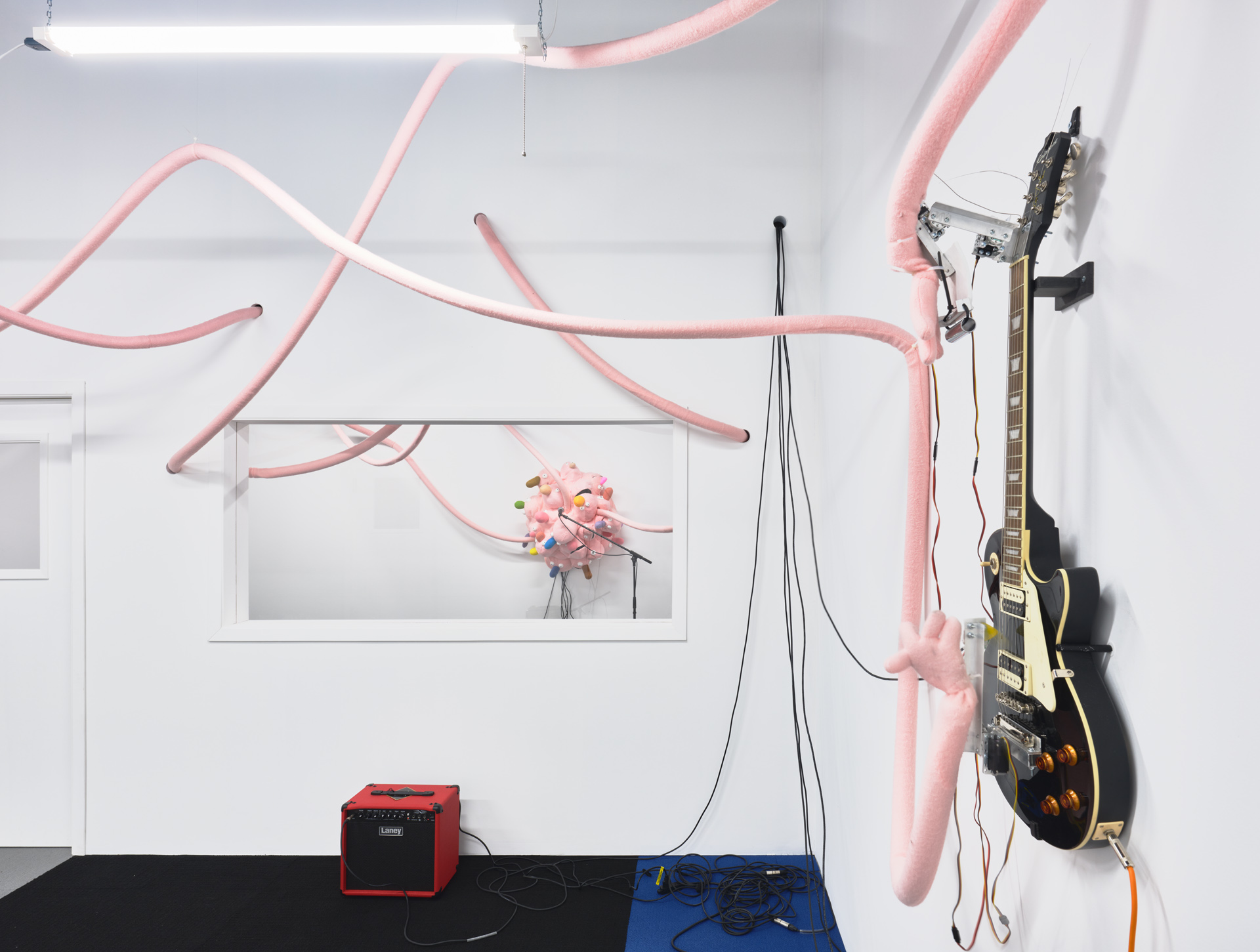 With 'Bad Mantra' by artists Mellors & Nissinen, the viewer enters a recording studio filled with plush limbs reaching across the ceiling to interact with musical instruments. Each arm then connects through a wall to the main character of the piece, a fuzzy pink mass of faces and mouths that attempt to hum together at random intervals. It's as unsettling as it is adorable, like scraps from various muppets gazing into an infinity mirror.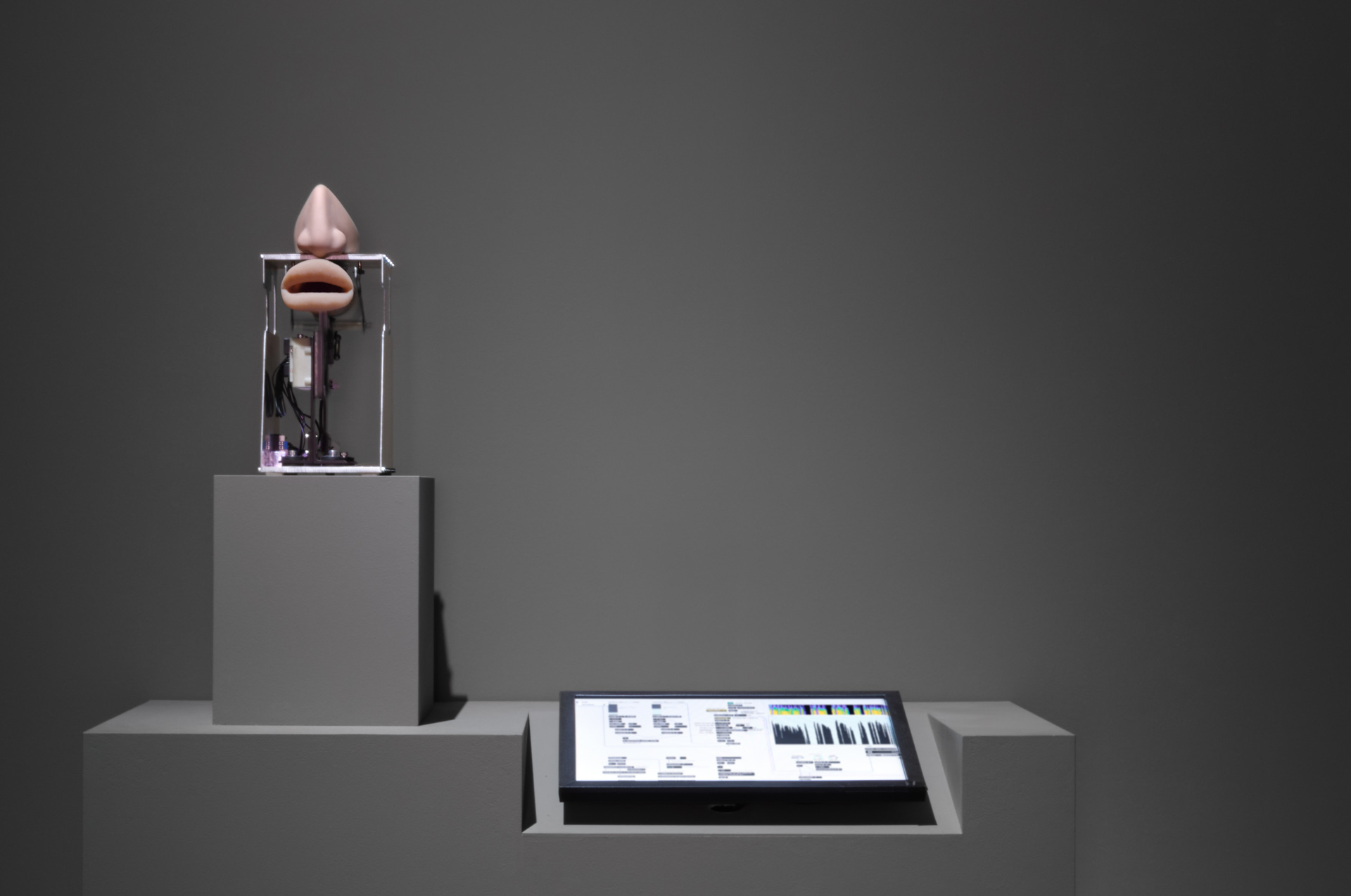 Contrasting the bright white aesthetic of the recording studio, entering to view 'The Prayer' by Diemut Strebe is like stepping into a darkened thought bubble. At the centre of the room, softly lit, is a disembodied nose and mouth. The rubber lips recite aloud to the viewer via an algorithm that draws from world religious texts. The AI system doesn't simply copy and paste lines of verses, though, it actually draws from an MIT training program to understand grammar rules and word meaning. This creates wholly original verses from the teachings of 13 different religions.
It's an impressive achievement to have an artificial entity express a pastiche of prayer from humans' most sacred writings, but with it comes an underlying feeling of melancholy. No matter how hard a machine attempts to be human or mimic our instincts, is it possible to program one to have faith? It's possible that if true AI existed, this would be one of the more complex notions to grasp.
As you can see, it's hard not to attach human emotions to something that clearly doesn't have that capacity. Which perhaps says more about humans than it does about machines' attempt to emulate emotion adequately.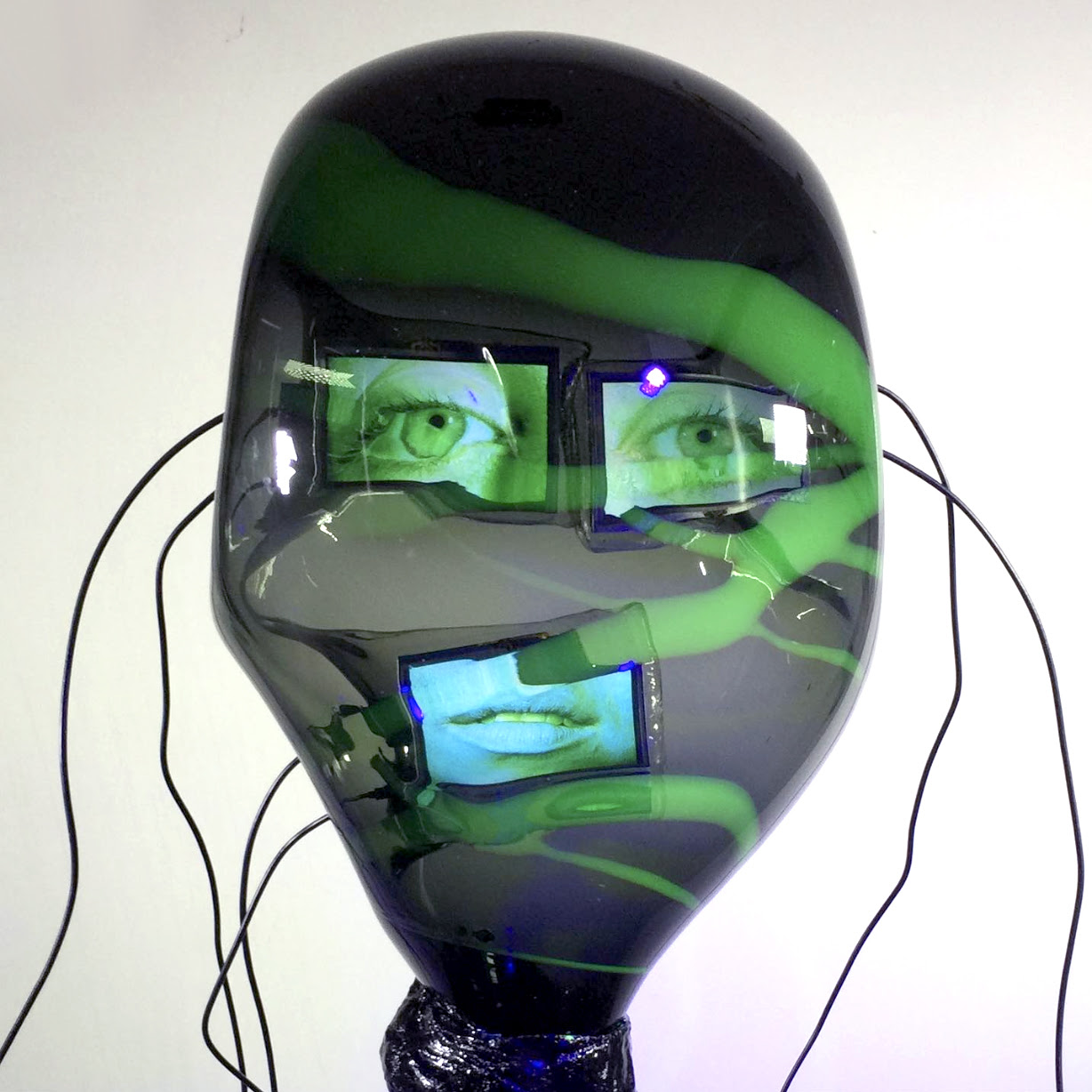 Finally, in the third room of 'Mouthpiece,' artist Tony Oursler assembles a group of AI b0ts that whisper, question, and predict dystopian futures. If AIs actually created this show, then these characters made of glass and projected light would come the closest to being human. If for no other reason than because each bot conveys a startling aura of doubt. While 'The Prayer' focuses on pursuing the undefinable, here, the insecurity of existence is what is most relatable. Each figure speaks brief thoughts to no one in particular, then falls into silence as if waiting for a response that never arrives.
If being alive already provides these feelings of desperation, then the thoughts of a being who can't achieve life must be excruciating.
It's an interesting concept that each piece in this show has, that in pretending to be human, there is a sensation that does indeed feel alive. Not because they're accurately assembled or photo-realistic in image, but because they're trying. And despite the search for meaning, or the attempt to assemble voices, or even the whispering questions into the darkness, it's the trying to function and carry on that feels the most human.
'Mouthpiece' is on view until Dec 11, 2022
For more information, visit newmediagallery.ca
*Cover Image: OLO, 2019  Tony Oursler, courtesy of Lisson Gallery


New Media Gallery: Take the Expo Line Skytrain to New West Minster Station