By Matt Law


At first sight, Bez Arts Hub in Langley definitely stands out.

A vibrant mural composed of pink, yellow and blue adorns the building's exterior. It hints to any passersby that there is something different, probably special, inside.
I'm greeted at the door by a friendly face peering out through a port-hole shaped window. To call Sandy Rosen, co-founder of Bez, an advocate for the arts and community would be an understatement.
"The arts are the places that we find things connected to the heart," she tells me. This seems to be the underlying ethos at Bez: a studio space created to connect through the shared experience of artistic expression.

Bez began as what Sandy calls "accidental dance classes" offered to her kids and friends out of their Langley home. As a trained dancer, Sandy wanted to fill what she saw as a gap in what was offered in the community. But the spark for this "accident" had been there since Sandy and her husband Russ, who is a musician, first met.

"I would say even on our first date, it's something we talked about doing. It's been a long time coming," says Sandy.
In 2016, Sandy and Russ found a location for Bez and began the process of converting it from an industrial space to a home for dancers, musicians and lovers of the arts. They officially opened the doors in 2017 offering kids and adults dance classes, mentorships, live performances, and more.

Sandy leads me into the ground-floor black-box theatre where a lone dancer practices a routine framed by a wall of mirrors. With a black floor, 27-foot ceiling, and stage lighting overhead, the space feels big. The theatre serves as a dance studio, a room for broadcast productions and live performances, and anything else the artists can dream up. It also has seating and risers to accommodate a 110-person audience.

"We've had Juno Award winners like Laila Biali, Barney Bentall, Jim Burns, The Sojourners, and Sherry Ullrich," she says. "Ours really is a listening room where you come to hear the musician. Our visiting artists all say that the sound in the room is incredible," she adds.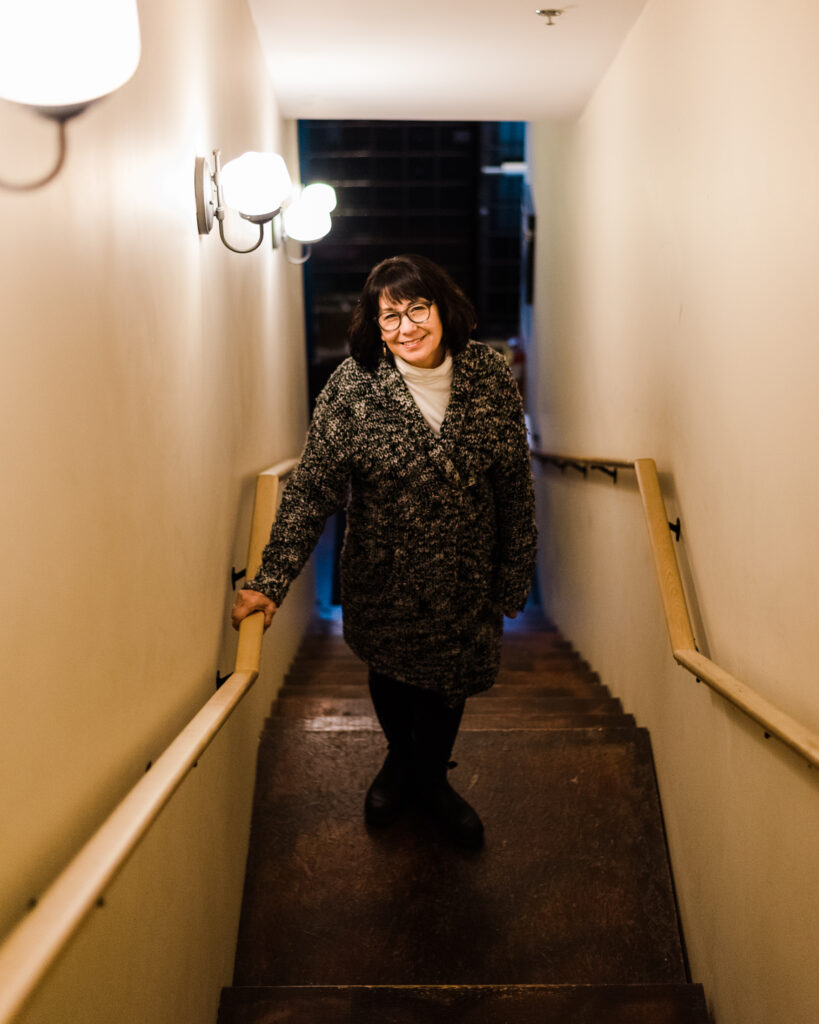 Sandy leads me up set of wooden stairs that look like they would be more appropriate in a heritage building than a modern office space. Each step has a storied collection of scuffs and peeling paint that adds a sense of warmth and intimacy
A left turn at the top and we come to the door for the second-floor dance studio. A peek inside reveals a bright, open space with a dance class in session. It is a stark contrast to the dark theatre downstairs but serves as proof of the versatility at Bez.

Sandy makes sure to stop and point out that both studios have professionally sprung floors for the dancers. Her pride in the space shows. We take a few steps past the studio door to a small office space. A set of curtains hang as a partition from the hallway. A red couch sits to one side of the room with a small lamp hanging above. It seems like a fitting workspace for dancer-turned-studio founder.
Sandy tells me that, unlike Vancouver, Langley isn't known for having many performance spaces. The opportunities for young artists to find training and mentorship are limited. This is part of that founding ethos: to fill an arts gap and build community in Langley.
In addition to dance classes and live performances, Bez offers interdisciplinary mentorship programs for local and international artists. Students have come from across British Columbia, the United States, and as far as Europe.
Their program is built for modern-day artists who often have multiple disciplines and need entrepreneurial skills.

"You've got musicians who paint, and you've got dancers who would rather make dance films than perform on a stage," says Sandy. "What we like to do is find out what each student is interested in. Because the program is a bit smaller than what you would have at a university, we can customize it for each of the students."

Establishing Bez has also been a lesson in creative adaptation that Sandy hopes to pass on to their students.

The pandemic prompted Bez to begin live-streaming shows and performances as a way to maintain connection between artists and their audience. This expanded Bez's reach to people across Canada. Live-streaming is now a staple for their shows.

"If the pandemic taught us anything, it's about how to pivot," adds Sandy. So, to teach artists how to pivot according to the world is around them, is important."

Bez is back to offering a roster of in-person weekday classes. They have also announced a series of live performances beginning in March. Artists include Sister Speak, Barney Bentall, Blues Hoodoos, and more. 

To find out more about the Bez Arts Hub, their upcoming shows and classes, or their mentorship program, visit www.bezartshub.com

*Photos by By Matt Law