By Tara Lee
When you find yourself at the entrance of a converted heritage house, you might think you've come to the wrong place. However, a visit to the Van Dop Gallery in New Westminster pleasantly takes you beyond the conventional.
Once you ring the doorbell, owner Trudy Van Dop welcomes you into her home, which also serves as a gallery space. Visits are by appointment only, with the gallery also holding periodic open houses. Van Dop acts as tour guide, taking you through the various rooms on the ground and second floor. Contemporary art, showcasing a range of mediums, appear on the walls, shelves, and even on bathroom counters. "I call this a new art experience: to experience art in a home," she says.
Van Dop has enjoyed a long and illustrious career in the local arts and culture community. Her past roles include curating and managing the museum shop of the Canadian Craft Museum, as well as serving as cultural program director for the Canadian International Dragon Boat Festival. She's also founder and producer of the very successful New West Cultural Crawl.
She opened the Van Dop Gallery because she wanted to create a much more naturalistic gallery experience. Traditional galleries often place art in blank rooms for appreciating it at a distance from everyday life. "It becomes more of an inanimate object," Van Dop says.
Instead, Van Dop invites visitors to imagine the art pieces in their own homes, where they'll be loved and admired for years to come. "They become part of their family. It's really rewarding to visit people's homes and see pieces they've collected from here."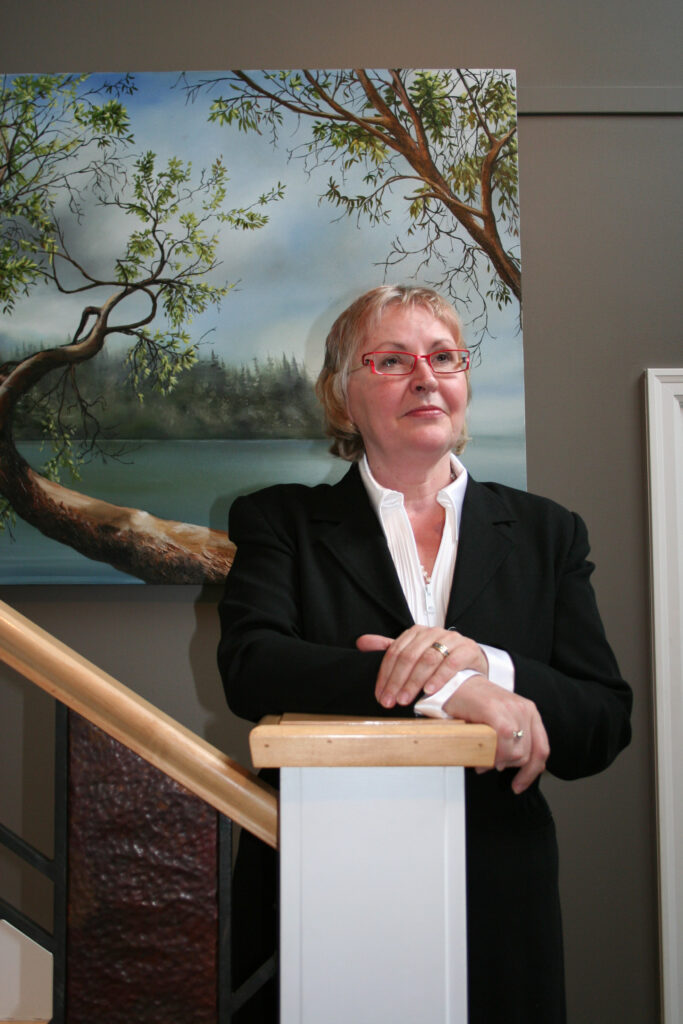 Whether it's a painting that would be perfect for a home office, or a decorative glass bowl for adorning a coffee table, Van Dop wants art to feel accessible. While she acknowledges collecting art can feel daunting, she insists it doesn't have to be. "For what you pay for a print, you can have an original piece of art," she says.
Her gallery takes away the intimidation factor because it feels like you're visiting someone's home. Once you arrive, you can leisurely view and purchase the work of over 80 established and up-and-coming Canadian artists. Van Dop changes the arrangement of the art on a seasonal basis but, overall, aims for variety to suit diverse tastes. "I see myself as a matchmaker between the art and the client," says Van Dop.
And there really is a piece of art for everyone. While they range from the abstract to the realist, the works all add beauty and artistic expression to people's lives. Selections include striking impressionist paintings by Carole Arnston, one-of-a-kind ceramic sculptures by clay artist Elaine Brewer-White, and metal sculptures of the natural world by Jack Willoughby of Anvil Island Design. The Gallery features the work of numerous Indigenous artists, such as Trevor Hunt (Kwakwaka'wakw Nation), who specializes in brightly painted hand-carved paddles.
During the summer, Van Dop holds events in her whimsical garden, inviting you to experience art outdoors in the sunshine. These al fresco exhibitions are an extension of the overall philosophy of Van Dop Gallery: that art is integrated with living and should be celebrated and enjoyed by all.

For more information, visit vandopgallery.com
*Photos by By Tara Lee unless otherwise noted