By Brittany Tiplady
Woven between the independent shops, restaurants, cafes and other local haunts, Downtown Langley is lit up with an abundance of art– free to enjoy and accessible for all. Boasting over 20 one-of-a kind-pieces, you can enjoy Langley's mural walk by following an easy to follow map they created for the project– the route crawls along the Fraser Highway "one way," between 207th Street and 201A Street.
We spoke to Teri James, Executive Director at Downtown Langley Business Association to learn more about Langley's mural attraction and the artists behind the masterpieces.
Q: How long have the Murals been around? When did this public exhibit begin to take shape?
Teri: We launched a Student Mural Contest in March of 2019 – applications went out to post-secondary and secondary schools all over the lower Mainland. The concept for making it a student contest was in the hopes that "budding artists" would be willing or want to come to paint a mural in our downtown core. We would find an appropriate wall, get permission from the property owner, clean the wall and pay for their supplies. Shortly after launching, we started to hear from other members of the public that they would like to be considered as well, so we opened it up to everyone.
We received over 30 submissions and eleven were chosen by the mural committee. It was then my responsibility to connect appropriate murals to buildings and get permission from property owners, and by the end of summer 2019, we had eleven new murals to add to our existing 9 already located downtown.
Q: What did an opportunity like this mean to local artists?
Teri: One of the artists, Judy Pohl, had already approached me several times over the years with her ideas and asked me to find her appropriate walls. She donated her expertise and time [to the Langley murals] and her supplies were paid for. That's actually one of the reasons how the concept of the contest started: commissioned artists are usually instructed on what the design of a mural is to be, and artists saw this contest as an opportunity to paint their vision without worrying about all of the behind the scenes stuff. Essentially, all they had to do was "express their creativity." This was also an excellent opportunity for budding artists who might not qualify for a commissioned piece.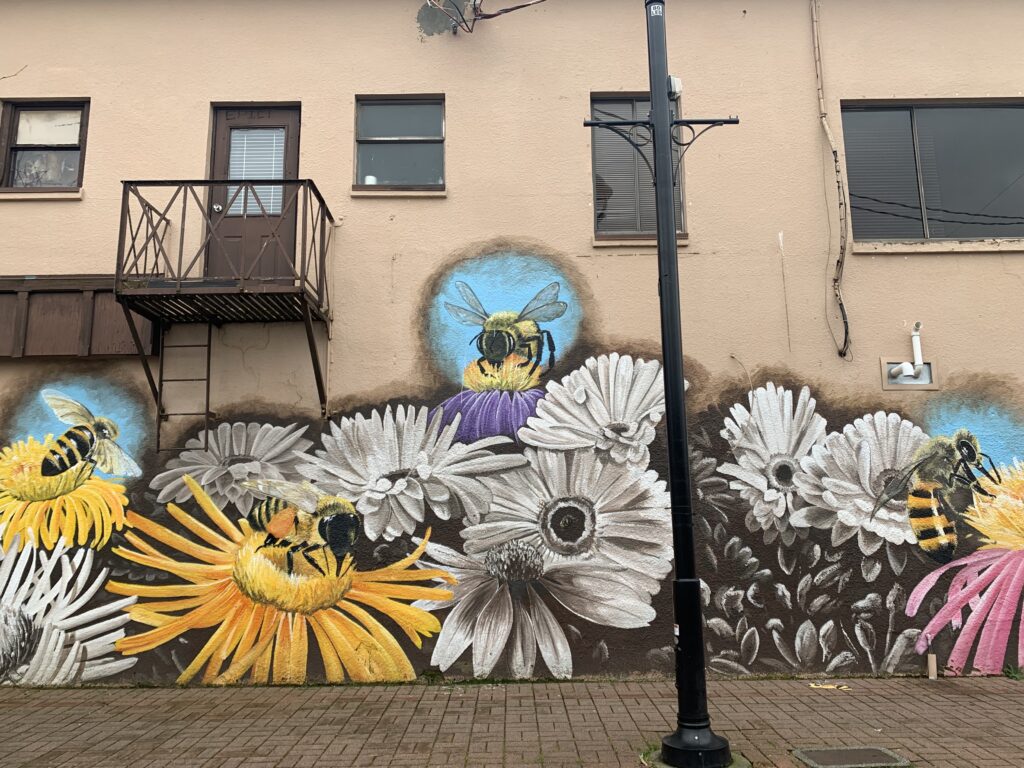 Q: Does the Downtown Langley BIA commission new artists to paint, yearly?
Teri: We have commissioned four murals but have the budget for more if the right artist, design and location comes along. We believe that we have created an environment where artists can express themselves without dealing with finding locations, getting permission and all the other red tape etc. We do all of that for them.
As a result, we average one or two new murals annually. We have always been very open to commissioned projects should the right opportunity come along. We are just very fortunate that so many artists have contributed to our mural walk.
Q: What are your personal favourite pieces?
Teri: Art is very subjective so this is a challenging question to answer, but I guess I'm drawn to the ones that I feel tell a story, Save the Bees, Octopus Extraordinaire and Gardening Goddess to name just a few. These are just a small sample of the amazing murals on our mural walk. Having met each artist over the course of the last five years, I can honestly say that they all have meaning to me and I can appreciate the talents and vision of each artist.
Q: There are quite a few beautiful paintings from Judy Pohl and Verna Brown. Do you have any anecdotes you can share about these two artists?
Teri: I have known Judy for many years and she is literally our "go to" artist. She has donated five of our murals, been commissioned by the DLBA for two and has been commissioned by businesses for several others. We have worked with Judy for a long time, and she can literally paint anything on any surface. Her generosity is part of what sparked the idea to see if other artists were feeling like they had something to contribute.
Verna was commissioned to paint the two murals behind Forever Yours Lingerie and then she and Judy (and Judy's oldest daughter) collaborated on the Octopus Extraordinaire mural, which is one of the fan favourites.
Both artists are extremely talented and continue their very successful careers as professional artists, in addition to having donated their time and talent to our community.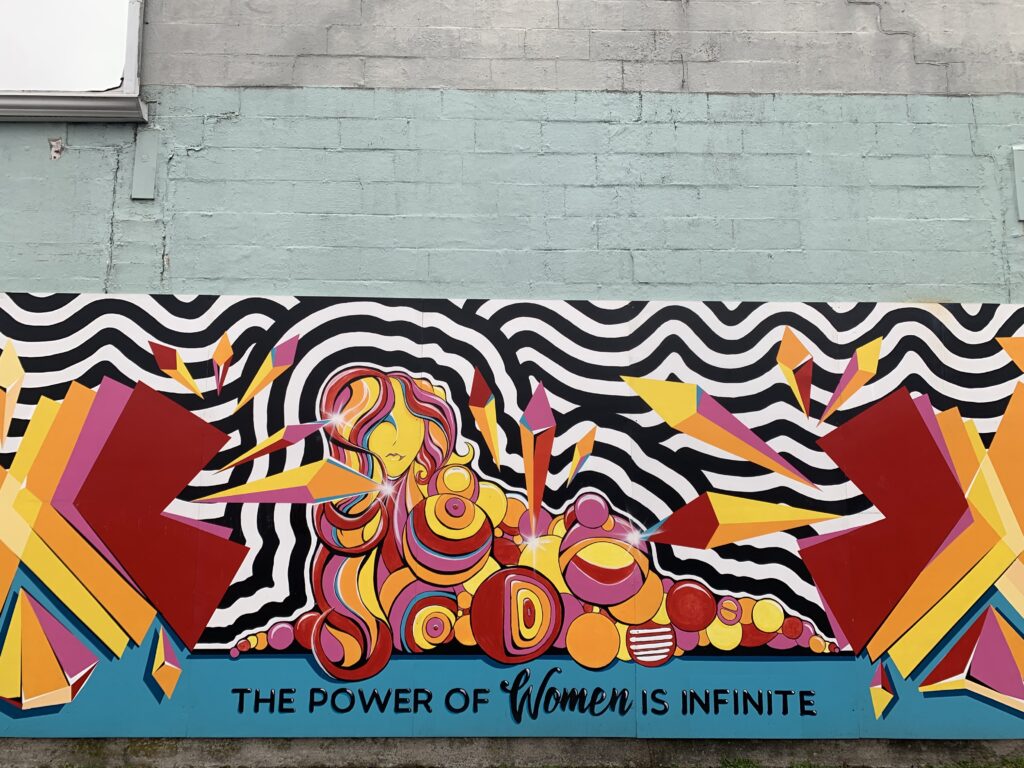 Q: What does a public exhibit like this mean to the Downtown Langley community from your perspective?
Teri: This undertaking has brought a great deal of attention to Downtown Langley and hundreds of people—if not more—take part in the tour every month. Particularly over the last two years, as people were looking for safe and fun activities to do with their families and friends. Because the murals are all over the downtown core and beyond, this brings people into our community that might not otherwise visit, and helps the local economy as they shop and dine as well.
Q: Anything else to add about organizing this event?
Teri: We have embarked on a very exciting augmented reality (A/R) journey with seven of our murals, with plans to eventually activate as many as possible. Four were activated at the end of 2021 and the other three will be launched in March of 2022.
We anticipate this program will continue to grow as more and more artists approach us. The A/R component has garnered a lot of attention as well, and we can't wait to welcome more visitors to our beautiful community this spring!
Check out the murals paired with the A/R function linked below. On your stroll, be on the lookout for QR code tiles, which indicate that a mural has been activated and added to the Moving Murals Experience.
Moving Murals: The Power of Women Is Infinite – YouTube
Moving Murals: Angel Wings – YouTube
Moving Murals: Save The Bees – YouTube

* All photos by Brittany Tiplady