By Song Xianjun

The previous Gertrude Lawson House, now the West Vancouver Art Museum, is always a place with a real soul for art. On Oct 18th, when Vancouver's air pollution reached its peak due to nearby forest fires, the latest exhibition ALL FALL DOWN, by Martha Sturdy, opened to the public. Despite the obvious negative consequences of the smoke, the foggy day I visited somehow provided a fitting backdrop for the show, which explores the themes of climate change, extreme weather, and nature's life cycle.
Sturdy received her BFA in sculpture from the Vancouver School of Art in 1978, and her accolades include an honorary doctorate from Emily Carr University of Art + Design and a Golden Jubilee Medal from the Governor General of Canada. Now, at the age of 80, Sturdy has challenged herself again by making a brand new set of sculptures out of wood salvaged from a stand of ancient cedar trees in Pemberton, BC- her second home away from the big city, or her "art wonderland" to be more precise. Unlike her world-famous art furniture and bold design jewelry, often called wearable sculptures, Sturdy's new pieces are rougher and less polished while still playing with the signature materials in her work, wood, resin, and metal.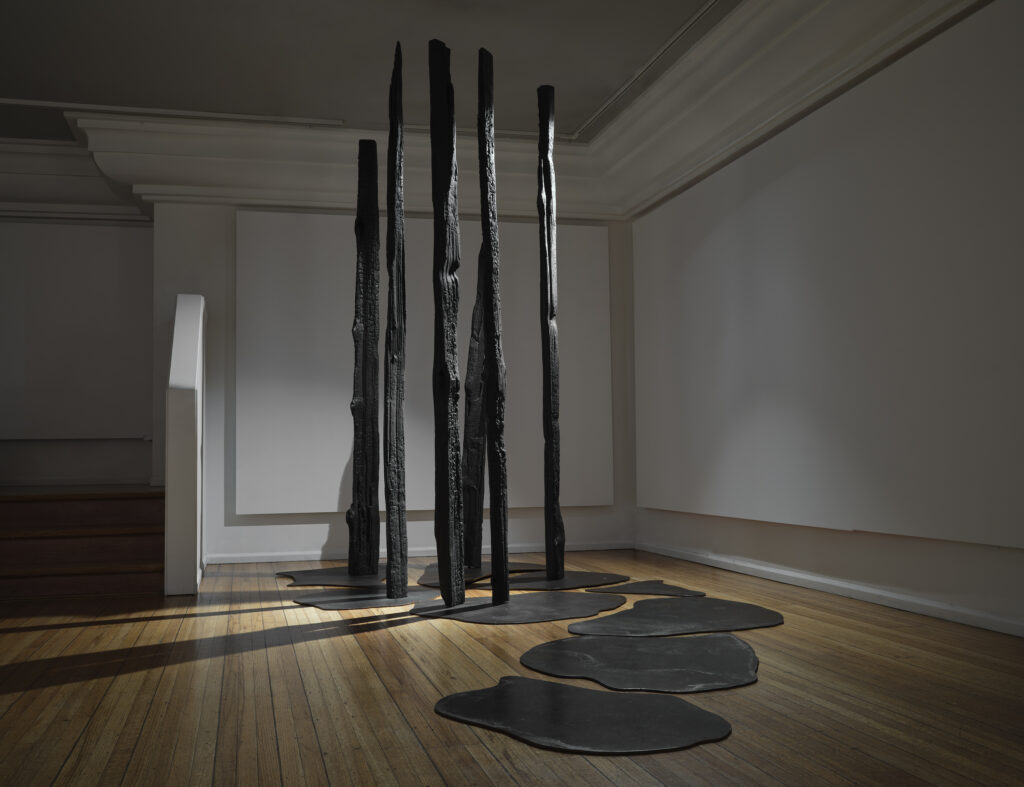 Upon opening the museum door, for a moment, you might get the feeling you're entering the land of Narnia through that wardrobe door. Except, instead of the forest, you'll encounter trees that are made from hand-burned logs coated in resin and applied with stain, imitating the remains of a forest fire. The reduced lighting showers the whole space with mystery and is reminiscent of Wabi-Sabi, the Japanese appreciation of the imperfect or incomplete.
Comprised of split wood pieces, the first sculpture, ALL FALL DOWN 1, stands on dark, irregularly shaped steel plates representing cracked earth. Walking through these scaled-down burned pieces of wood comes the second sculpture, ALL FALL DOWN 2.
With this second piece, the logs are less broken down but still burned. Heavy and lifeless, these trees seemingly didn't escape their destiny of losing their roots and home. Tied together and hanging askew on the wall by a rusty chain, once used for a boat anchor, the trees' shackles represent the power of control, which now barely keeps them balanced.
ALL FALL DOWN 3 is a piece from Sturdy's earlier exploration of materials- a beautiful piece of brass with a natural patina sandwiched by two pieces of burned wood. This delicate and detailed treatment returns the mind to Sturdy's more fashionable aesthetics.
If standing amongst these three groups of dark, burned pieces of wood sculptures gives you the feeling of being inside John Cage's 4'33", a composition of 3 movements of silence in 4'33", then perhaps a breath of fresh air outdoors to view ALL FALL DOWN 4, might bring you back to the present. A stack of burned logs is sitting outside on the museum lawn. Despite the repeated burning theme in each piece, the sculpture outside contains the surprise of a sapling growing out of the dead log. Hope hides in the darkness and life cycles through the magic hands of Mother Nature. All may fall down, but it will rise again.
Drop by the show for a personal meditative moment or group reflection with others. Or simply enjoy the exquisite beauty of Martha Sturdy's art.
'All Fall Down' is on view until Dec 17, 2022
For more information, visit westvancouverartmuseum.ca

*All images credited to Raeff Miles

Take the #251 Queens bus to Esquimalt Ave.