By Marisa Chandler
*All images by Tim Matheson
What happens when three goblins stumble upon a copy of the Complete Works of William Shakespeare?
They gravitate towards the bloody tale of Macbeth, of course. Filled with witches, intrigue, and murder, the Scottish Play is rife with opportunities for clever skullduggery and shady dealings- known goblin pastimes. And best of all, it has the shortest running time of all the Bard's plays, you know, just in case the performers get restless and need to find an audience member to chew on.
Taking over the Howard Theatre tent at Bard on the Beach, the goblins' first attempt at "doing theatre" invites visitors into a playful and interactive performance of one of Shakespeare's most studied serious dramatic tales. Intimidating the lighting, stage crew and audience into watching their production with the threat of eating them, the treacherous trio approaches the material with the kind of naivete usually reserved for children performing a play for adults. That feeling that the goblins are making it all up as they go along gives a natural boost of atmosphere to the production, that anything could happen, and danger is never far off.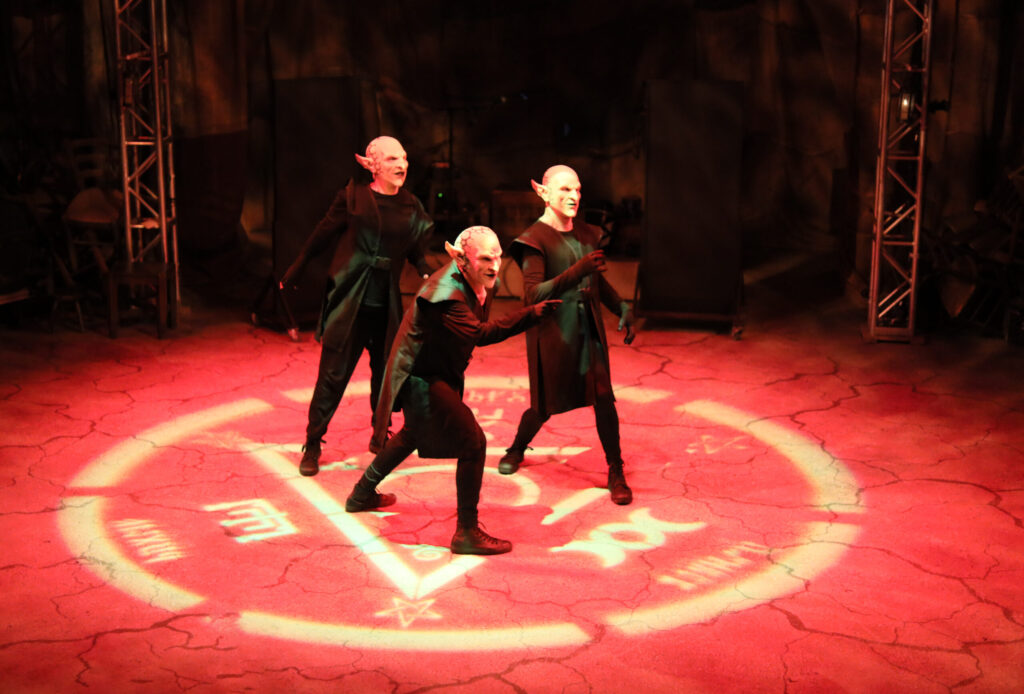 Goblin: Macbeth is a Spontaneous Theatre creation by Rebecca Northan, with Bruce Horak, and original music by Ellis Lalonde. Under the goblin costumes that render the actors nearly indistinguishable, each performance combines off-the-wall humour with sharp reaction time and skilled crowd work.
While life may be "but a poor player that frets and struts his hour upon the stage," these three goblins are anything but poor, bringing enormous bursts of energy to the hour-and-a-half-long performance. With impressive ingenuity, the characters' irreverent curiosity allows the performers to express an impressive range, incorporating elements of improv, audience participation, and a hilarious fourth-wall-breaking commentary.
Originally produced by The Shakespeare Company and Hit and Myth Productions in Calgary, the initial performances received glowing reviews from local media. It's a delightful production to finish this summer's Bard on the Beach season.
"Shakespeare goblins veer from inspired lunacy to riveting command of the language. Unpredictable, unrestrained and uninhibited, Goblin: Macbeth is the stage equivalent of a theme park funhouse ride."
– Calgary Herald
In short, it's gobs of fun.
Goblin: Macbeth runs until September 24, 2023
For more details, or to book tickets, visit bardonthebeach.org

Vanier Park: From Waterfront Station, take the # 44 UBC bus to 3rd Ave and Burrard St. It's about a 10-minute walk toward the water from there!