By Harriet Goodwin
*Cover photo by Sabrina Miso via Vancouver Mural Fest
Do you remember a time when you would go into a gallery or a museum and be scolded by a gallery assistant for taking a photos of the art?
How things have changed! Today, social media has created an environment where you are not only allowed to take photos freely, but sharing your experience is actively encouraged and intentionally facilitated by curators and programmers.
Embracing the intersection of technology and cultural experiences was propelled forward by the pandemic, where experiences outside of the gallery, such as virtual exhibitions, augmented and virtual reality and online lectures, were key to not only the survival of the organizations, but the well-being of the communities they were serving. TED is even running a new conference about this intersection in London in October.
These are just a handful of the tools that cultural organizations now have to engage visitors and attract new audiences.
Augmented Reality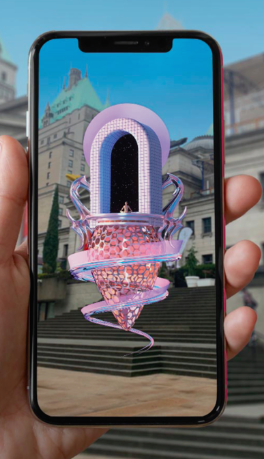 This past February, Vancouver Mural Festival brought its audience into a new artistic dimension by merging traditional programming with an interactive, digital space. The VMF Winter Festival featured a series of artworks where scanning QR codes could project a giant ladybug, jellyfish or even the Northern Lights, to name a few, onto the Vancouver cityscape via your phone. Although the installation was temporary, during the time it was up, it gave visitors an opportunity to engage with art in a new way, without the commitment of walking into a gallery. People who, in the past, might not have been interested in visiting a traditional gallery setting, got the chance to be engaged wherever they were at. It acted as a welcome shortcut towards the mood-boosting benefits that come with regular engagement with the arts.
Virtual Reality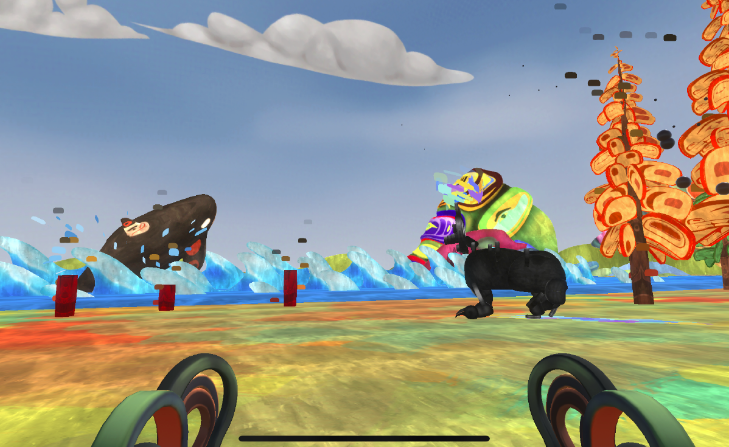 Vancouver Biennale recently launched Unceded Territories, which features the pop–surrealist work of Indigenous artist Lawrence Paul Yuxweluptun. An immersive experience that explores the link between colonialism and climate change, the original piece was an Oculus-based VR game, but the Biennale has since adapted it to be playable from your phone. Meanwhile in New Westminster, New Media Gallery recently opened DUST. Similar to how the multimedia centre presented a digital take on water, with their previous show, aBIOTIC, DUST is an exploration of all things, well, dust! In his piece, "DustVR" (2018-2023), German artist Michael Saup gives visitors the chance to immerse themselves in the invisible particle matter that floats throughout the air, creating stunning "emission-landscapes". Thankfully you won't have to worry about your allergies when observing the findings from dust censors set up around New West.
You can read more about our recent visit to the exhibit here
Projection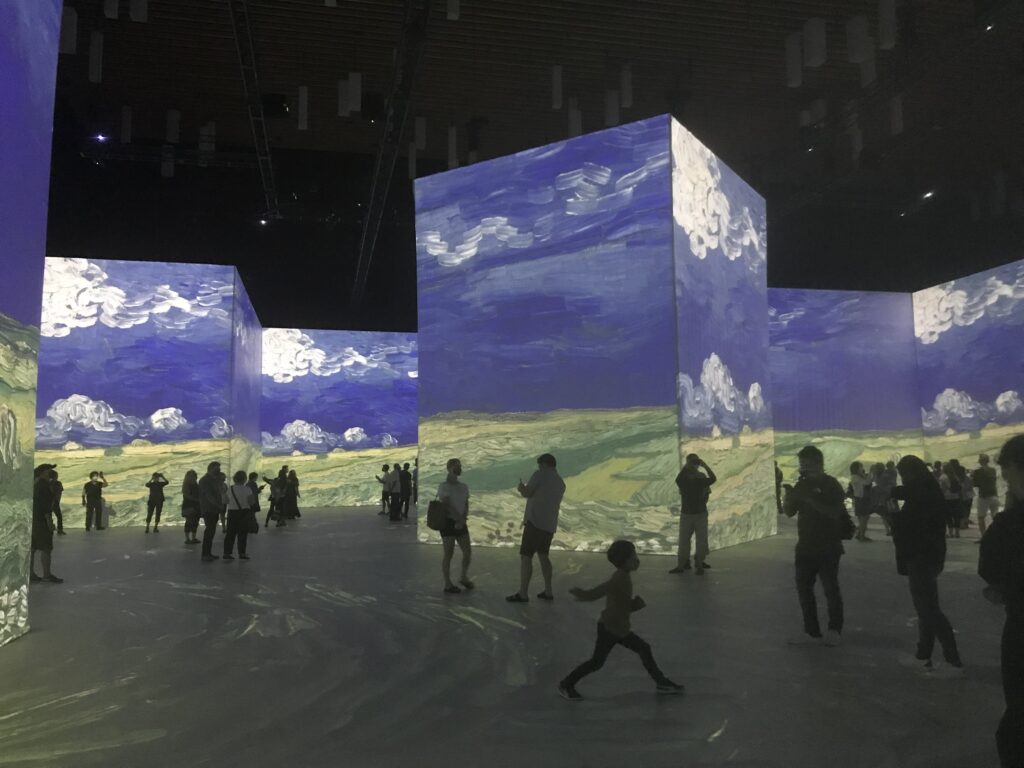 In recent years, large-scale projection exhibits have begun travelling the world, finding temporary homes in large warehouses and convention centres. With the ability to digitally compile and showcase hundreds of pieces of art by artists like Picasso and Van Gogh, each one creates an immersive light and sound experience. The actual pieces of art recreated in these shows are often scattered across the globe in museums, so the cost of seeing a whole collection would obviously be far pricier than just one ticket to these immersive experiences.
Apps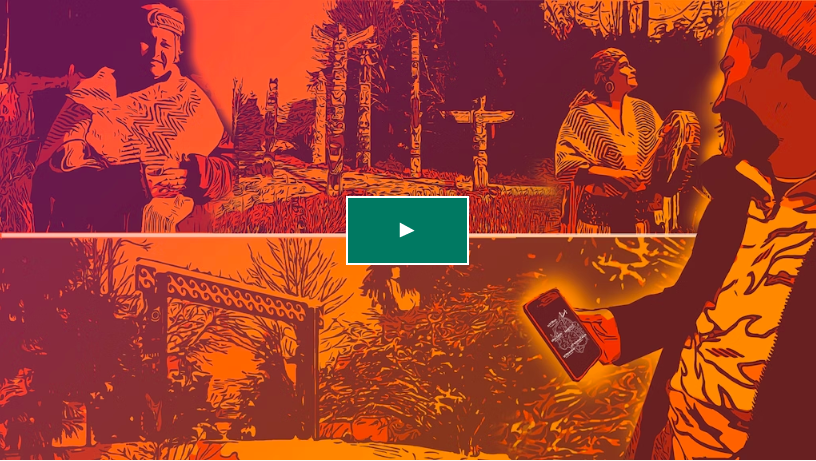 For over 20 years, Talaysay Tours has been sharing Indigenous art, tradition, language and stories with Vancouver and North Shore visitors. With that strong connection to culture, the company has now pivoted to include an interactive app as one of their storytelling tools. Launching in September 2023, the new experience creates a cultural intersection where, as the project's Kickstarter page says, "Indigenous oral history meets technology." The app will include a location-based video player, an interactive map and educational games that will enable users to get outside and take a guided tour of Áx̱achu7 (Beaver Lake), X̱wáy̓x̱way (Lumberman's Arch) and Pápiy̓eḵ (Brockton Point Totem Park) all from their phones.
Indigenous cultural ambassadors and land guides will pop up as users walk along the path and reveal stories about the land, totems, art, plants and trees. It's an engaging way to honour the land in and around Stanley Park, as it's been a gathering site and home to xʷməθkʷəy̓əm (Musqueam), Sḵwx̱wú7mesh (Squamish) and Səl̓ílwətaʔ/Selilwitulh (Tsleil-Waututh) peoples since time immemorial.
Artificial Intelligence (AI)

In the wake of art institutions prominently featuring AI-assisted art (The Vancouver Art Gallery showed 'Imitation Game' last year) and many vocal artists challenging the use of anything outside of their own imagination (In April, German photographer Boris Eldagsen won a Sony World Photography Award, and then revealed that his piece was created using AI), many are wondering how artificial intelligence is going to impact the art world.
On a panel at the TED 2023 conference in Vancouver, the theme of which was 'Possibility,' AI artists and curators spoke about the rise of AI platforms such as Stable Diffusion, ChatGPT, and Midjourney and how creatives are using them as an extension of their craft, not a replacement. Some critics feel that it will stamp out human creativity, but this group of speakers had a more upbeat take on things; that AI is becoming just another tool for expression, much like photography or even Adobe suite!
Artist Refik Anadol, who was on the TED panel, has been using AI as an educational tool, using publically available datasets that encompass millions of sounds, sights and even smells from nature. He then creates photo-realistic digital visualizations of subjects like extinct rainforest flora and fauna. It's one way that this process can act as a digital preservation of the knowledge from humanity's collective memory.

AI technology has the ability to analyze vast amounts of data and identify patterns and trends that humans may not be able to see. Early adopters are being playful, curious and creative with their prompts and, in so doing, are paving the way for these text-to-image tools to become more mainstream. The co-creative nature of creating AI art is a dance between humans and open-source platforms exchanging information, the result being something that neither the artist nor the platform could have come up with alone.
---
As technology continues to evolve, we are seeing new and exciting ways it can intersect with the arts. The use of technology by artists, curators and programmers can capture the attention of a wider audience, both inside and outside of a gallery or museum's walls. These interactive, immersive experiences can bridge the gap between silos such as architecture, heritage, arts, culture, animation, gaming, graphic design and more and bring them together in an accessible place. Somewhat ironically, technology can then help facilitate off-screen connections to place.