By Paula Burrows
Preventing textile waste and promoting sustainability have become priorities for many in the fashion industry, prompting the question: how else can we change the established but archaic system?
Innovators in the industry are currently challenging the traditional format of cycling through collections and runway shows and, instead, experimenting with new ways of sharing their designs. Vancouverite Shasha Schaepe's contribution to this movement brings us a fashion show re-imagined: For:Ze – Volume 1, opening March 17.
The showcase of her latest collection began as a short story five years ago, which she continued to develop into its current form as an immersive and interactive graphic novel. To call Schaepe multi-passionate would be an understatement. Although most widely acknowledged as a fashion designer—she's the brains behind Re-Wild Kids, a hand-made, sustainable, gender-fluid children's brand—Schaepe is also a talented artist, musician and writer. In For: Ze – Volume 1, these passions intertwine in a fashion presentation that blends illustration, mixed media, photography, and videography. A new take on what a fashion show could—or maybe should—be.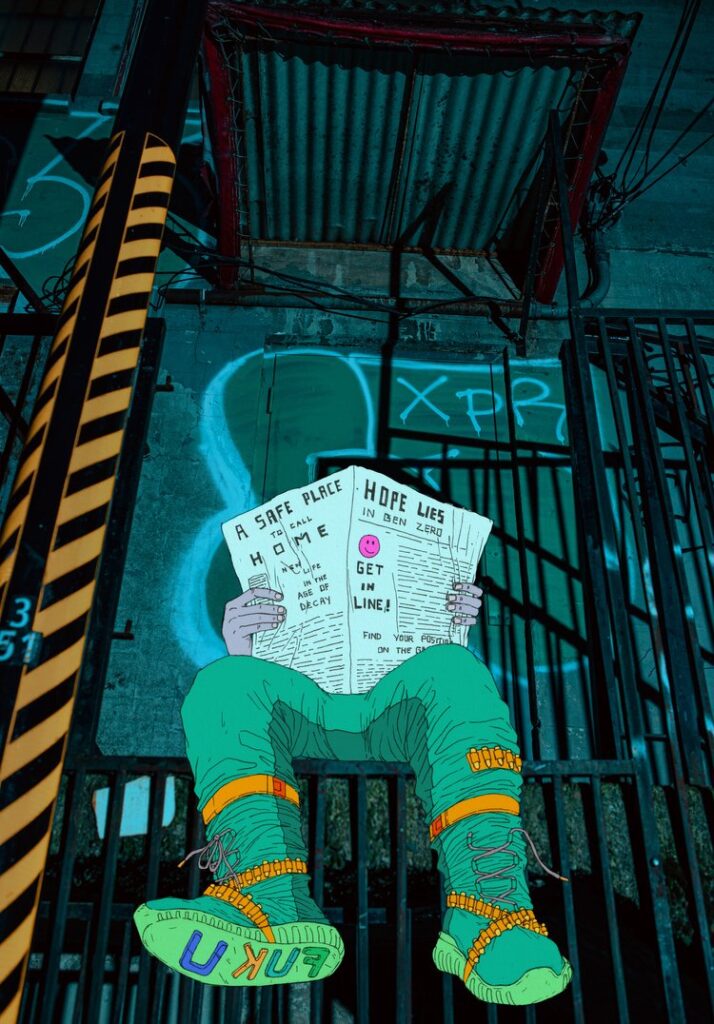 Collaborating with a group of ten artists from various mediums, Schaepe also acts as artistic director to tell her sprawling story. Set in the year 3000, we enter a world in which technology stops advancing, and begins to devolve. The humans living with this technical regression now must face living without the convenience of modern innovation.
While it may be a millennium away, gallery visitors will likely recognize a few local fixtures in the setting. Schaepe was inspired by East Vancouver street culture, drawing from iconic buildings, murals, and graffiti to create the narrative landscape.

This pastiche of local influences is a clue into how the artist first explored how her story would translate into a visual medium. "Collage really brought to the surface what was important to the story and what wanted to be further developed," Schaepe says. "Specifically, themes of degrading technology and utopia vs dystopia as well as subliminal warfare and underground movements."

The tactile sense of piecing things together is a theme that runs throughout the show, as each contributing artist presents
Schaepe's through their own creative lens. It's a testament that creating a story of change often relies on more than one perspective to come to fruition. For: Ze leaves us with the hope that maybe we can learn a few things from the future.

For:Ze Volume 1 runs March 17th to 24th at SPACE – a creative exploration module – in East Vancouver
For more details, visit: forze-volume1.com

SPACE: Take the 99 B-Line along Broadway to Clark Drive, then transfer to the #22 Downtown bus, and exit at Venables St- it's about a 5-minute walk from there!
To further plan your route, can use the Translink Trip Planner