By Natasha Ponda
Taking in the natural wonders at The Beaty Biodiversity Museum, you can't help but contemplate the thin line between science and, something a little more sacred. While you may be visiting to marvel at the largest blue whale skeleton in Canada, or learn about natural history and wildlife in a post-natural state, the current featured exhibition actually provides a contemplative inverse of that.
Sarah Ronald's show, Disrupting Wild Echoes, uses art to explore what it could feel like for an animal to encounter humans in the backyards that we share.
When walking through the show, the initial works you encounter illustrate an objectively scientific approach to Ronald's subjects. The images are momentary non-narratives of animals captured in the wild, a wolf sniffing the ground, a fox carrying off a recent kill, with titles such as "Territory (I), (II), (III)" and so on. A single, generalized word followed by a numeric sub-system conveys a distant yet focused concern for the creatures she depicts.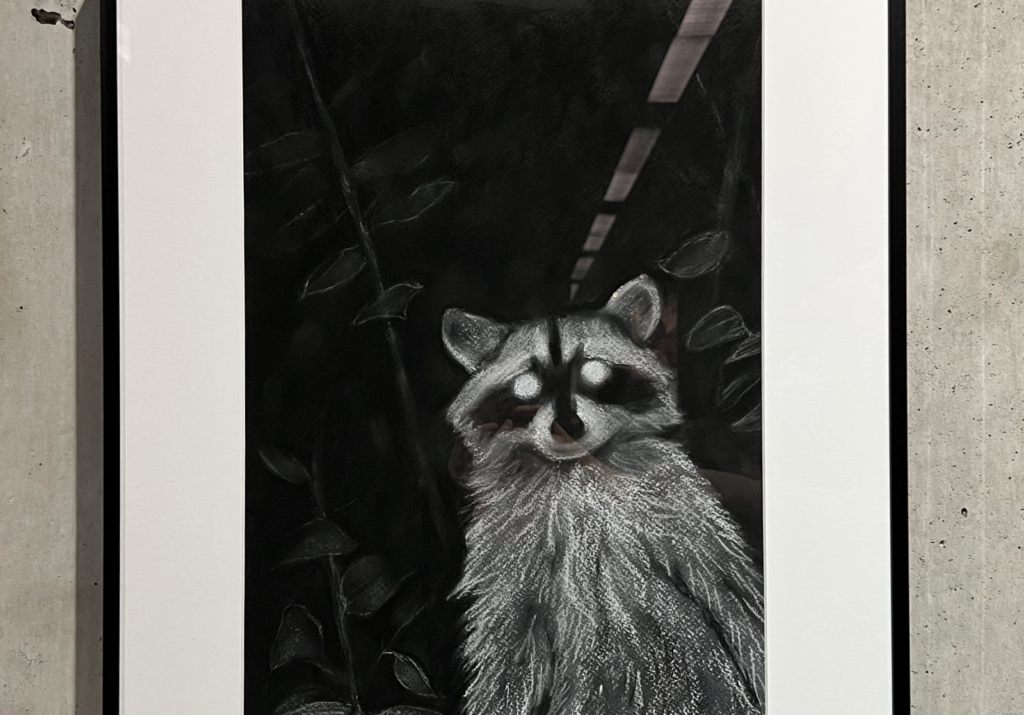 As you continue through, the drawings naturally develop into chapters. Each one informs the next, revealing Ronald's deepening relationship with her subjects.
The use of nighttime cameras becomes an extension of her hand-drawn visualizations. Described by the artist as "blurred forms… unnatural lighting, heightened contrast, muffled darkness, and seemingly foreign landscapes speak of an existence that is exposed… vulnerable and highly sensory. I believe that this kind of enveloped sensory experience is precisely what we need in order to realign with the natural world. It is an opportunity to humbly step out of one's clinging to personal identity, and to resonate with something vastly important and primal".
Venturing further, you'll notice emotional observations in Ronald's subjects: fear in the eyes of an unsuspecting fox, or the innocently goofy surprise of an intrigued raccoon. These moments highlight a shared sense experience common to all living beings: instinctual reaction and emotion. Mirroring human experiences like fear and curiosity, we start to relate to these four-legged foragers much more.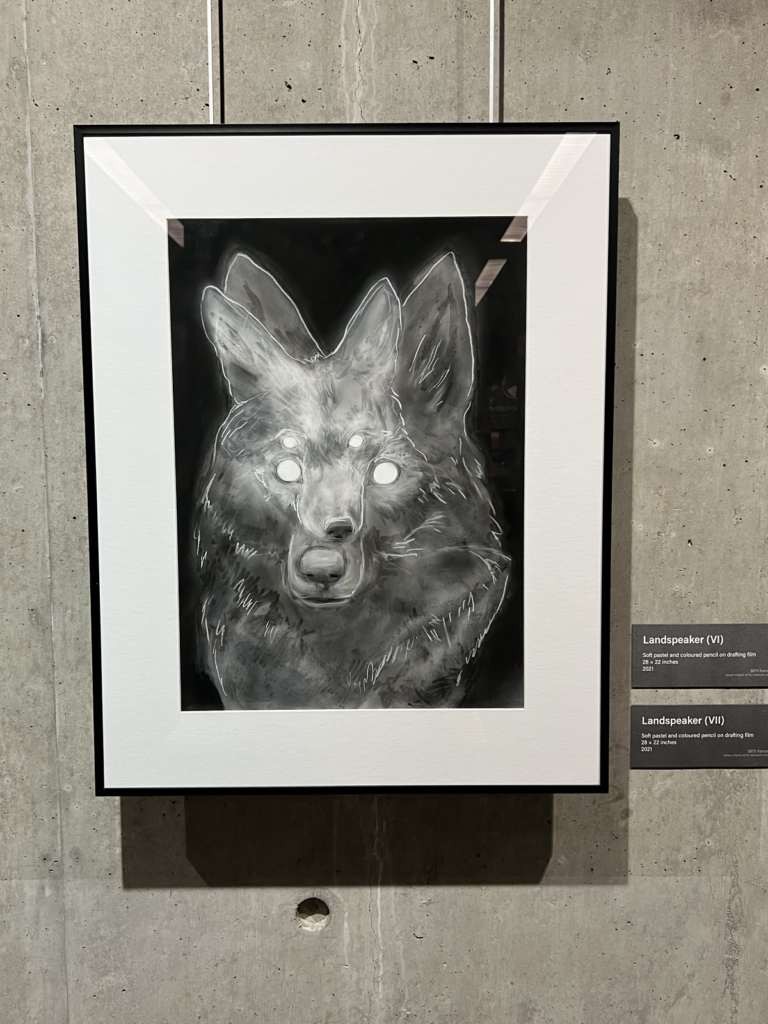 Following these emotionally charged depictions, Ronald's titles take a more in-depth interpretation of what she is witnessing and what she wants to say with her work. Naming the characters in her nighttime portraits as "Landspeakers," is a reference to a practice that, as Ronald puts it, "…acknowledges intuition and hints at the world beyond human logic." Throughout Disrupting Wild Echoes, viewers are encouraged to practice landspeaking – "a calling to harmonize with life beyond the human world".
What comes out of Ronald's animal encounters are depictions of the deep sensory ties to the Earth, and non-human life. Helping viewers become more in tune with the natural networks we "disrupt".
Take advantage of human articulation and tap into animal experience until August 21st 2022 at UBC's Beaty Biodiversity Museum.

More info here: beatymuseum.ubc.ca
Discover more of Sarah Ronald's work at: sarahronald.com

You can take the 99 B-Line bus straight to UBC, it's about a 10-minute walk from there!