"Travel into Subconscious" is a fitting title for the current exhibit at the Gallery at Queen's Park in New Westminster. Artist Vladimir Kolosov's canvases create dream-like scenes that seem familiar and foreign all at once.
Kolosov finds a real sense of liquid movement in his pieces that parallels how thoughts and emotions can lead into each other without pause. Forms float in liminal space, while faces and eyes hover above humanoid figures and shapes. In the painting titled "Time collapsed. Still life with two rhinos", hourglasses drift through the air as if encased in a lava lamp. A reflection on time and space similar to the melting clocks in Dali's "The Persistence of Memory."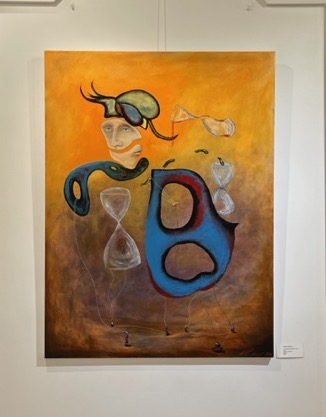 The write-up for the show follows the surrealist tone of the work, by presenting nebulous musings on the collection. As the description says, the exhibit presents "his (Kolosov's) perception of the spaces we live in, and our knowledge about inner and outer worlds that surround us."
We always appreciate it when galleries and curators leave a space for the viewer like this. By allowing for interpretation, there's no wrong or right in experiencing the show. It further speaks to the feeling of the show in that you can let your thoughts flow in a constant state of consideration, much like the shapes and scenes that Kolosov creates.

Travel into Subconscious is on until April 30
For more details, visit artscouncilnewwest.org/gallery


Gallery at Queen's Park: Take the Skytrain to 22nd St. Station, and catch the #155 Braid Station via Hospital bus to 1st. Street. It's about a ten-minute walk from there!
To further plan your route, you can use the TransLink Trip Planner.