Finally, a historical fashion exhibit in Vancouver!

By Paula Burrows
The Museum of Vancouver, in collaboration with four noteworthy local collectors, presents, Dressed For History: Why Costume Collections Matter, an expansive show that explores fashion's political, economic, and societal significance from 1750 – 2000.
Since 1992, The Original Costume Museum Society (SMOC) has been on a mission to collect historical garments and textiles to create a museum collection. Without a permanent home, they regularly collaborate with galleries and museums to create temporary exhibits to share these carefully collected garments with the public. For those who've been lucky enough to hear one of curator Ivan Sayers' passionate, fast-paced and information-packed talks, you'll understand the dedication and love that has gone into the decades of amassing these special garments. If you have yet to hear him speak, he'll be giving several tours throughout the exhibit's run, and each one is sure to be a delight.
Compiled of countless pieces of women's clothing through the ages, Dressed For History shows how the evolution of clothing styles reflects the changes in attitudes toward women's societal roles, including their physical movement and freedom.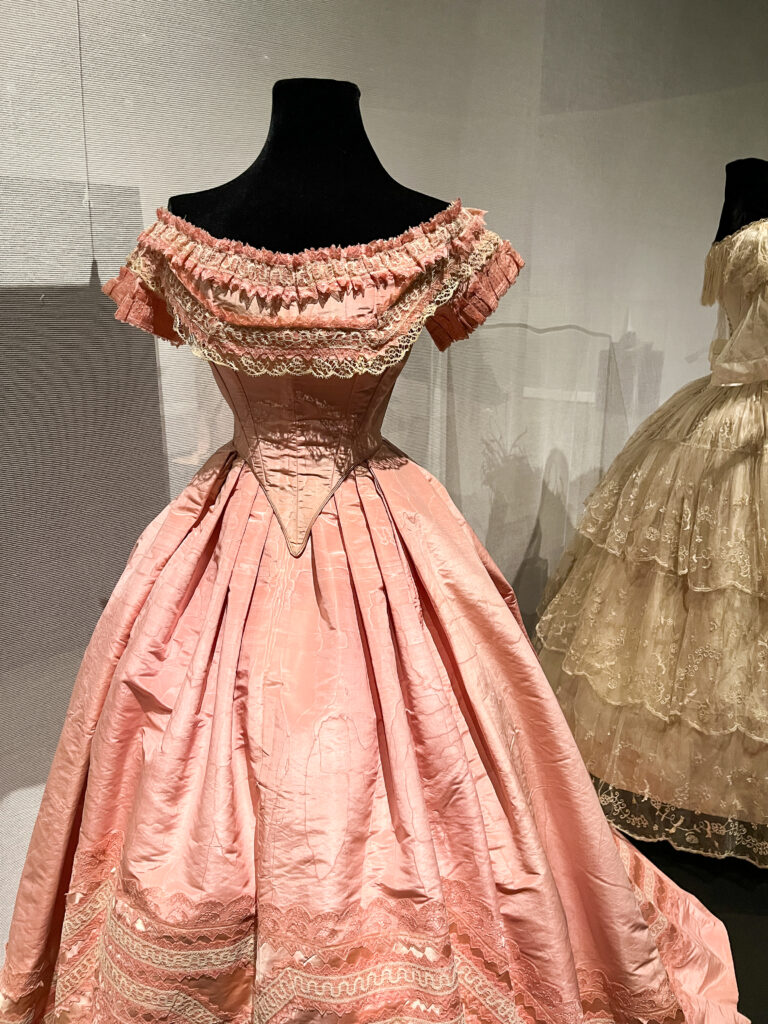 For example, from the 18th century's opulent and voluminous gowns to the 19th century's mid-length day dresses with sleeves cut to hinder arm mobility, women's clothing often limited their ability to move freely. These restrictive garments reflected the societal expectation that women should be passive, delicate, and restrained.
However, the early 19th century also saw the emergence of semi-transparent, Greco-inspired shift dresses, which were considered scandalous due to their revealing nature, representing a pushback against societal norms and restrictions on women's freedom of expression. Later, in the 20th century, Issey Miyake's flowing tunic dresses enabled greater ease of movement, reflecting the changing attitudes towards women's liberation and empowerment.
The garments displayed represent the centuries-long struggle for women's rights and the changing societal expectations of women's behaviour and freedom.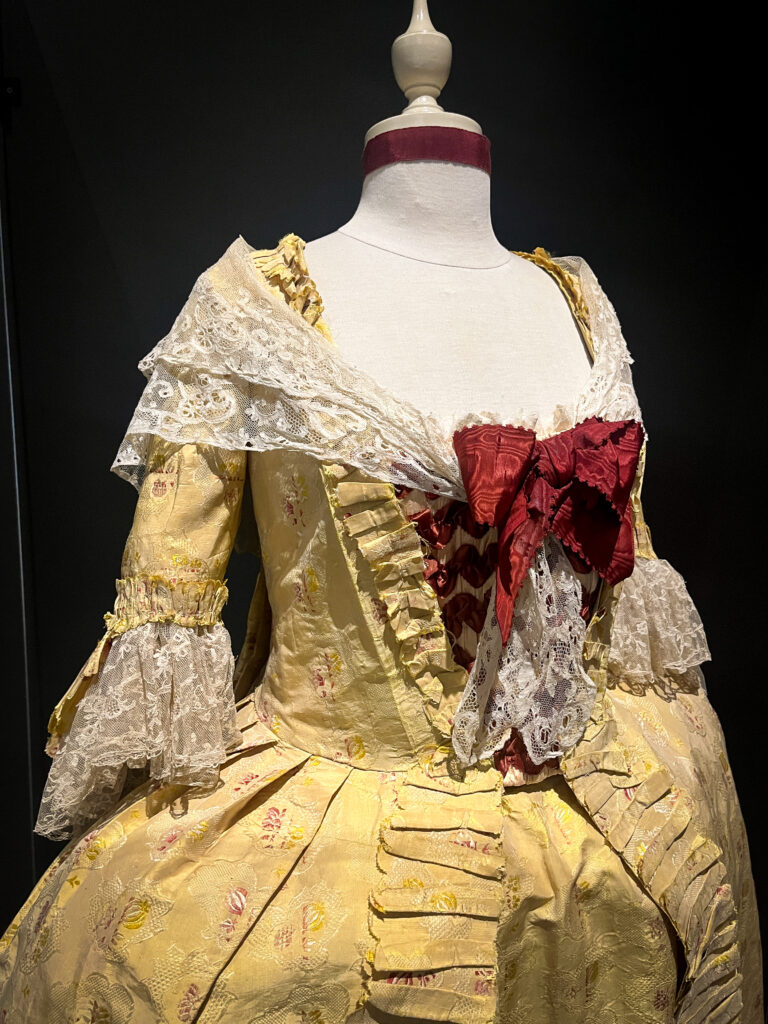 Viewers can compare the luxuriousness and volume of the silk dresses bought with colonial wealth in the 1700s to the austerity of cut and simplicity of fabric used for garments during WW2. The evolution of women's fashion holds many secrets about economics, trade relationships, the wearer's need for mobility and, concurrently, women's increasing need for clothes that allow them to participate in the workforce. 
Panty enthusiasts will appreciate Melanie Talkington's collection of historical corsets on display and the short documentary detailing her journey as a collector, patternmaker and Corsetier. Talkington holds the world's most extensive private collection of antique corsets, not to mention a custom corset boutique, and all inspired by Dolly Parton!
The garments and accessories are impressive, but the most notable takeaway from this experience is that we have first-class historical fashion collectors and curators within Vancouver. The messages and themes of this exhibit feel even more relevant because many of the pieces were found in the lower mainland. One particular gem in the collection is an elaborate day dress from 1886, discovered in Chilliwack, that the curators describe as "made by a competent but unskilled sewer."
If we are lucky, maybe not too far in the future, there will be a dedicated museum for historical fashion and textile arts in Vancouver, where we could see even more of these impressive collections.

Dressed For History: Why Costume Collections Matter is on until November 2023
For more details, visit museumofvancouver.ca

Museum of Vancouver: From downtown, take the #44 UBC bus to Burrard and West 3rd Ave. From there, it's about a 10 minute walk towards the water!

To easily plan the route for your next artistic outing, you can use the TransLink Trip Planner.