01jun11:00 am09jul(jul 9)6:00 pmEverything is Now: Genesis Tramaine Solo Exhibition at CICA Vancouver(june 1) 11:00 am - (july 9) 6:00 pm PST 228 Abbott StEvent Type:Art EventAdmission Type:Free,Ticketed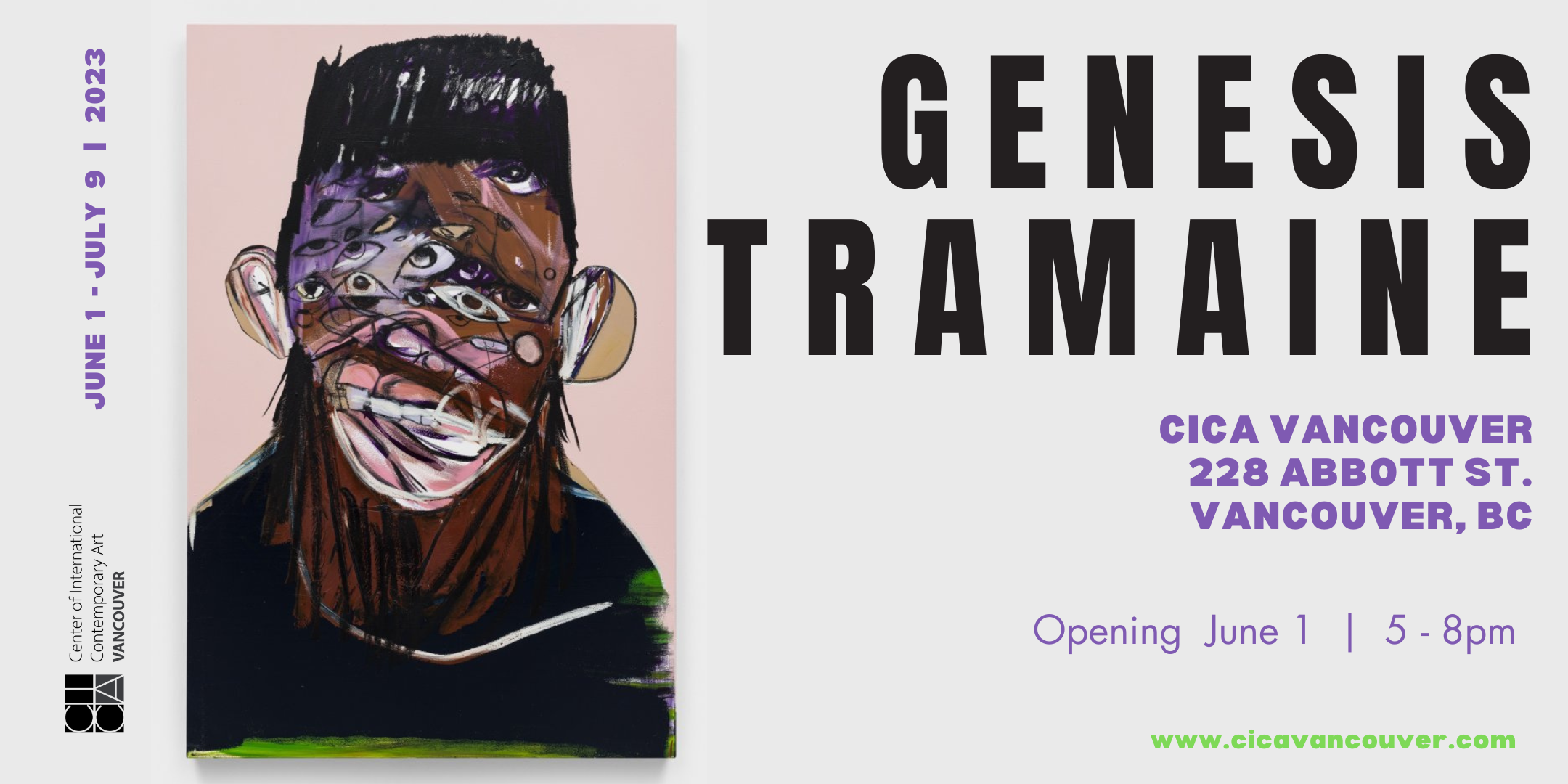 Event Details

Everything is Now: Genesis Tramaine Solo Exhibition at CICA Vancouver

CICA Vancouver proudly announces the upcoming exhibition "Everything is Now" featuring the extraordinary works of American artist Genesis Tramaine, opening from June 2 – July 9, 2023.
The exhibition will open with an Opening Reception on June 1, from 5 – 8 pm, wine and refreshments will be served, and the artist will be in attendance.

Featuring a selection of old and new works, this exhibition will be the artist's debut solo exhibition in Canada. Tramaine's paintings, scrupulously crafted after deep exploration of biblical narratives, invite viewers into a profound visual experience that transcends boundaries and challenges conventions. Adorned with an unconventional fusion of the divine and the whimsical, these powerful representations take on added layers of meaning through the lens of Tramaine's identity and experience as a black artist rooted in Brooklyn.

Her works go beyond religious iconography; it becomes a platform for personal and collective introspection. Through the captivating eyes that grace her canvas, Tramaine not only prompts viewers to lock their gaze with the subjects but also challenges social conventions and invites conversations around identity, spirituality, and the human experience. The enthralling works of Genesis Tramaine will transport the viewers into a realm where spirituality, symbolism, and human connection converge.

Genesis Tramaine (b. 1983) is known for her abstract portraits that transcend conventional boundaries of gender, race, and social structures. Her captivating work evokes a sense of déjà vu, intertwining memories of past lives and unexplored futures. Influenced by 1980s urban New York graffiti and imagined gospel hymns, Tramaine's style fuses familiarity with spirituality.

Using confrontational and provocative colours, Tramaine employs an urban-inspired, mixed-media approach. Her subjects, with exaggerated features, capture the vibrant emotions of the untapped soul of Black individuals with acrylic, oil paints, and a variety of spiritual and natural substances as mediums. Influenced by Bible verses and church readings, her compositions explore profound human themes such as ethics, insanity, spirituality, and sexuality.

Tramaine has exhibited nationally and internationally, including an inaugural solo exhibition with Almine Rech in London, 'Parables of Nana', a solo exhibition at the Rubell Museum, as well as exhibitions at Richard Beavers Gallery, Brooklyn, NYC; The Tree House, Governors Island, NYC; and more. Her work resides in prominent museum collections including the Nasher Museum of Art, Durham, North Carolina, USA; Crystal Bridges Museum of American Art, Arkansas, USA; The Bass Museum of Art, Miami, USA; Rubell Museum, Miami, USA; ICA Miami, Miami, FL, USA; and the Contemporary Art Foundation, Tokyo, Japan and more.

Please join us for the Opening Reception on Thursday, June 1, 5 – 8 PM.
Time

June 1 (Thursday) 11:00 am - July 9 (Sunday) 6:00 pm PST
Location

CICA Vancouver

228 Abbott St