A retrospective of how Indigenous art has evolved over the last 25 years, "Bright Futures" at Bill Reid Gallery offers an invitation to the next generation of artists, to continue creating what Reid would call, the joy of "a well-made object."

Featuring selected works from across Reid's career, the show creates a visual throughline from his enduring legacy to new works from 14 emerging and established artists from the North West Coast. As the opening of "Bright Futures" marks 25 years since the master carver's passing, there's a real sense of lineage on display. Seeing the creative fruits of new voices directly influenced by Reid's work, interspersed with his own pieces, it's an inspiring tribute.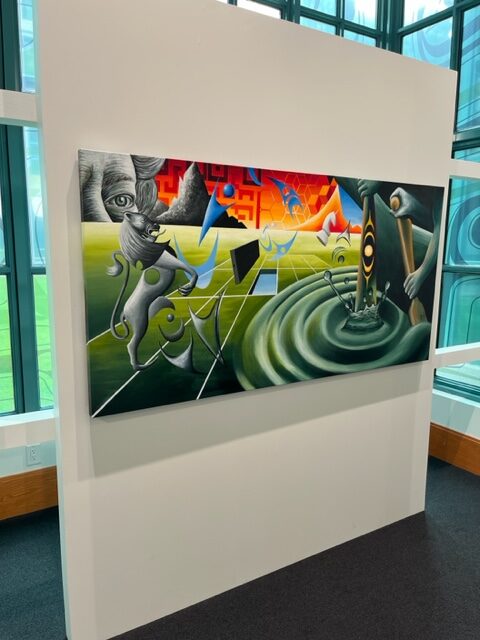 While planning the show, co-curators, Aliya Boubard and Beth Carter posed a question to the participating artists: How is Bill Reid continuously inspiring contemporary northwest coast artists?
This approach to the exhibit is a testament to how Reid embraced moving forward with art and tradition, a celebration of both the past and present.
In Cody Lecoy's piece, "Against the Current," the artist thakes inspiration from Reid's massive Jade carving, "The Spirit of Haida Gwaii," that can be seen on display at the Vancouver Airport and commemorated on the Canadian $20 bill. Lecoy's painting shows the oars of the carved figures plunging into a green sea that feels like a statement on Indigenous people navigating the often oppressive structure of capitalism. The ominous eye of Queen Elizabeth looms over the scene in a way that implies all within her gaze is seen as subservient.
In Lecoy's statement, however, his tone about the piece offers a far more reassuring vision than our first impression. "I chose to commemorate this bank note, because for me, it represents a triumph of the human spirit. This painting is a celebration of resilience, innovation and joy that has persevered beyond the forces of control, oppression, and assimilation".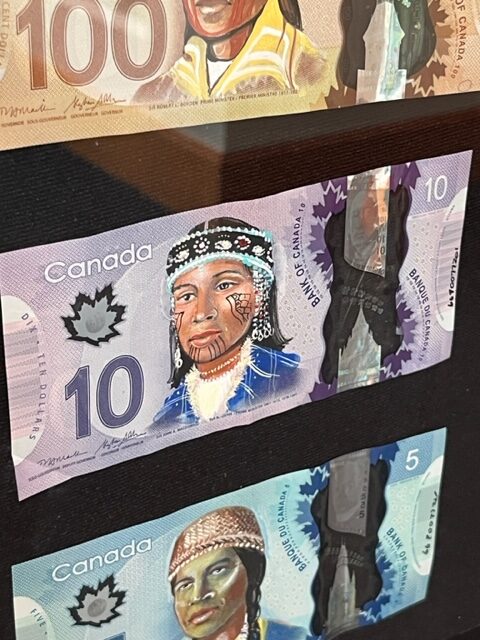 The theme of currency appears again in various forms throughout this exhibit, most notably in "Reconciled Bills" by Tamara Rain Bell. Using both Canadian and American tender as her canvases, Bell assembles a grid of cash, where the featured politicians and historical figures have been replaced with various Indigenous people wearing ceremonial regalia.
As Bell puts it, " I wanted to transform the mundane into a strong political statement, repurposing and indigenizing Canadian and Americal bills with vibrantly painted female and male profiles that proudly assume their rightful position." Created with crayon and watercolour, there's a wonderful sense of guerilla intimacy to these pieces; that they could be released into the wild and passed from hand to hand. It gives a more romantic sense of pride in the process of transaction, rather than one purely of acquiring benefit.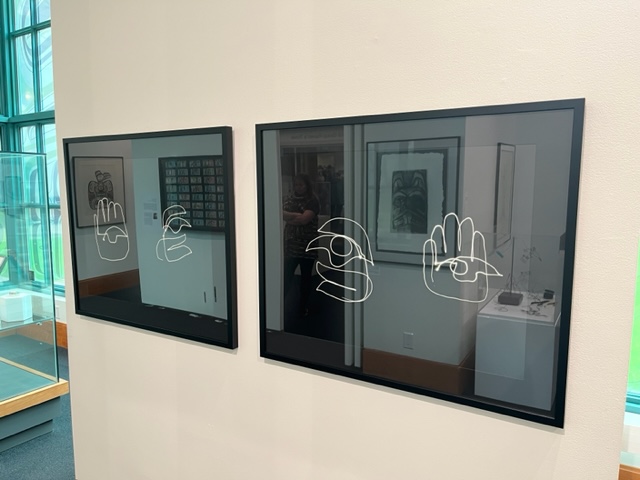 Another piece we were immediately drawn to was "Stealing the Light" by Krysrtle Silverfox and Dustin Sheldon. A collaborative series of photographs, the duo created formline images using long exposure black and white digital photography, with a light source painting. Directly inspired by Reid's wire work of animals and human figures, these photos achieve a similar effect while using a completely different medium. Accompanied by some of Reid's wire work, it's as if his pieces have sprung from the 2D plane in which Silverfox and Sheldon worked.
Without citing every piece in the show, each artist beautifully translates Bill Reid's spirit and creative energy. The curators have done a fantastic job preserving the duality of Reid's work and the pieces he inspired. It's fascinating to see how indigenous art has evolved in the years since Reid's passing.
Reaching the end of the exhibit, a handful of quotes from Reid are featured, considering how he may have felt about the pieces in this show.
"Pay attention to the works of your forebears, but keep your youthful courage to innovate techniques and materials."
Each artist in "Bright Futures" has done an outstanding job honouring these words, and the man who said them.

Bright Futures is on display until January 14, 2024
For more information, you can visit billreidgallery.ca

Bill Reid Gallery: From Vancouver City Centre Canada Line stop, it's only a 5-minute walk East along Georgia Street.
To further plan your route, can use the Translink Trip Planner