Andrea Mueller is a contemporary Canadian artist, painter and art instructor living in the mountain village of Whistler.  Inspired by the energy of the town and people that visit and live there, her passion for her natural surroundings shines through in her work and subjects – wolves, bears, eagles, etc.  Characterized by vibrant colours, loose brush strokes and a sense of playfulness, Andrea's work can be seen hanging on walls around the world and in galleries and resort all across Whistler.  Andrea was voted Whistler's favourite artist in 2018 and chosen as the 2018/19 Whistler Blackcomb feature artist of the year.
1.     What medium do you work in?
Mixed Media
2.     What are you working on right now?
I am working on a new body of work. It's a surprise!
3.     How does the city or community you live in inspire your art or artistic process?
Growing up in Toronto I was influenced by graffiti artists so my work often incorporates aerosol paint, splatters, and some tight outlines. Living in Whistler, I am of course influenced by the beauty in the forests and the mountains. Animals are a strong theme in my work. I am inspired by their rugged and unapologetic beauty. I also hope that my work spreads awareness of the fragility of these wonderful creatures and brings awareness to conservation and animal welfare issues.
4.     What piece of artwork changed your life?
Probably a work by Chili Thom – he made me realize that I could carve out a life for myself as an artist and not be a starving one.
5.     Where do you go in your community for inspiration?
I wander the forests and head up into the mountains
6.     What is one word or phrase you use all the time?
Let's do this!
7.     Who would you most like to sit next to on a flight across the country (dead or alive)?
Seth Rogan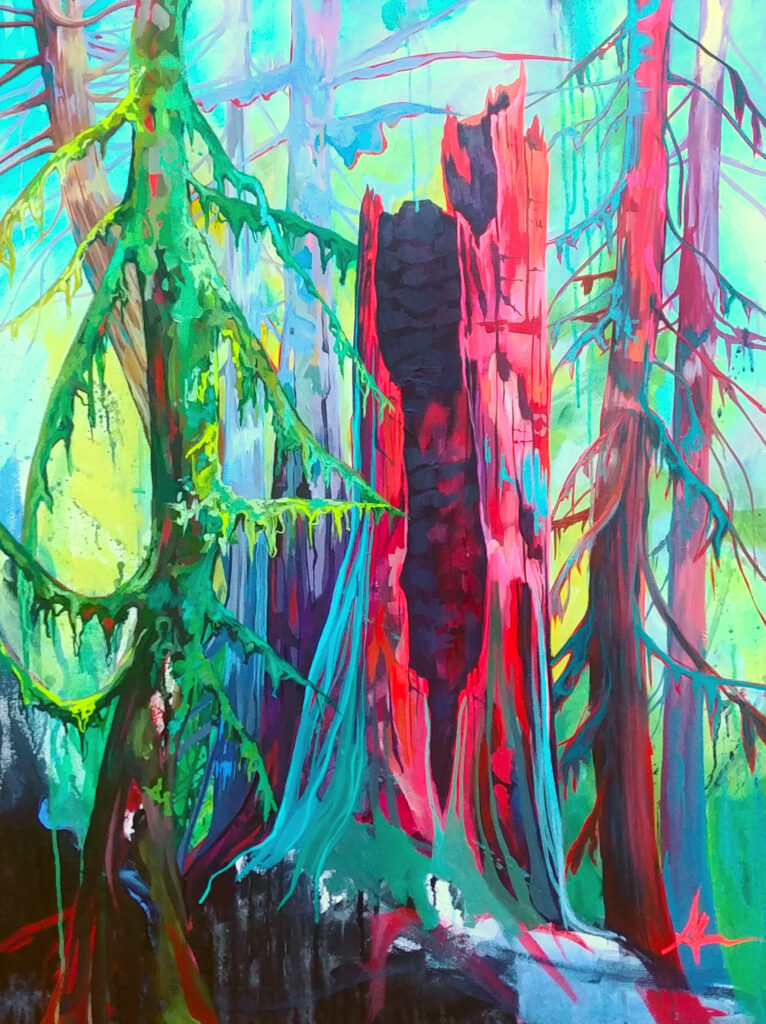 8.  What was the first album/record you bought with your own money?
Sloan – Twice Removed
9.  What book should everybody read?
Brothers Grim
10.  What can you not get enough of?
Chocolate
11. What can take a hike?
Hype
12.  What is your favourite invention of the last 100 years?
The Freezer
13.  What is the greatest lesson you ever learned?
To be who you are and stand up for yourself!
14.  If you could have any talent (other than yours) what would it be?
To be able to sing.
15.  Where would we find you on a day off?
My studio
Learn more about Andrea's work at www.andrealikesart.com.
Artist Inspiration highlights local artists working in different mediums and communities in a series of 15 questions so you can get to know them a little better.