By Kevin Leung
For Guud san glans Robert Davidson, a leading figure in the renaissance of Haida art and culture, the word ancestors raises an important discussion.  
"In my grandparents' generation, they were afraid to have the totem pole raised for fear of going to jail," Davidson expressed at the opening of his new exhibition. "I'm so happy that people are less afraid and that many more people in the next generation have a head start. I am so inspired by the work they are doing".
Davidson was 22 in the summer of 1969 when he carved and raised a totem pole in his home village of Masset, Haida Gwaii. At the time, it was the first pole to be raised in nearly a century on the island. Now, with a career spanning five decades, Davidson is known internationally as an artist and activist for bringing Haida culture back to its people.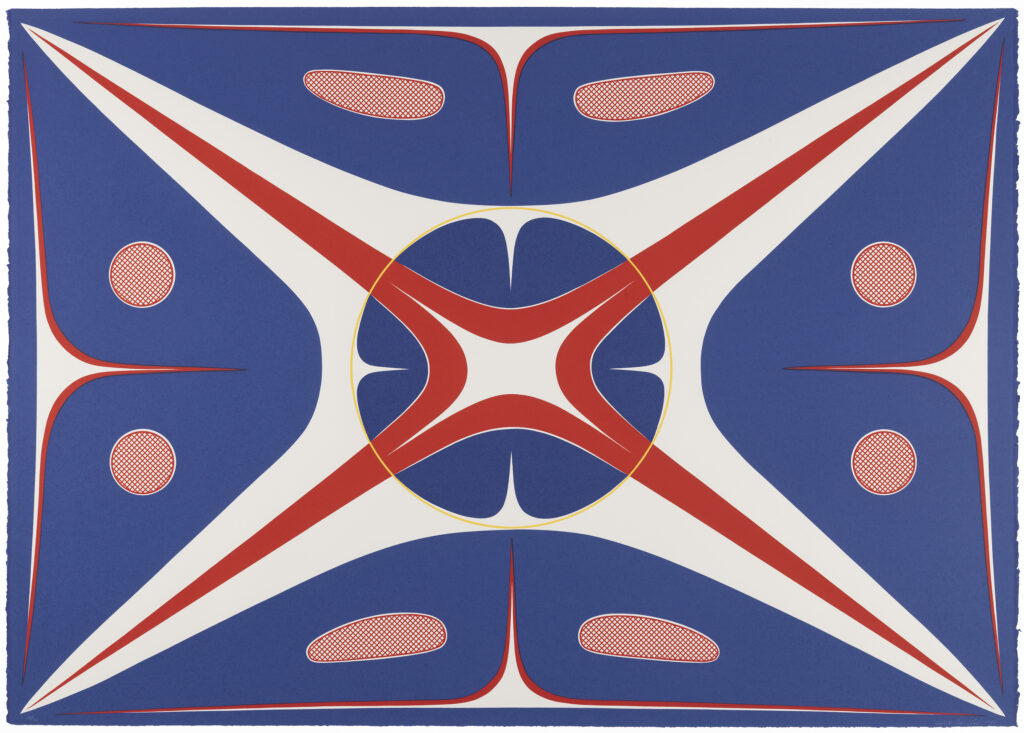 'Guud sans glans Robert Davidson: A line that bends but does not break' draws on the Vancouver Art Gallery's extensive graphic collection, supplemented by paintings from local private collections, to capture the legacy of his bold path. 
Viewers are welcomed into the exhibition by a video of Davidson talking candidly. It's a brief glimpse into his process that helps elevate his work by providing a framework for what will come next. At the heart of the exhibition is Davidson's ability to spread the knowledge of his cultural history while also bringing it forward into the 21st century with his expert use of colour, shape and lines. It's a translation of old traditions into new abstractions while still retaining the knowledge of his roots.
Without a doubt, Davidson's breadth of work is about an artistic movement he helped create. His creations move and "bend" traditional form lines into a new kind of cosmos that may challenge your assumptions about how we think about contemporary Indigenous art. As Davidson put it when describing one of his paintings, "this is where the soul is connected to the body, through a thin line."
Visit the Vancouver Art Gallery to see "Guud sans glans Robert Davidson: A line that bends but does not break" from Nov 26, 2022 to April 2022
For more information, vanartgallery.bc.ca/exhibitions/robert-davidson

To easily find the VAG, and plan your route through other downtown stops, you can use the TransLink Trip Planner.