Surrey is one of BC's most diverse cities, so it's a natural home for the first public showing from collaborators from The Black Arts Centre.
While the collective of artists and creatives is expected to launch a dedicated art space and gallery at Surrey Central Station later this year, their current exhibition at the Surrey Art Gallery is a fantastic introduction to the surrounding communities. With Concealed Cultures: Visualizing the Black Vernacular, seven artists from across Canada visually articulate the common language, experiences, and nuances of being Black.
Through film, photography, printmaking and textiles, the artists (Oluseye Ogunlesi, Karice Mitchell, Fegor Obuwoma, Clancy Ngolah, Odera Igbokwe, Michèle Bygodt, and Nura Ali) create a collection that shows the strength of storytelling in the Black community.
Each story underlines how Black culture has effectively become a commodity in popular media, appropriated at just about every turn. But within the shadows of these tributes, the community itself continues to struggle, often seeming invisible in relation.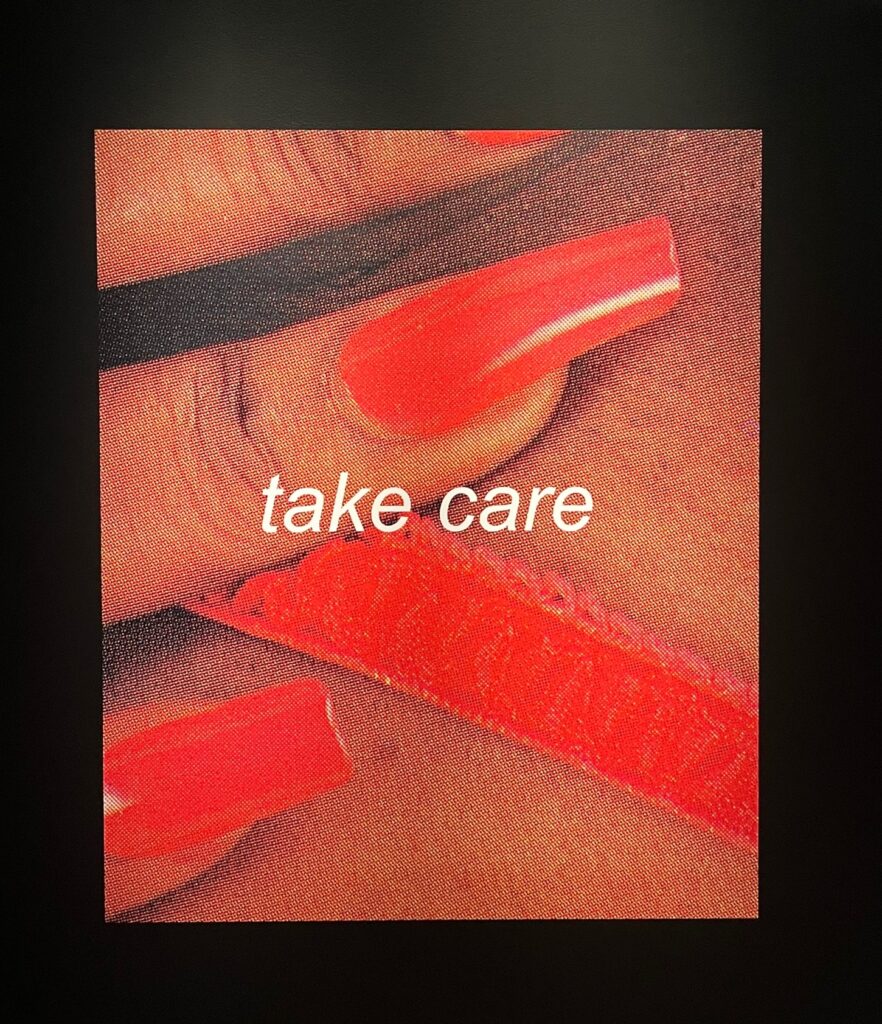 In the piece that spoke to me most, a large vinyl photograph by Karice Mitchell, titled, Take Care, the artist shows long cherry red nails pressed against dark skin. A thin line of red fabric, presumably the strap of undergarments, seems to be held in place by the fingers. With this piece, Mitchell comments on the concept of the Black "femme" in popular culture. Struggling against heterosexism, Mitchell describes those who share this identity as pushing "…against gender norms and sexist policies that serve to further oppress those who are historically marginalized." While I first read the photo as a comment on fetishization, I realized that it was more a decree of autonomy from the white gaze—a re-appropriation of Black femme erotic energy.
With the recent cultural shift that was catalyzed by the Black Lives Matter protests in 2020, the struggles of our Black communities are becoming increasingly visible in the mainstream public eye. This has been an enlightening moment for people like me, who are not in the Black community and didn't fully comprehend the deeply embedded racism against Black people throughout our society.
When observing each piece, it's clear the artists of Concealed Cultures are seeking to "challenge visitors to reassess their perceptions and expectations of Blackness," as the exhibition introduction by Olumoroti (Moroti) Soji-George states, rather than attempt to present an all-encompassing definition.
Touching on themes of spirituality, voyeurism, tokenization and sexuality, the exhibition makes clear that there are so many different facets to the Black experience that any attempt to define it could never articulately sum up the people in its community.
Concealed Cultures: Visualizing the Black Vernacular runs until Dec 11, 2022
*Cover Image: Michèle Bygodt Allan, Gnoul series (detail)
For more information about the exhibition or the artists involved, visit surrey.ca/arts-culture/surrey-art-gallery/exhibitions/concealed-cultures-visualizing-black-vernacular

The Surrey Art Gallery is easily reached on transit via the R1 RapidBus from Surrey Central Station. For bus or train times, or to plan your journey there, you can visit translink.ca/trip-planner