By Natasha Ponda
The stal̓əw̓ Pow-Wow returns, ready to celebrate and showcase Indigenous culture through dance, drum, artisanal vendors, and much more. 
This annual Langley event promises an immersive arts and culture experience that welcomes all- newcomers as well as seasoned attendees. A family-friendly outing with something for all ages, the Pow Wow takes place over three days at the Langley Events Centre, on September 15, 16 & 17.
Speaking with Phyllis Atkins, Manager of the stal̓əw̓ Arts & Cultural Society, she told of why the Pow Wow is well worth the trip for anyone living outside the Langley limits. "We want to support our artists and artisans in sharing their gifts with others while also preserving and celebrating our culture." It's an invaluable opportunity for locals to cultivate the culture of the place they call home.  Having been instrumental in the staging of Pow Wows over the last ten years, Atkins knows firsthand how these events can be a nurturing experience for artists. "The drumming, the singing, the environment and energy of support it has all been a part of my healing journey as an artist myself."
Championing Indigenous culture is something that Metro Vancouver has been improving upon over the last 30 years, but casting the same momentum behind Indigenous people is something we collectively still have a long journey to realize. With events like this, however, the community at large can see a direct throughline from intention to realization.
"We want everyone to come and enjoy the beauty of our heritage, our culture, and our people and experience that we are still here and resilient."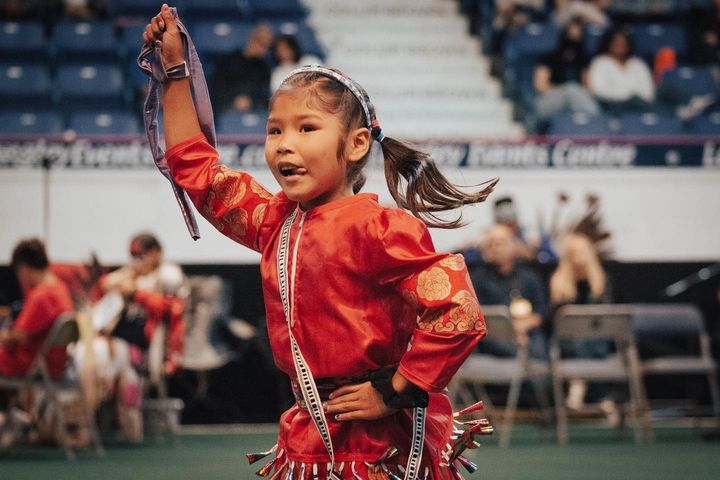 What to Expect
Dance:
Throughout the day, visitors will take in performances of various Pow Wow Dances. Not only will the artistry of each dancer be on full display, but you'll see the true marriage of mediums as the calculated movements make use of the stunning regalia. The intricate beadwork, ribbonwork, and sequins all count towards points for the onlooking judges.
From the hypnotic rhythms of the Jingle Dress Dance to the vivacity of the Fancy Dance, each performance is an artwork in motion. Prepare to be spellbound as the dancers tell stories of resilience, culture, and spirituality. Women, men, teenagers and even the 'tiny tots' have their own specific categories.
Drum:
At the heart of every Pow Wow is the drum echoing the heartbeat of the Earth. It's not just music; it's a connection to the past, a celebration of the present, and a bridge to the future. This drumbeat will guide you through the enchanting performances and ground you in the beauty of local Indigenous culture.
Craft & Culture:
With over 80 vendors expected, you can explore Indigenous artistry through an array of crafts and creations. Visitors can peruse paintings, carvings, beadwork, and jewelry, as well as sample the delicious wares of local chefs and food vendors. Each edible artisanal delight and medicinal botany product offers a chance to take home a piece of the land where you live and the people who first cultivated it. 
A Celebration for All:
A Pow Wow, by nature, is a gathering. It is a celebration presented by one nation to welcome and honour others. People travel great distances to be a part of a Pow Wow, and this one is no different. You will see performers from across Canada and the United States. Last year, over 4,000 people were in attendance, and this year is forecast to be even bigger!
The Grand Entries:
Highly recommended by Phyllis Atkins, each day of the Pow Wow begins with a Grand Entry where visiting tribes enter the arena. This acts as a welcoming parade where all visitors can walk together, drumming the songs of their families and communities. Once this is done, the arena is eventually filled with all the dancers simultaneously, each dancing in their grand regalia.
The Red Dress Special (Saturday):
In honour of missing and murdered Indigenous women across North America, special guest Lorelei Williams and her founded dance group, Butterflies in Spirit, will perform along with members of the women's families. This important performance continues the dialogue around how the Canadian government must pledge to do better in honour of these women.
The Orange Shirt Special (Saturday):
Joined by The Orange Shirt Society, residential school survivor Phyllis Webstad leads a ceremony honouring the children who didn't return home from these institutions. As a remarkable advocate for Truth and Reconciliation, Webstad's work with The Orange Shirt Society has played a pivotal role in raising awareness about the tragic legacy of residential schools. It is an essential attraction to anyone seeking to learn about, reflect on, and pay tribute to a generation interrupted.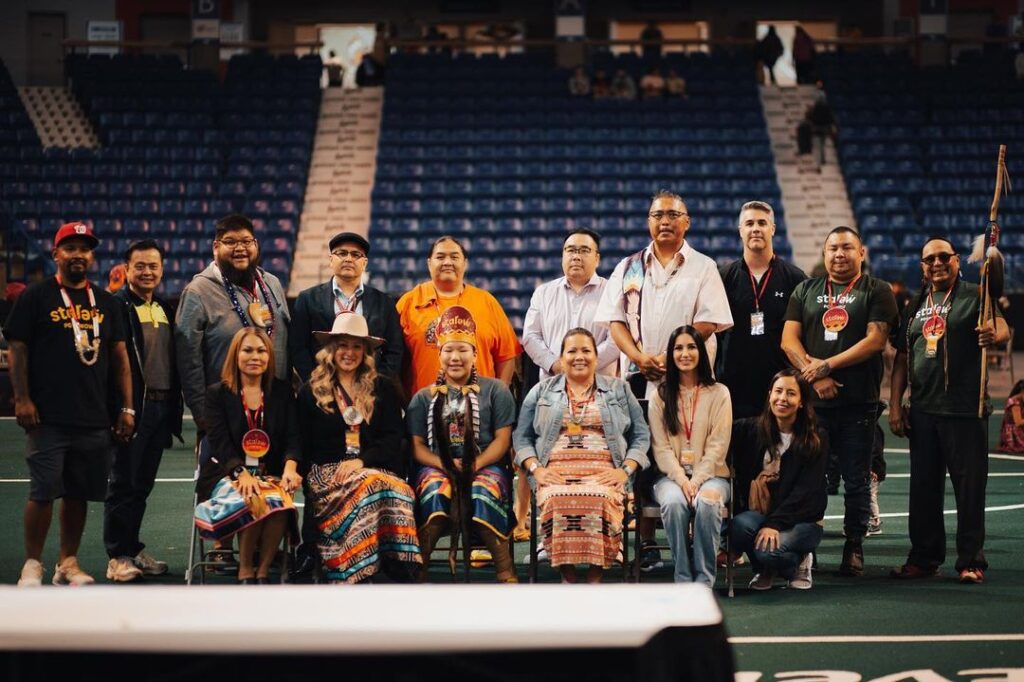 Behind the Scenes…
This incredible occasion is orchestrated by a women-led, Indigenous non-profit organization, the Stalew Arts & Cultural Society. Their mission extends beyond this event, aiming to preserve and promote Indigenous culture, foster community bonds, and provide essential support to Indigenous communities. Attending the Stalew Pow Wow isn't just an invitation to revel in cultural splendor; it's an opportunity to contribute to a noble cause of preserving heritage and strengthening communities.  To gain a deeper understanding of the profound impact of the Stalew Arts & Cultural Society, visit their website and learn how to support and stay involved beyond the Pow Wow. 
Get your tickets for the stal̓əw̓ Pow Wow ASAP – September 15 – 17, 2023
All the details are here: stalewpowwow.ca

Langley Events Centre: From Surrey Cetnral Station, take the #501 Langley Centre bus to 200 St. and 80th Ave