By Madison Smart
CityScape Community ArtSpace in North Vancouver recently celebrated the opening of Volver (to return, to become), a seven-person show curated by Miret Rodríguez.
The works of Latin American artists Carlos Colín, Michelle Bourget Morales, Osvaldo Ramirez Castillo, Pilar Mehlis, Teo Monsalve, Vanessa Mercedes Figueroa, and Ximena Velázquez are shown alongside each other to recount the plethora of ways Canadian immigrants share their personal stories.
These artists use their art to express their experiences and complex relationships between Vancouver and their homelands. As a curator in Vancouver, born in Azcapotzalco, Mexico City, Miret Rodríguez investigates these themes of cultural hybridity and loss through the lens of these seven artists, which has helped in her own exploration of identity. I had the pleasure of speaking with Miret about how the exhibition came to be.
Miret Rodríguez immigrated to Vancouver at 18 from Mexico City to study Art History at the University of British Columbia. She then received her MBA specializing in Arts and Culture, at the Superior School of Commerce in Paris. Upon returning to Vancouver in 2018, she became involved with the Vancouver Latin American Cultural Centre to find the sense of community she felt while in Paris. During the beginning of the pandemic in 2020, the Vancouver Latin American Cultural Centre wanted to start including visual arts in its programming, so Miret saw a perfect opportunity aligned with her background and interests. She began reaching out to Latin American artists she knew in Vancouver and interviewed them under a series called Transcendiendo Fronteras, which translates in English to "breaking borders through art." She soon saw, naturally, that not all Latin American artists speak to the themes of immigration, foreignness and exoticism in their work. That the beauty in this diversity was so powerful it could not be confined to fit within a catch-all term of "Latin American art." So she expanded the series in a more general sense and called it Open Doors to Art. Miret explained to me that for her, "art has been a refuge in a sense." This notion predates her time at VLACC, though, with her long-standing passion for art mediation and ensuring that art is accessible to everyone.
In 2019 she co-founded Curated Tastes, a company that organizes captivating art tours and classes for Vancouverites to engage with local art. Miret says she learns so much by visiting studios and galleries, and attending talks, and that she hopes to share these joys with the community that Curated Tastes fosters.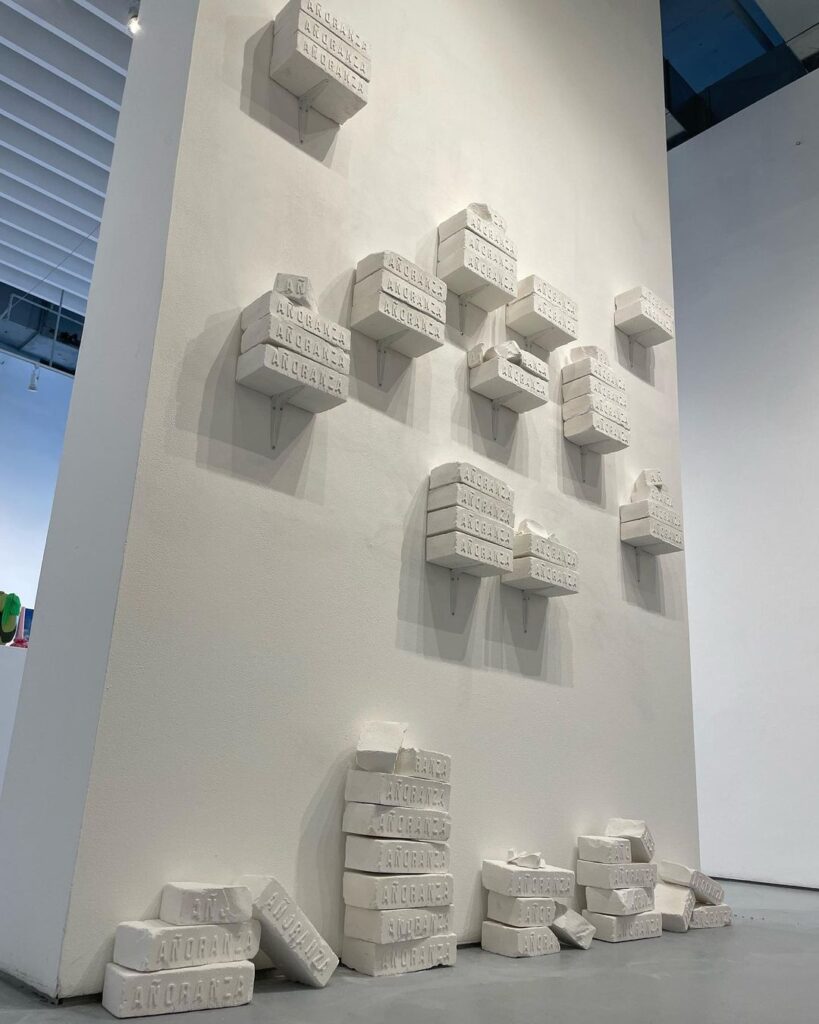 The host of Volver, CityScape Community ArtSpace, is a public contemporary exhibition space, owned by the City of North Vancouver and managed by North Van Arts. They hold annual calls for exhibitions, and as a motivated and inspired curator, Miret applied with the continued interest of creating an exhibition about the multiplicity of meaning behind Latin American artists' work. With over a year and a half spent interviewing Latin American artists in Vancouver, she gathered a distinct group, and her proposal was approved. The timing could not have been more perfect, as the exhibition space would be available in October, which happens to be Latin American Heritage Month.
Volver (to return, to become), which opened on October 6, 2022, gives space for an exploration of the removal and revisitation of one's native country, and the new perspective of the self that arises in the process. Walking through the exhibition, there are undertones of shedding the old self and embracing the optimism of rebirth. Miret explained to me that this is part of the feeling of dislocation, not fully feeling here nor there. "Finding people that have the same thoughts and feelings as you definitely creates a sense of community," she explains. This communal nature pulses through the show, as each piece deals with universal human-focused sentiments. The complexities of processing an immigration story are the uniting factors of the show, but Miret explains, "What I am really trying to do with this exhibition is show the diversity of Latin American viewpoints, and that's why there are different media.If there is anything in common between all of these artists, it's that they each have a very unique relationship with their personal experience of moving between Canada and their countries of origin."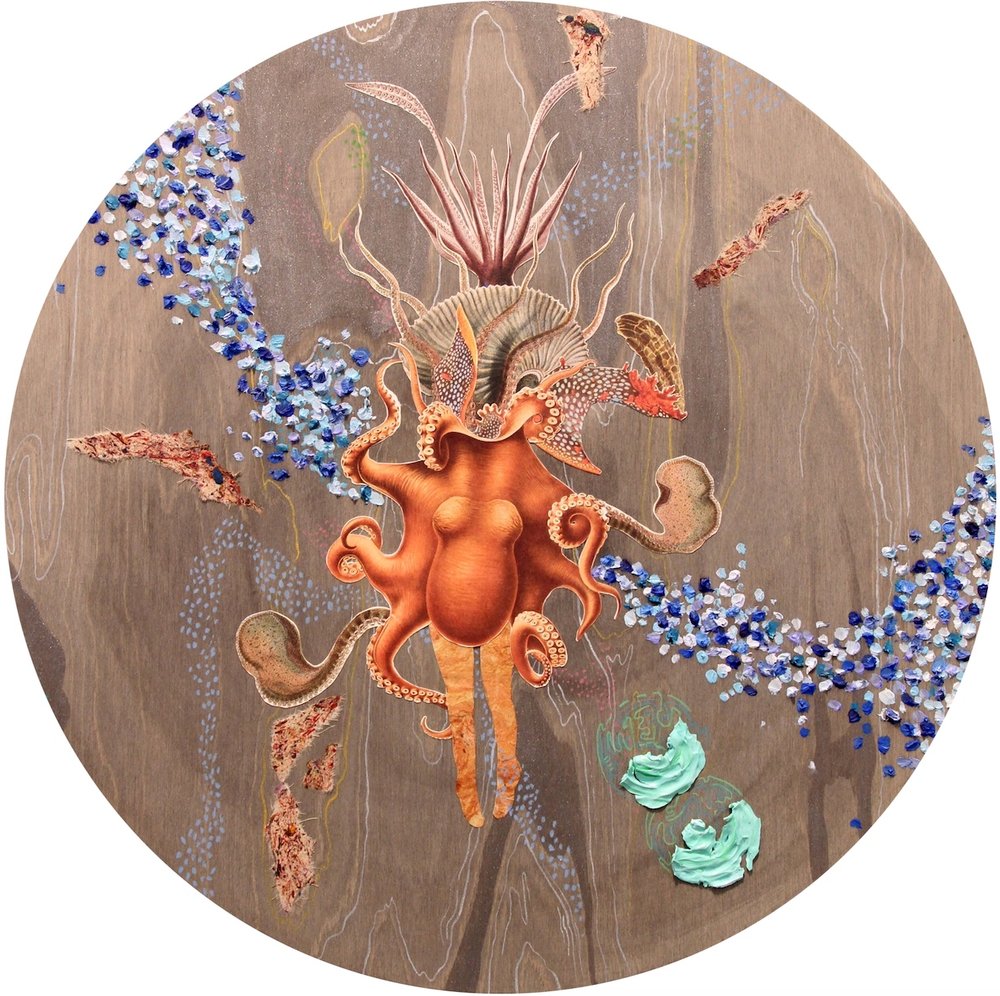 Soft sculpture, sculpture, video installation, painting, and mixed media show a range of techniques and styles among the seven artists. In Michelle Bourget Morales' brightly oozing abstract sculptures, Chiquita, Cállate Macho, and Fruit Fly, themes of ​​queerness, feminism, capitalism, patriarchy, toxic masculinity, and systemic oppression are explored. Pilar Mehlis recounts her late father's aging process in her piece titled The wind blows to the south, and goes around to the north; round and round goes the wind, and on its circuits the wind returns. Mehlis used air-dry clay and an uncoated wire, and allowed it to oxidize, rust and crack over time, mirroring a natural course of aging. Osvaldo Ramirez Castillo engages in storytelling in his mixed media drawings titled Nagual refuge and Ruinas, highlighting motifs found in pre-Hispanic mythology, Salvadoran popular folklore, and Catholic iconographies. He mixes them with styles found in Western art history to develop a hybridized aesthetic of personal experience to explore collective memory and historical trauma further. These are just a few of the powerful works that can be seen at Volver (to return, to become). Deeply meaningful and aesthetically intricate, I left inspired by the diverse messages that words sometimes fail to communicate, and the timely narratives that are relatable to all cultural backgrounds.
"I think it's super important to show this representation and to feel seen, because when I arrived here, I didn't feel that. I felt like I had to assimilate the culture and change, versus embracing my own identity," explains Miret. "I think this is why these kinds of exhibitions are important. I hope that this inspires other curators and artists to keep on talking, to keep on expressing their voices and to feel represented and proud of their heritage. But, also to acknowledge that we do become a sort of cultural hybrid here."
Volver (to return, to become) is on until November 12, 2022 at CityScape Community ArtSpace. Admission is free and open to the public Monday-Friday 9am-5pm, Thursday 9am-8pm, and Saturday 12pm-5pm.
Miret Rodríguez will be giving a free guided tour of the exhibition at CityScape Community ArtSpace as part of the North Shore Art Crawl and BC Culture Days on Saturday, October 15, 2022 from 12:00-1:30pm.

A panel discussion with Miret and the artists will be taking place at MONOVA: Museum of North Vancouver on Sunday, October 16, 2022 from 12:00-2:00pm. Please visit the link to register.


Take the Seabus to Lonsdale Quay, and walk North up Lonsdale Ave.