Featured photo: "cathedral" sculpture by Douglas Senft, located at Waterfront Park
Photo credit: @viranihomes (Instagram)
With over 150 installations across North Vancouver, the North Shore is home to an impressive and expansive selection of public art. North Vancouver's Public Art Program works with thoughtful intention to curate, program, and maintain free and accessible public works so that locals and visitors can explore the diversity and vibrant creativity that North Vancouver has to offer.
All 150 pieces are unique, original work that accurately reflects the nature, culture, and heritage of the region. According to North Vancouver Recreation and Culture, "public art in North Vancouver is realized through three distinct program streams: civic, developer and community."
So, what are you waiting for? Amongst the mountains and trails, the water and the pier, lies a robust collection of sculptures, mosaics, murals, digital pieces, totem poles and more. No entrance fee required.
Here are 10 pieces across North Vancouver not to be missed.
Seylynn Village Sculptures | Sculptures
Artist: Weppler, Rhonda and Mahovsky, Trevor
Location: Seylynn Village, 1560 Hunter St, North Vancouver
History: Seylynn Village is now home to five life-sized bronze and aluminum sculptures. The sculptures embody the North Shore environment, incorporating shells, plants, branches and rocks into the piece. According to North Vancouver Recreation and Culture, "the figures serve as markers of place and are inspired by both historical and current activities that North Vancouver is well known for including mountain biking, hiking and dog walking. The figures are engaged in collecting and wayfaring activities and carrying unusual items such as the shell encrusted boulder being pulled by the girl guide in her wagon." This installation is a work in progress with each new piece being installed in phases.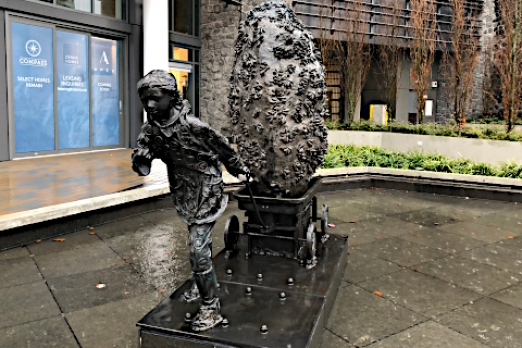 Nebula Garden | Digital / Light, Functional, Sculpture
Artist: Claudia Cuesta and Bill Baker
Location: 135 West 2nd Street (Lower Lonsdale), North Vancouver
History: Spanning 40 feet, "Nebula Garden is a series of formless liquid masses that shift and change with atmospheric conditions. The colours diffuse and move as they juxtapose in relationship to one another." Expressing the relationship between the cosmos and nature, Nebula garden is meant to evoke an emotional response from the onlooker of peace and curiosity and a celebration of the universe and the natural world.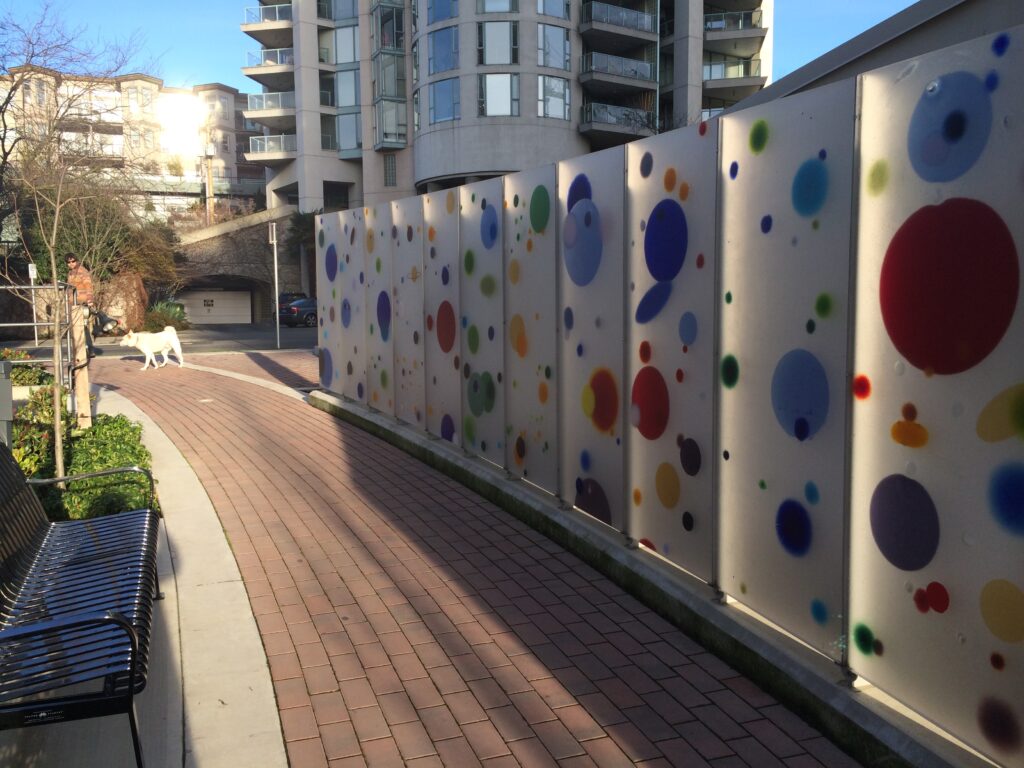 Shattered Sphere | Sculpture
Artist: Brent Comber
Location: 1133 Ridgewood Drive, North Vancouver
History: "Made of western red cedar that was harvested near to the location where it sits today, this sculpture depicts deconstruction and reformation, in nature or by the human hand – representing the cycle of transformation and renewal. The light bursting through the cracks of this shattered sphere portrays that transformative energy in a moment of organic reorganization." The artist behind Shattered Sphere, Brent Comber, creates sculpted objects using materials that are sustainably sourced from the surrounding areas.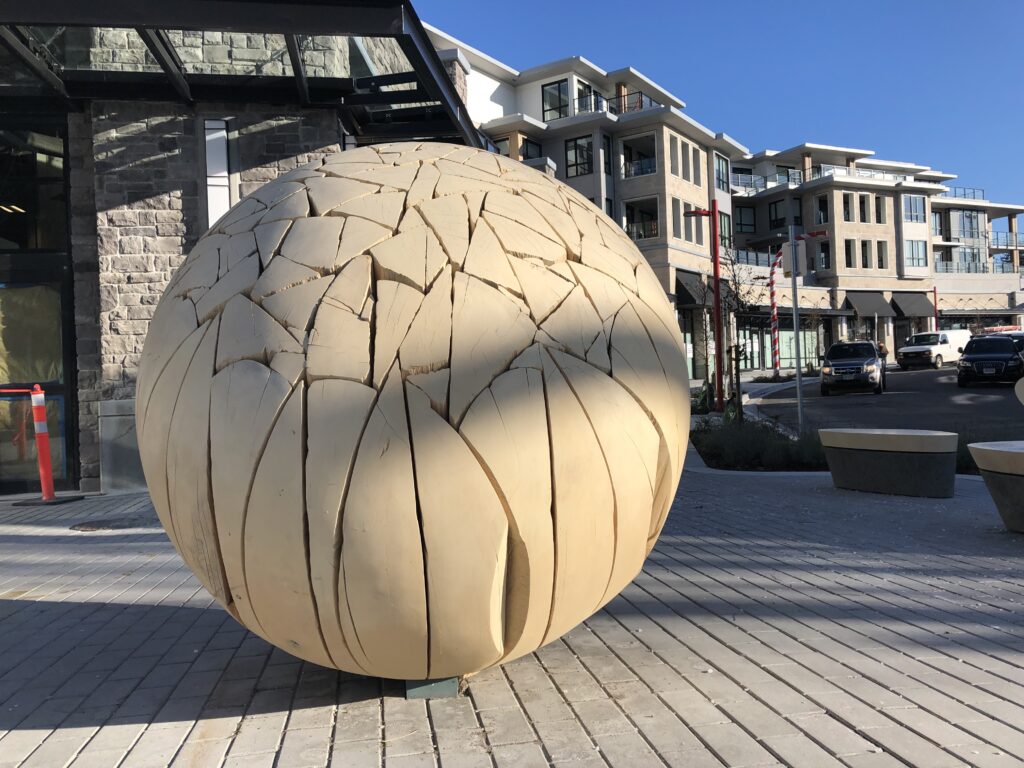 Shattered Sphere was commissioned by Boffo Properties in partnership with the District of North Vancouver's Developer Public Art Program
Shy Romance | Marble
Artist: Greg Kawczynski
Location: District of North Vancouver Operations Facility, 1370 Crown St, North Vancouver
History: Shy Romance depicts a male and female figure brushing past each other with a gentle gaze.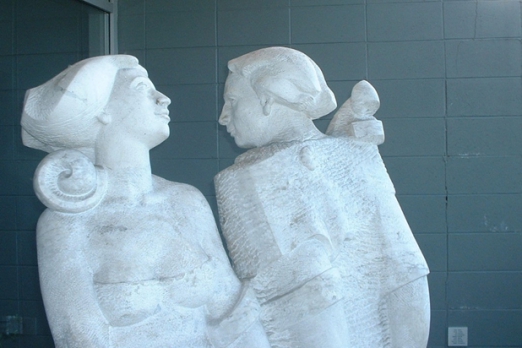 Seaglass Benches | Functional
Artist: Brent Comber
Location: 3260 Edgemont Blvd, North Vancouver
History: Inspired by the Pacific Northwest and comprised of yellow cedar and concrete, Seaglass Benches are "shaped like a half shell of the bi-valve clams that are found scattered on the sandy shores. Along the shore, the shells are mixed with bits of seaglass, whose once sharp edges have been smoothed by the sea. The coastal habitat serves as a reminder of the tenacity and generosity of our Mother Nature."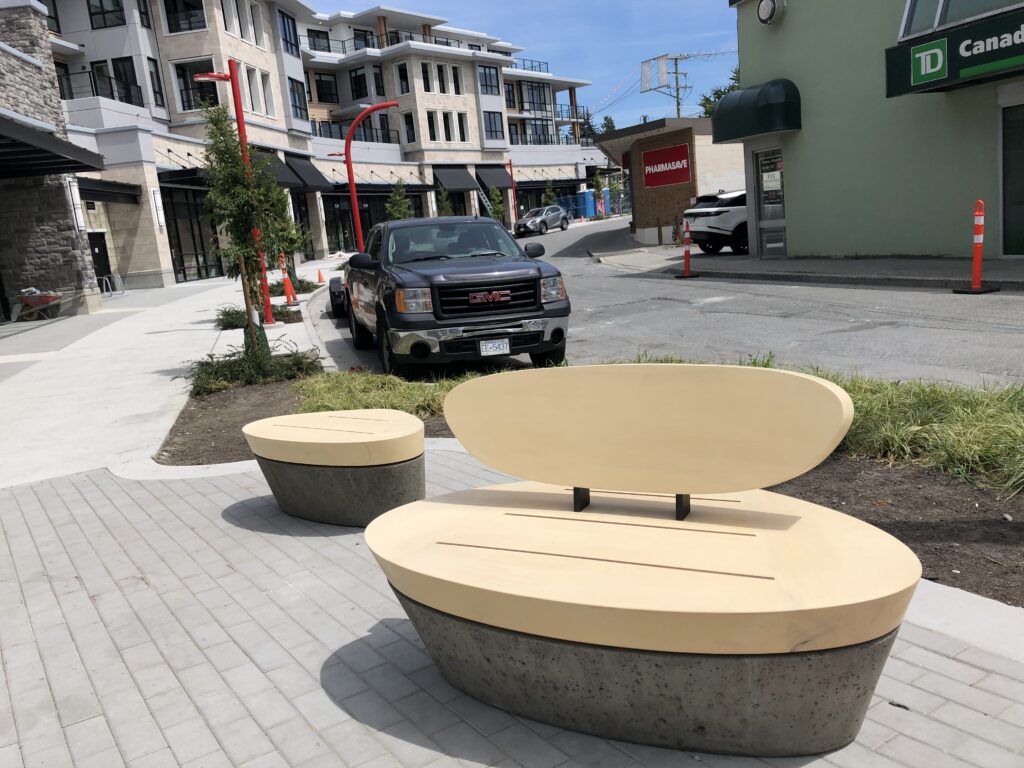 Freewheeling | Sculpture
Artist: Sharon Perkins
Location: Deep Cove, North Vancouver
History: "Free Wheeling, was created from an old wagon wheel (wrought iron, wood) that was found in the Seymour area. The work translates the industrial heritage of the materials in an exploration of form."
Sun Totem | Totem
Artist: Mark George
Location: 123 Carrie Cates Court (Lower Lonsdale), North Vancouver, Spirit Trail
History: "Made from cedar, from the top down this pole represents Sun, Eagle, Killer Whale, Welcoming Person with arms extended, and Bear with Salmon." Sun Totem is one of the many totem pole pieces located in North Vancouver, just a quick jaunt nearby is Totem, Story of a Boy. This piece is sponsored by the Lonsdale Quay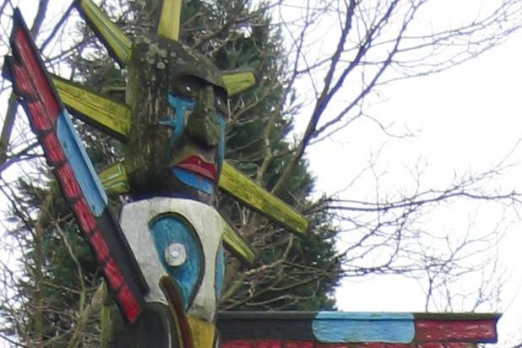 Youth-Perspectives | Mosaic
Artist: Liz Calvin & Youth Employment
Location: 123 Carrie Cates Court (Lower Lonsdale), North Vancouver, Spirit Trail
History: This integrated, vibrant mosaic boasts "a colourful westcoast waterfront design of waves, trees and ravens laid on the floor." As a veteran mosaic artist, Liz Calvin has commissioned many public art pieces including works for the sidewalks of Downtown Vancouver and New Westminster.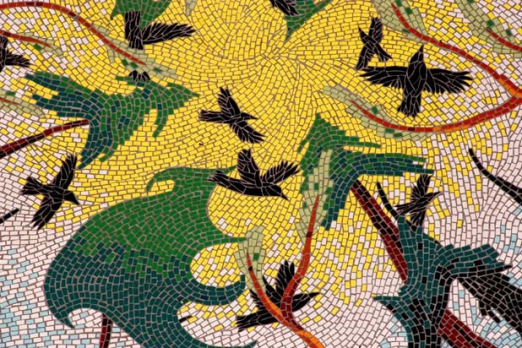 Gateway To Ancient Wisdom | Sculpture
Artist: Wade Stephen Baker
Location: 415 W Esplanade Avenue (Lower Lonsdale), North Vancouver, Spirit Trail
History: A contemporary sculpture made of both stainless steel and cedar, arches over a section of the North Vancouver waterfront promenade, representing the entrance of the traditional territory of the Mosquito Creek Marina / Squamish Nation land. A symbol and reminder that we should all carry with us as we live and play on Coast Salish land. "The philosophical context of the sculpture is about returning to ancient wisdom and ancient knowledge that has been lost in our recent industrial era."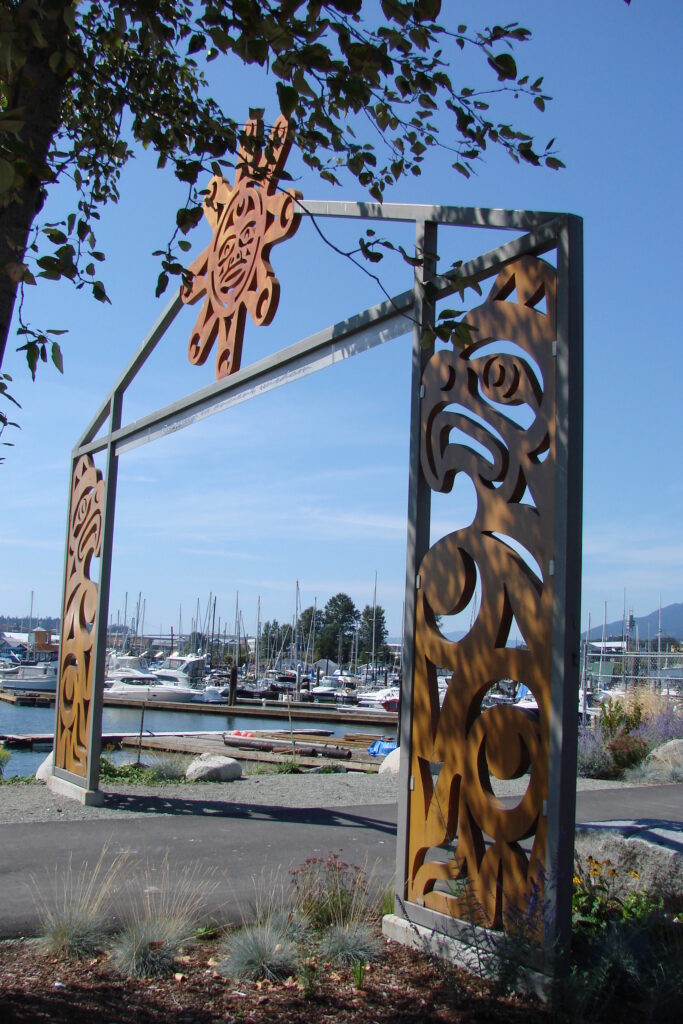 White Winds | Sculpture
Artist: Gerald Gladstone
Location: 123 Carrie Cates Court (Lower Lonsdale), North Vancouver, Spirit Trail
History: White Winds is a sculptural fountain that" represents sail forms that paint the wind on the Burrard Inlet." A gorgeous and colour tile mosaic (added in 2001) brightens up the base of the fountain basin; a night, the sculpture glows with alternating colours of magenta, red, blue and white lights.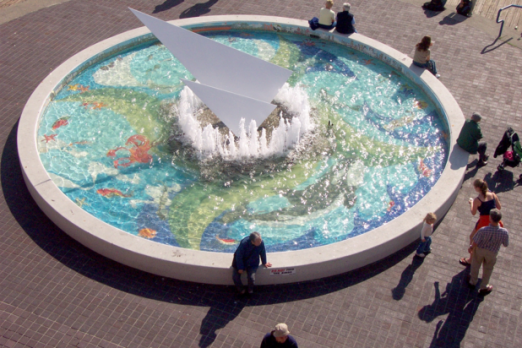 Story by Brittany Tiplady