On view now at the Surrey Art Gallery, Keerat Kaur's Panjabi Garden invites you to enter the lush growth of a cultivated language.
This striking exhibition examines how many minority communities are pressured to abandon their native vocabulary and embrace an English one once arriving in Western countries.
For the language of her own culture, Panjabi, Kaur creates an area for traditional words to be reinvigorated. Throughout the gallery space, Gurmukhi (the written script of the Panjabi language) covers the walls like ivy. It creates an exciting feeling of wanting to absorb each morsel of language, and in that regard, Kaur shows she's a teacher as much as an artist.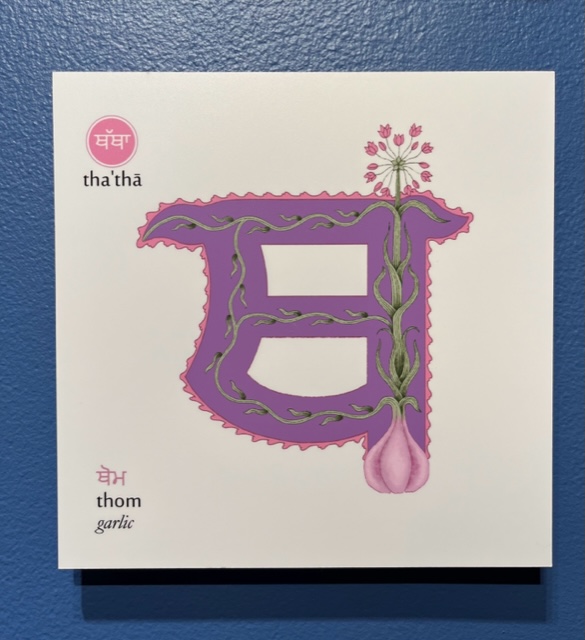 By using storytelling elements in her work, Kaur follows the foundation that has already been set by community members seeking to preserve Panjabi. Many of these words may have faded over time, but thanks to older generations' stories and oral histories, the script can be rewritten once more.
The title alone is a testament to the shedding of colonial influences. The British Raj (1757-1947), projected its own language notions onto the culture, mispronouncing the first "a" to a "u." From Panjabi, to the erroneous "Punjabi"
The word Panjabi then, is an act of liberation from this misbegotten path, and corrects the course back to one of pride.
This sense of pride permeates the entirety of Panjabi Garden, but Kaur also shows that heavy emotion can, in fact, be applied with a light touch, as evidenced by her (quite literal) wordplay. With each illustrated piece of Gurmukhi script, she creates vivid images that fit within the frame of the words' aesthetics.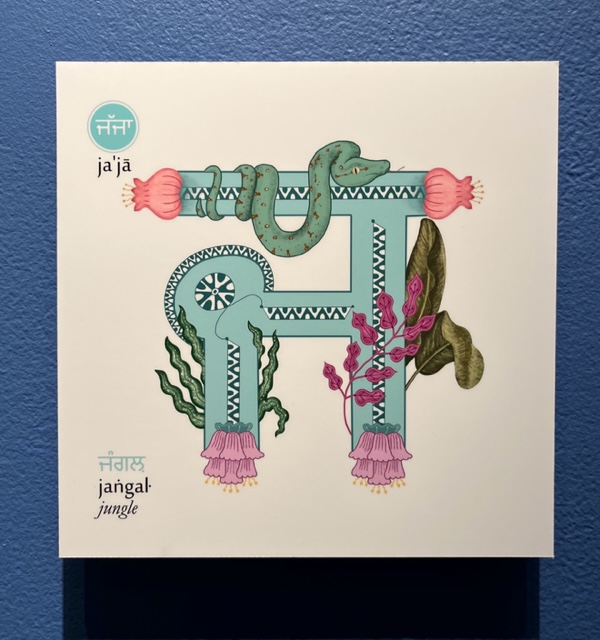 The word for garlic, "thom" has a long vertical stroke, which becomes the path that the bulb grows through. "Ghora," the Panjabi word for horse, has two U-shaped curves, so naturally, these become comfortable slings for a horse to take a quick nap in.
With this exhibition, Kaur shows that the Panjabi language is full of life, and it's only a matter of taking care of it to see it grow once more.
Panjabi Garden runs until March 26
For more information, you can visit: surrey.ca/arts-culture/surrey-art-gallery/exhibitions/keerat-kaur-panjabi-garden

Surrey Art Gallery: From the Surrey Central Skytrain station, you can take the R1 Newton Exchange bus to King George Blvd and 88th Ave. It's about a ten-minute walk from there!
To further plan your route, can use the Translink Trip Planner