By Paula Burrows
With his current exhibition, Flowers from the Wreckage at Whistler's Audain Art Museum, artist Manabu Ikeda shows his awe-inspiring craft using his preferred medium: pen and ink.
*Featured image by Oisin McHugh Photography

On now until October 9, the collection explores the resilience of humanity in the face of devastating natural disasters and the impact of climate change on our world.
The Audain provides an ideal setting for Ikeda's large-scale pieces, with its expansive windows facing the sprawling forest. It's a natural ambiance that compliments the themes of nature that run through his work. The tranquil atmosphere of the museum allows visitors to immerse themselves in the intricate details of the work where nature has begun reclaiming man-made structures.
Originally from Saga, Japan, Ikeda holds a master's degree from Tokyo University of the Arts. He gained recognition for his exceptional talent in art and design, receiving the prestigious Takashimaya Art Award in 2014 and has served as an artist in residence at various galleries worldwide.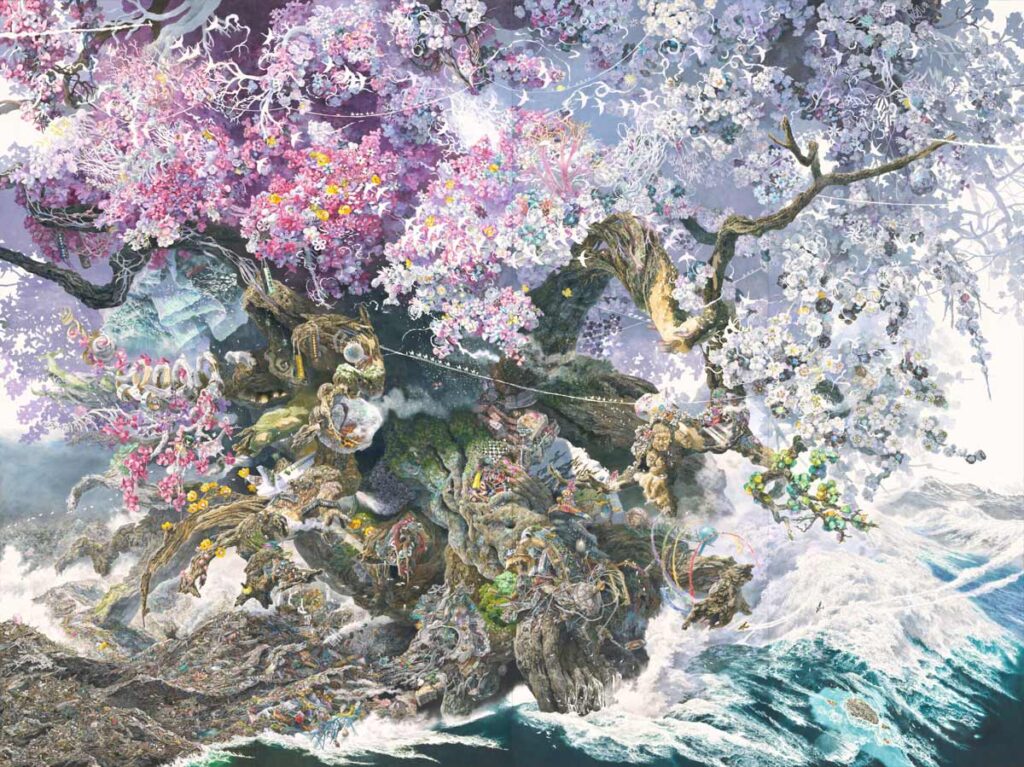 For Flowers From the Wreckage, the Audain has transformed its upper galleries into a working studio, giving visitors the opportunity to watch Ikeda's craft in person. The artist can be seen working on his latest piece on Thursdays, Fridays, and Saturdays from 3:00 pm to 4:30 pm until August 30th.
Ikeda's preferred tool is an ink pen, similar to those used by manga artists, while he also uses coloured and acrylic ink to preserve the longevity of his creations. His process for the larger works displayed at the gallery is more fluid, starting with a basic outline of a natural element like a tree or a mountain, then gradually building 10×10 cm sections of the canvas each day. The details emerge organically, reflecting his daily experiences and emotions.
Though his work is distinctly Japanese in cultural inspiration- somehow reminiscent of both Ukiyo-e and Manga- the thematic questions he raises about resilience and recovery are universal, transcending cultural boundaries. As the world faces an increase in natural disasters, Ikeda challenges viewers to contemplate how we can coexist with disaster.
Airplanes, waterfalls, and trains serve as consistent motifs, providing a sense of perspective and depth while inviting viewers to take a bird's-eye view of the scenes. It's a perspective that allows his audience to step back and view each micro-world with a full view of everything, as a witness outside of the work.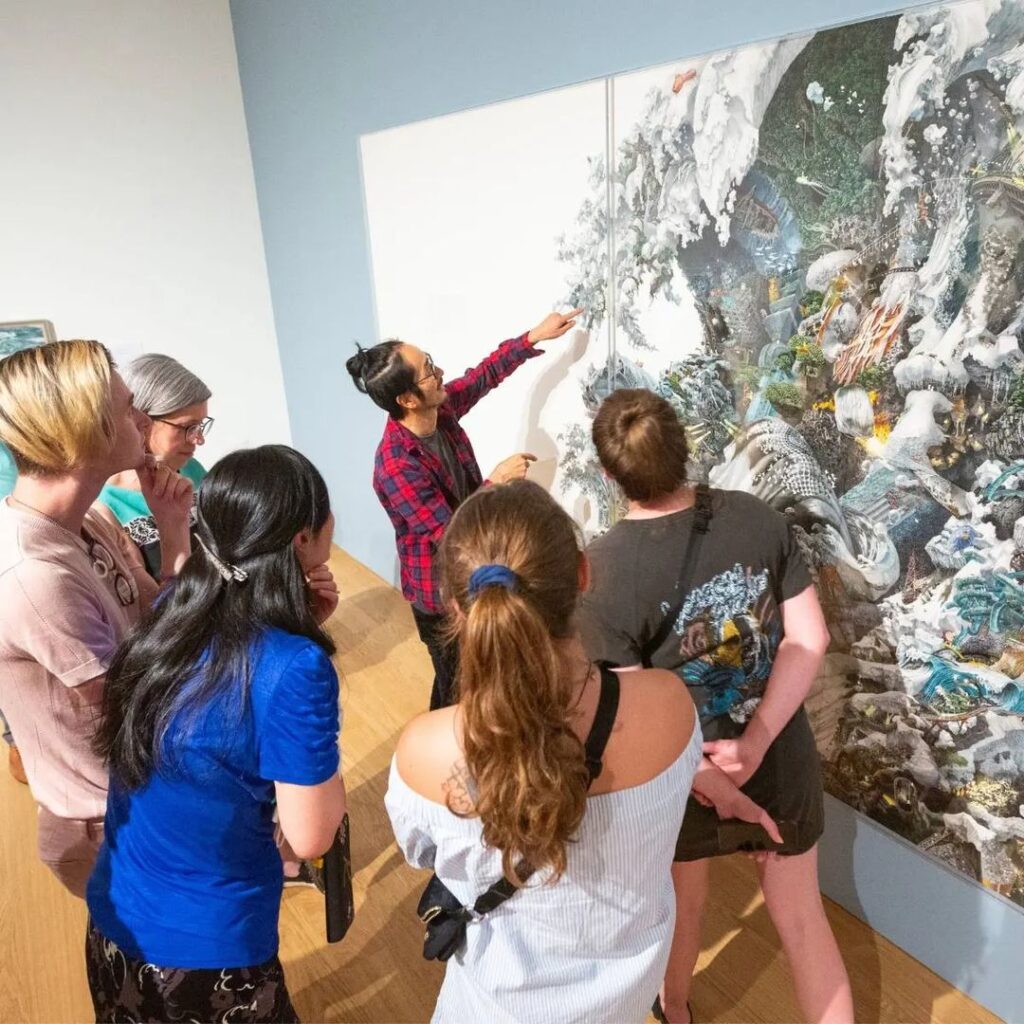 One particular highlight of the show is the colossal 13 x 10-foot piece, Rebirth. Created during Ikeda's three-year residency at the Chazen Museum of Art in Wisconsin, it depicts a massive sakura, or cherry blossom tree, symbolizing life, death, beauty and violence, enduring the force of a tsunami. While taking in the whole image in its grand scale is stunning, looking closer reveals numerous tiny worlds interwoven throughout the scene. Namely, the struggles of people, plants, and animals as they strive to regain normalcy after the 2011 Tōhoku earthquake and tsunami. Rather than creating a linear narrative though, these details blend together chaotically, mirroring the complexity of the human experience. Impressively, Ikeda completed this piece despite dislocating his dominant hand's shoulder in a skiing accident. Undeterred, he continued his work using his non-dominant hand.
For those who relish the thrill of spotting Waldo in a sea of details, each detail-packed scene holds another hidden secret. With magnifying lens in hand, you can embark on a hunt to discover the artist's signature concealed somewhere within each piece.
The museum also offers a chance to see the show in a multisensory experience with the Audain Artists Dinner Series. On August 11th & 25th, attendees can indulge in a 6-course omakase dinner curated by Chef Koji Chiba. This exquisite dining experience is complemented by an exclusive tour of the Flowers from the Wreckage exhibition with none other than Manabu Ikeda himself.
Flowers from the Wreckage is on until October 9, 2023
For more information about the show, you can visit audainartmuseum.com

Audain Art Museum: There are several shuttles you can take to Whistler from Vancouver. For instance, there is one that leaves from the River Rock Casino in Richmond, which you can get to by taking the Canada Line train to Bridgeport Station.
To easily plan the route for your next artistic outing, you can use the TransLink Trip Planner.