Gordon Duggan brings a world of experience to New Media Gallery in New Westminster. And that's not said lightly. An award-winning designer, theorist, curator, teacher and somewhat accidental activist, Gordon along with partner and co-curator Sarah Joyce, is putting New West on the map of cutting edge contemporary art, and he's using the friends he's made trotting the globe to do it.
Gordon began his life in the arts conventionally enough studying painting at the University of Calgary. While there, he got a job installing art at the Glenbow Museum where he first caught a glimpse of his future. "It was more international and contemporary art (and electronic media)," he recalls. "Back when I was in school anyway, there was a much more narrow definition of what art is or what it could be."
His own practice then moved away from two-dimensional work and into furniture design where he began to think deeply and conceptually about the three dimensions of the objects he was creating. "My approach came from the idea that everybody has a valid, lived experience of furniture," he says, "whereas with art, not everybody has that experience. I was intrigued by this starting point of what were essentially conceptual, artistic ideas, manifested through furniture."
He began to ask questions around function in terms of contextualization. "Comfort for example," he says. "What's more comfortable? A plush upholstered chair in the dentist's office? Or a wooden bench, waiting for your lover?"
His theoretical approach to design would take him all the way to the Domus Academy, the renowned school for design in Milan, Italy. He sent along his portfolio thinking they might allow him to take a short course on their way through Europe. Instead, they offered him a place to do an advanced Master's Degree. He and Sarah ended up staying two years where he studied with the Italian masters and earning an Honours degree in Design Theory, later teaching at Domus.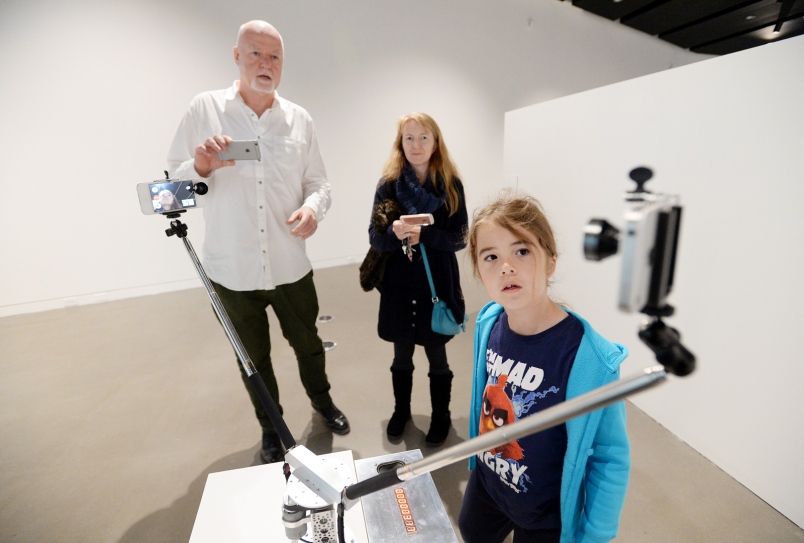 Just as he had back home, Gordon was making waves in Europe with his unorthodox thinking and it wasn't long before the old guard came knocking. As it turns out, the UK's most prestigious furniture-making school, Parnham College in Dorset was looking to shake things up a bit and they wanted Gordon for the job. He was offered the position of College Director. Under his leadership, students gained much more than a skill for building. Gordon introduced computer-aided design, studies in design theory, and thinking around sustainability. He brought in leading designers to do lectures and workshops. The students also began to gain award after award. In the final two years Gordon was Director of the College, his students won more design awards than any other educational institution in the UK.
Through it all, Gordon could never quite shake the pull of contemporary art, and after Parnham he sought out a position at Lisson Gallery in London where he became Manager of the new, electronic media art portfolio for the gallery. He began collaborating with the biggest names in art, like Douglas Gordon and Anish Kapoor among many others, helping develop technology to realize their projects. And he would travel the world overseeing exhibitions and installation of these Lisson artists – eighteen countries in the first year alone. It was thrilling work, until one night he landed back in London after a whirlwind trip and didn't know where he was. He and Sarah decided maybe they needed to slow it down a touch.
Family ties brought them back to Canada – to one of the slowest postal codes; Denman Island, just off the east coast of Vancouver Island. However, slowing down isn't so much in their DNA and soon Gordon was back at it, commuting to Calgary to discuss a large exhibition, involving fourteen galleries in the city and focused on appropriated cinema. Out of this project was born the Appropriation Art Coalition that Gordon co-founded with Sarah. At that time, AAC represented almost every art gallery in the country as well as over 350 artists; all who had signed on to support appropriation and freedom of expression. Gordon met with Ministers in Ottawa and helped shape laws around artist's access to existing material and user rights in Canada. Today, Gordon still lectures on copyright.
One day, in 2012, on the ten-minute ferry ride from Denman Island to Vancouver Island, as these things so often happen, a chance conversation in the right place at the right time coalesced all the work Gordon and Sarah had been doing over the past couple of decades into a path it seems they were destined to follow. They met a man on that ferry and struck up a conversation. "He turned out to be a member of a task force for the City of New Westminster that was looking to open the first-ever civic art gallery there," Gordon recalls. "He said they were looking to open either a local community gallery or one with a special focus, like sculpture, photography or something along the lines of digital media."
Photos courtesy of the New Media Gallery
That was all they needed to hear. They jumped at the chance to offer the city their professional advice, were later interviewed for the newly created position of Director and finally, they signed a contract to direct and curate New Media Gallery in New Westminster. Thanks to their experience and contacts all over the world, Gordon and Sarah immediately brought in big-name artists like Christian Marclay, Douglas Gordon and Tracey Emin to the small West Coast city. Any apprehension the city had about the direction of their gallery was eclipsed when projected attendance was tripled in those first two years. Now the New Media Gallery is a destination for culture hounds from every corner of the globe, and a real jewel in the crown of the Royal City.
Visit the New Media Gallery any time and you're almost sure to find either Gordon or Sarah, ready to give you a personal tour of the exhibition. You won't get that gift everywhere, and we wouldn't trade it for the world.
And because they're dedicated to bringing the world to the West Coast, we don't have to.
Story by Wade Kinley for West Coast Curated