In an intimate exhibition at the Burnaby Art Gallery curated by Emily Dundas Oke, six indigenous artists explore the way stories reverberate through our modern, shared world. Voices from the past are reflected in our present and shape our future. Patterns emerge and fall away and repeat like that until we start to recognize meaning, or so it seems. Through these disparate but interconnected works, a question is posed: If it's all just echoes, how do we change?
echo: (noun) / 1. a sound or series of sounds caused by the reflection of sound waves from a surface back to the listener.
Caroline Monnet's The future itself has a future is at first glance a cacophony of copper wires. Attached to three copper plates, it's hard to tell where one wire starts and ends, but when you investigate, you see the pattern, the math that anchors the piece. Inspired by a cross-Atlantic voyage the artist took on a Polish cargo ship, the sculpture captures waves on the ocean, emanating from a centre, out in opposite directions. Waves that carry people, history and identity from one place to another. You can't help but see yourself in the piece too, your image reflected off the surface of polished copper.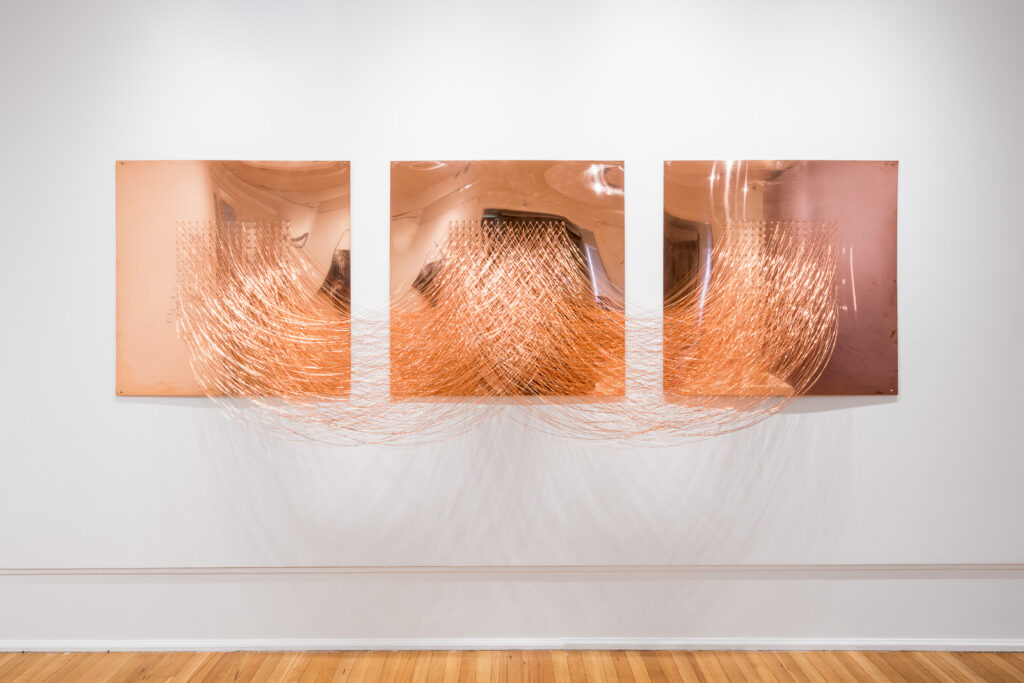 Of course, sound is carried in waves too, and this is the medium exploited in Scott Benesiinaabandan's blood memories. A manipulated soundscape plays in the second room, made from recording the objects within a specific space, as its visual shape forms over and over on a digital screen that floats in the center of the room. Video stills on the wall resemble landscape paintings, waves turning into mountains. The sound of our experience forms the ground beneath our feet, creating a sense of place.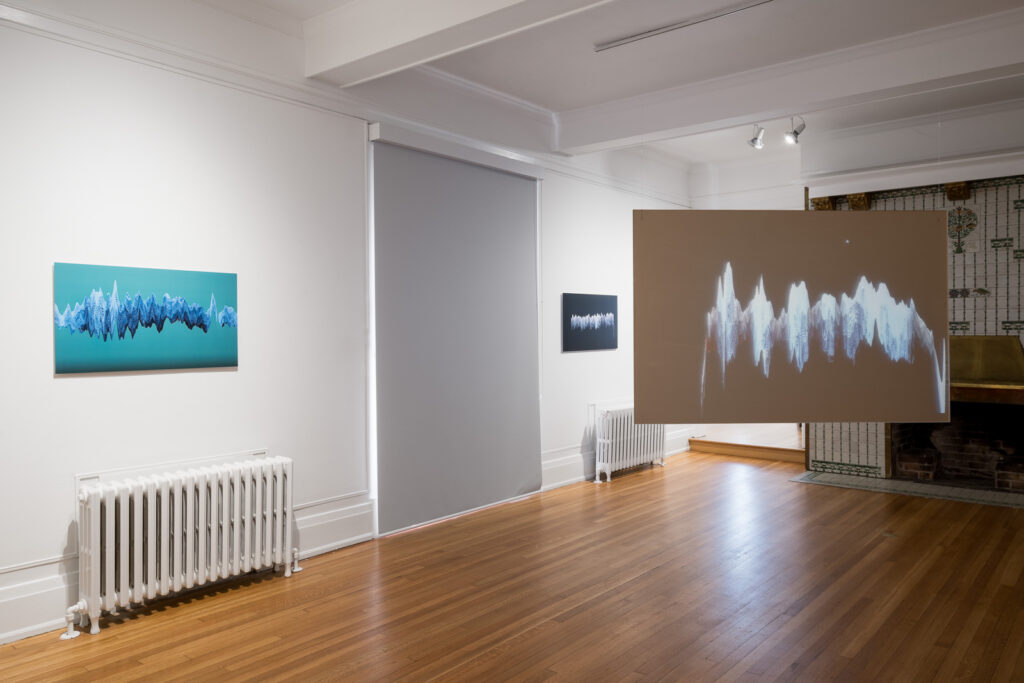 echo: (verb) / 2. To emit an echo; resound with an echo; to be repeated by or as by an echo.
Our stories are echoes. They get told, heard and told again until they become something bigger, something that defines us, like chunks of the zeitgeist. Maika'i Tubbs materializes this in Written in Stone, aset of book "fossils" where words are enfolded into stone to become permanent. Inspired by the free exchange of books left on New York city stoops, Tubbs gives shape to the way we share and "cement" knowledge – once it was books, now it's viral videos.
echoes, The Burnaby Art Gallery, November 29, 2019 – January 26, 2020, Photo: Blaine Campbell
One passage in Tubbs works reads, "Nothing happens in nature not related to the whole." This is reflected later on in the show in the back reading room of the Burnaby Art Gallery where local artist Nicole Priessl has strung woven cedar ropes from the ceiling, and we learn that in Sto:lo tradition ropes such as these would be imbued with the stories being told as they are created. They seem to grow up from the table strewn with books, up and into the atmosphere.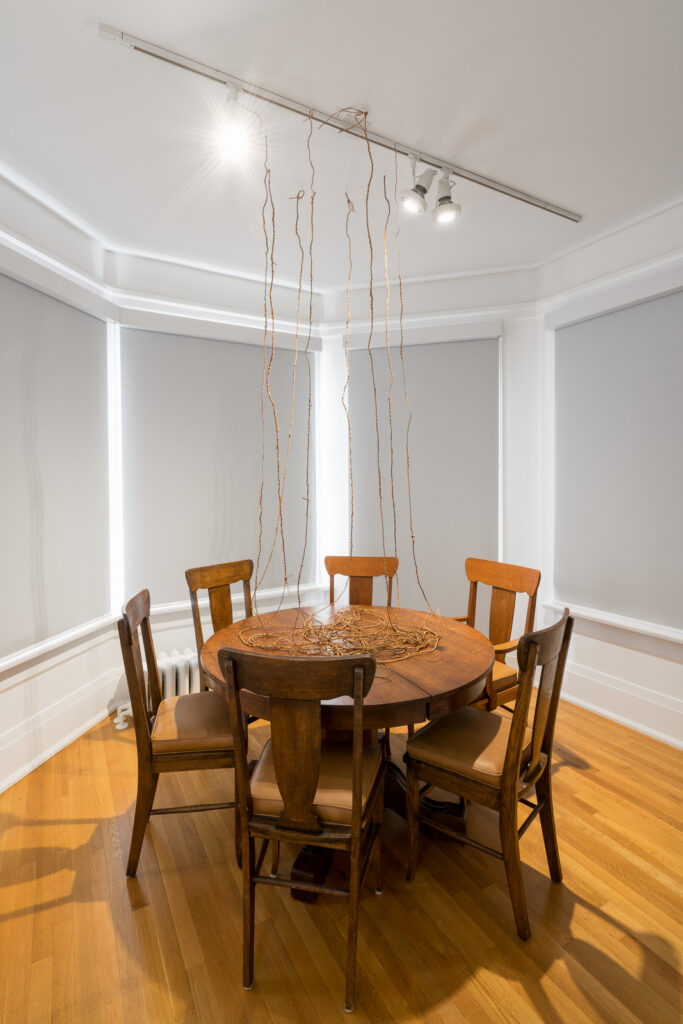 echo: (noun) / 3. an opinion or attitude that agrees with or repeats one already expressed or thought
The exhibition culminates in a video installation on the second floor from Jeffrey McNeil-Seymour and Dayna Danger. In Two-Spirit Man/Two-Spirit Woman Call Home the Salmon w/ Help, we are witness to a ceremony on the banks where the Simpcetkwe and Secwepemcetkwe rivers meet near Kamloops. In it, McNeil-Seymour, a Tk'emlúps te Secwepemc two-spirit artist makes a sacrifice in celebration, thanks and protection of the salmon that run here. Against the whites and blues of winter, we hear mostly just the wind that roars in echo of the sound waves downstairs. Shot from two cameras and projected side by side, we watch from two different perspectives and know that each one is true. We're witnessing an honour of two-spirit people as we acknowledge what is all too often denied to the LGBT2QS+, as well as Indigenous communities in Canada. It's the perceived versus the real, the echoes of a belief system moving through time to bounce off its object, and resound against the undeniable truth of an individual.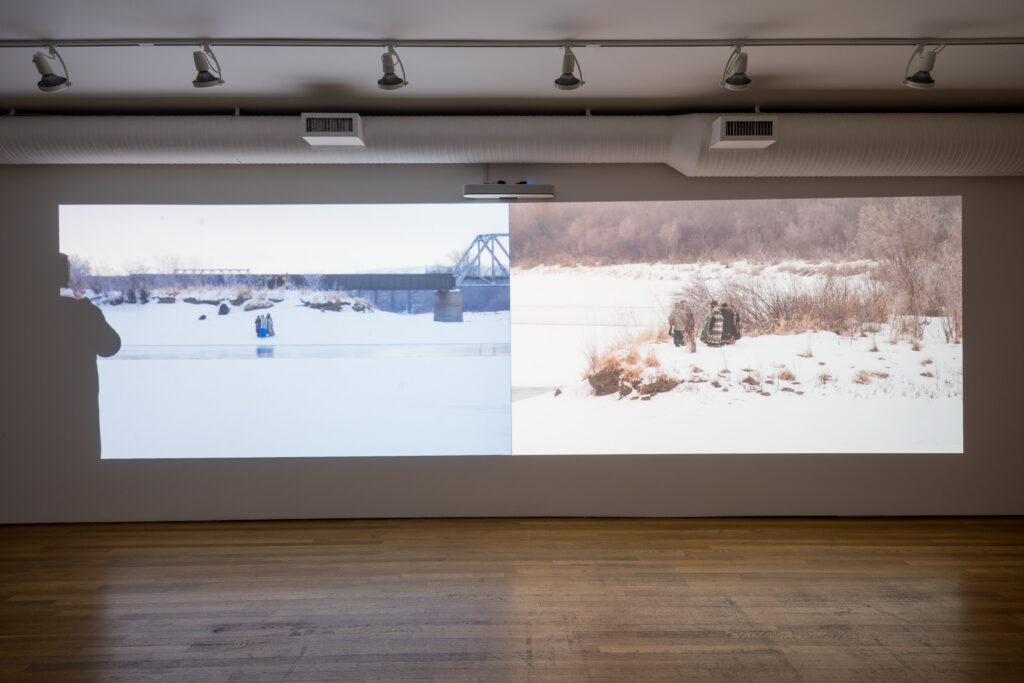 Echoes is on now at the Burnaby Art Gallery until January 26. Dundas Oke has also put together a catalog with photos, poetry and essays to complement the exhibition, available for purchase at the gallery.
Story by Wade Kinley for West Coast Curated