It's hard to imagine as we walk around with sophisticated cameras in the back pockets of our jeans, that there was a time not too long ago when a mere photograph would have blown our minds. Up until that first image appeared, the only visual representation of life came through an artisan's hands. It was decidedly unreal. Now, by capturing fleeting light, we could make time stand still, and visit it again and again. It's the closest we've come to time travel.
The Extended Moment is a collection hosted by the Audain Art Museum and curated by the National Gallery of Canada that celebrates the last 150 years of photography, from its beginnings on daguerreotype to the latest experiments with digital technology, and from all corners of the globe.
Juxtaposed, the collected works take on new meaning and show us that although the technology of the medium has advanced, and the cultural context of the subjects has changed, the stories we tell through them remain similarly human. Often modern photographs are responses to images that have come before, and in turn set up future spins on a familiar theme.
The stark, straight ahead social documentation of American photographer Evan Walker, particularly in his Church of the Nazarene, Tennessee, which acutely describes what we're looking at in 1936, leads to Robin Collyer's Yonge Street, Willowdale from 1995 that takes a similar approach to documenting "downtown," but strips the image of all advertising. From the birth of "straight photography," artists like Collyer have altered reality to comment on our evolving place in the world.
Photography is often referred to as both a discovery and an invention, its realization resulting from years of experiments with light, lenses and chemical properties. But what photography would eventually show us could not have been imagined by those early practitioners. The Japanese photographer Hiroshi Sugimoto uses this dichotomy to gorgeous effect in Lightning Fields 138, from a series in which the artist plays with electricity, sending 40,000 volts through film to a metal table. In the sharp branches like lightning and explosions of light, he captures an image that is at once accidental and wholly formed.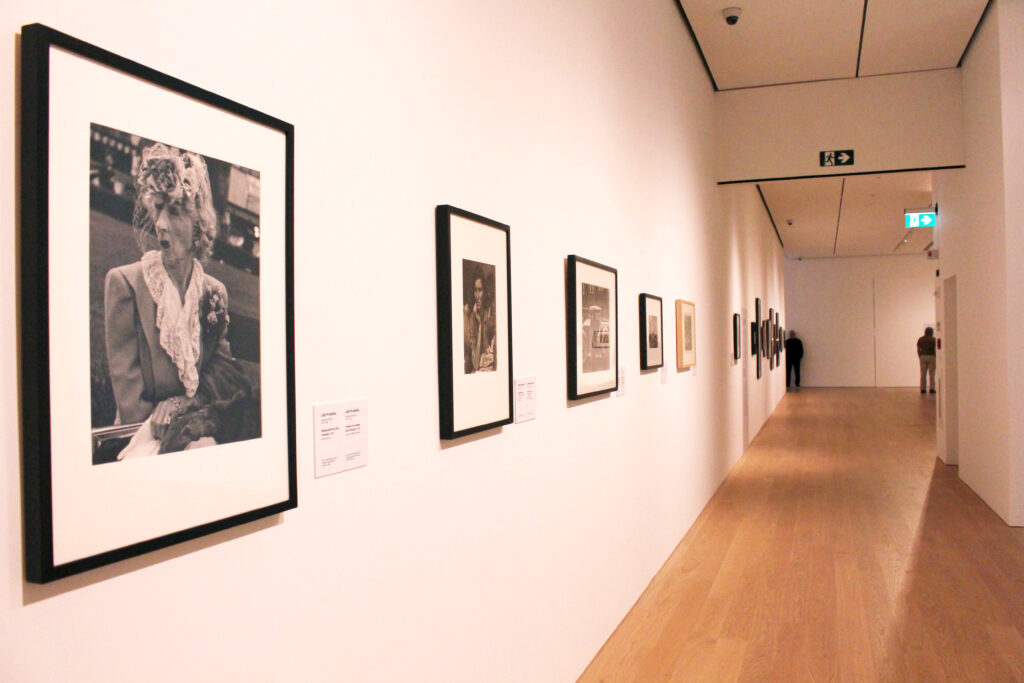 Lisette Model, Woman with Veil, 1949, silver print
Of course, one of the major pillars of photography has always been the portrait, and as this collection shows, the evolution of the form circles back in constant dialogue with itself. From the days when subjects would endure almost tortuous conditions to accommodate the long exposures in hopes of saying something about themselves, to the Dust Bowl photographs of the 1930s in which the subjects would rather not be sitting where they do, and the message says much more about the world around them then any self-expression. Consider Dorthea Lange's famous 1936 portrait Migrant Mother next to Lisette Model's dressed-to-the-nines Woman with Veil, San Francisco from 1949. Both women look out in the same direction, the same faraway look in their eyes. Context, here especially, is everything.
Model once deflected any intent behind her work, saying, "We photograph not only what we know, but also what we don't know. A moment is caught that was and never will be again – and lives on in the picture." In such a fascinating collection, these important photographs perhaps suggest something bigger, a collective "life story" told in captured light, moment by moment.
Note: In light of recent developments with respect to COVID-19 the Audain Art Museum will be close until further notice. Please visit www.audainartmuseum.com or follow their social channels for the latest updates.
Written for West Coast Curated by Wade Kinley
Featured photo credit:
Robert Davidson, Dogfish Mask, 1999/2013,
red cedar with pigment
Audain Art Museum Collection
Gary Schneider, John in Sixteen Parts, V, 1996, printed 1997
gelatin silver print, toned, 92.9 x 75 cm; image: 91.6 x 73.7 cm
Gift of Kathryn Finter and Jim des Rivières, Ottawa, 2000
National Gallery of Canada, Ottawa