By Kristin Lim
Of Two Minds, a group exhibition featuring work by four Vancouver-based artists, Lydia Cecilia, Laura Clark, Katherine Duclos, and Emiko Venlet, opened recently at August Studios in East Vancouver. Each artist presents diverse new work across painting, drawing, photography, sculpture, and collage, often pushing themselves beyond what's familiar in their practice. While visually distinct, the artists explore themes of motherhood, identity, femininity, loss, memory, and nostalgia. I caught up with the artists ahead of opening weekend to learn more about their work and took a sneak peek during install.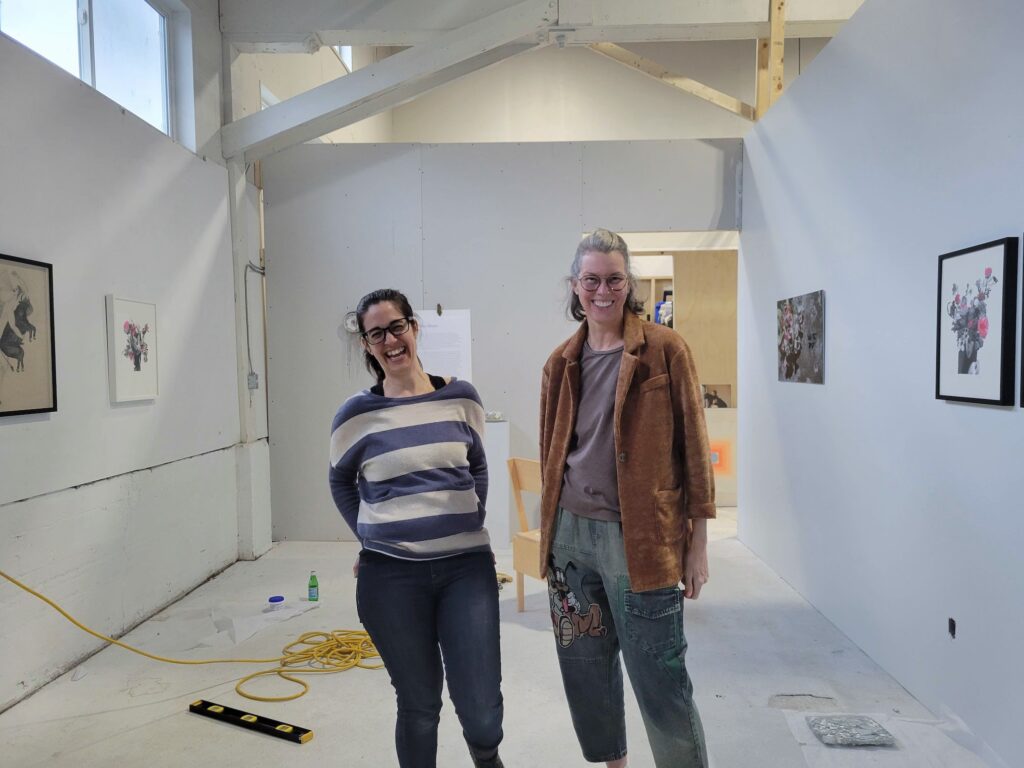 Stacks of collected vintage erotic magazines from the 60s and 70s, and fashion photography books and magazines can be found lying around collage artist Lydia Cecilia's studio space at August Studios. Typically combining cutout female figures from these found magazines with images of flowers spray-painted pink, her work questions ideals of the female form. In her latest work included in the exhibition, Cecilia incorporates photographs of her own body for the first time. Of her work, she says, "I wish to create a sense of awakening and evolution beyond all the things we were told about being mothers. The collages on view in this exhibition highlight images of myself. Images that I have used in different contexts. For this reason, the floral elements in the artworks are the same, but composed and organized in different ways as a metaphor for how the complexity of my identity and desires cannot be represented by only one label like, mother."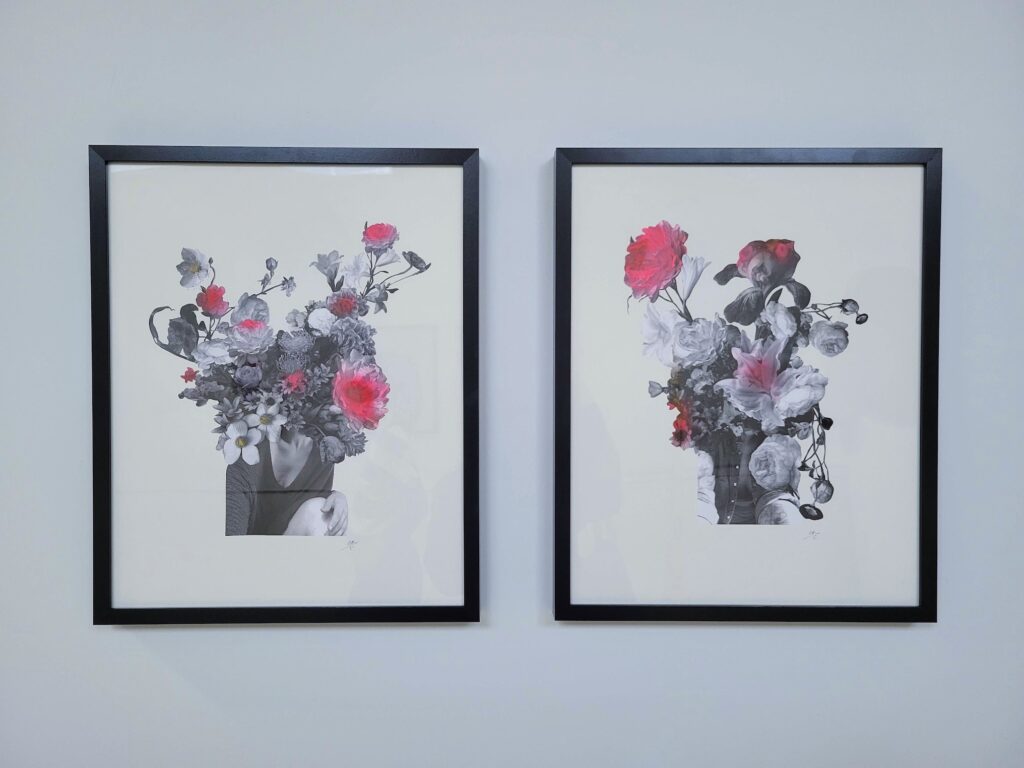 Similarly scouring thrift shops, Laura Clark incorporates found teacups and saucers, vases, and objects that remind her of her late mother and grandmother. Her recent body of work includes photography and resin sculptures embedded with fragments of these once precious objects and dried artificial flowers. Clark describes, "I use mixed media by combining photography, resin, and ready-made objects to explore the dualities from my personal experience of being a motherless mother. My art consists of gathering and collecting objects – remnants left behind — which are familiar to me and evoke a sense of nostalgia and sentimentality. The repetition that occurs in my act of acquiring particular objects is as though I revisit a specific moment in time and accumulate and preserve memory upon memory."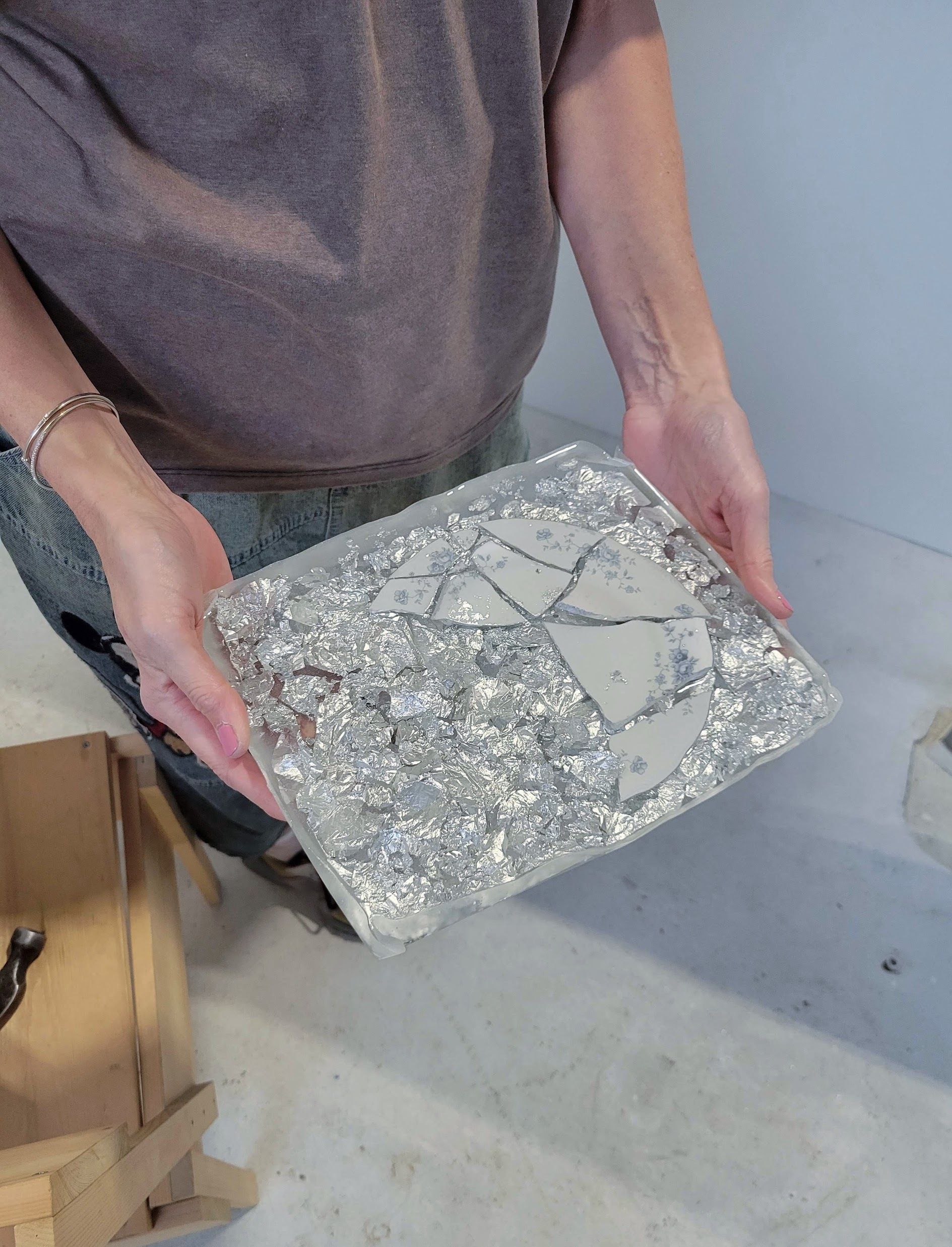 Katherine Duclos' work explores themes of motherhood and its often invisible emotional toll through painting, sculpture, photography, and installation. Known for sculptural installations using collected breast pumps and feeding parts, or her Lego series of artfully organized lego on paper works, for this exhibition, Duclos pursues a new direction in her work, focusing on exploring her identity and her newly discovered neurodivergence. She presents self-portraits in the form of three figurative paintings, a departure in her practice, and a series of photographs that focus on her hair and the sensory challenges surrounding it. She describes, "I've recently been working through a lot of stuff with my son, who is autistic; discovering his neurodivergence has led to discovering my own. The works I'm presenting are all self-portraits exploring a new relationship to myself now that I know I am neurodivergent."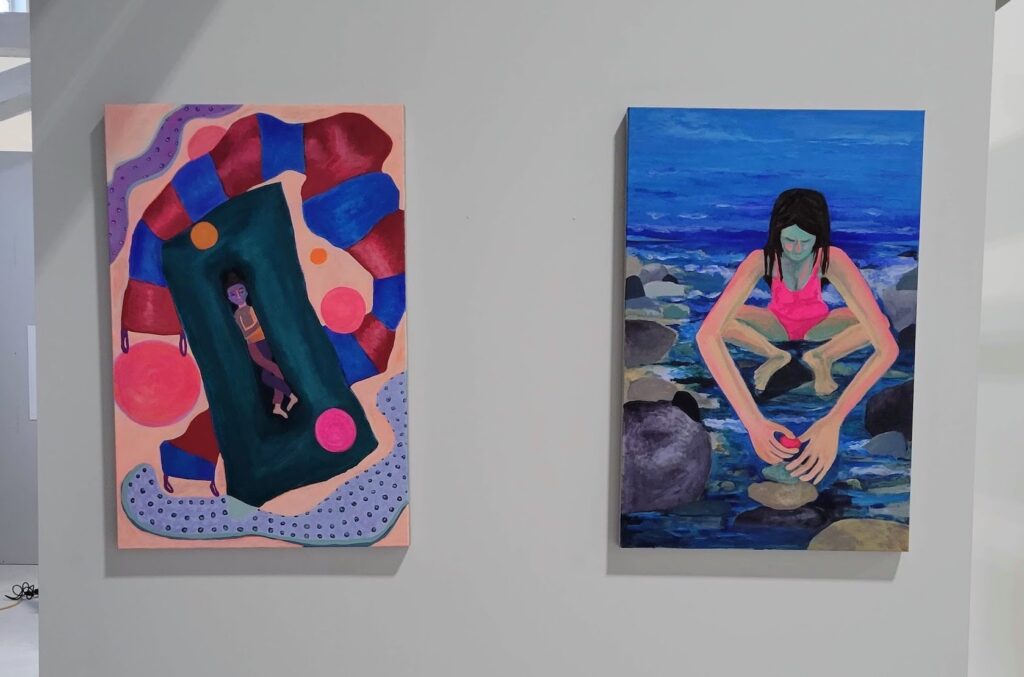 Emiko Venlet also presents a departure from her typical style of colourful still life paintings, through a series of fine line drawings of mythological human and animal creatures. She describes what to expect from her work in the show: "You would see a transformation of a woman, a mother, and an artist in my body of work, meaning I put two seemingly different works together but created by the same person, which is me. What you would see is the essence of who I am but the appearance or how I express myself has shifted. I am expecting a reaction from the viewers, 'are they done by the same artist?' but if you look and feel the work closely you would know it's the same artist all along." Something we might not know at first glance, Venlet reveals: "I used to read astrology charts and was knowledgeable about stars and astrology. I wanted to be an astronomer and a painter when I was young so paintings and stars definitely have something in common in my career."
The exhibition is open on weekends from 1-4 pm until May 22nd and on weekdays by appointment. 
Of Two Minds is on view from May 7-22 at August Studios, 1320 E. Pender Street. Entry is free.
weareauguststudios.com

Cover photo: Katherine Duclos' photographic self-portrait series ready to be hung
*All photos courtesy of the writer