By Natasha Ponda
Alex Morrison's show, Nooks and Corners, currently at the Contemporary Art Gallery, is concerned with evolving aesthetic identities primarily found in the domestic sphere. The Vancouver-based artist takes architectural ideals from the past and repurposes them into whimsical art objects based in painting and sculpture.
In his paintings, Morrison shows us shapes, curves, lines, and patterns we most likely could possibly find in the memories of a grandmother's living room, or an aunt's bedroom. The patterns of wallpaper, wainscotting, and tile feel very familiar, but when inspected, are applied in unfamiliar ways. Morrison shapes isolated fragments into intriguing combinations, creating fanciful articulations and uncanny composites.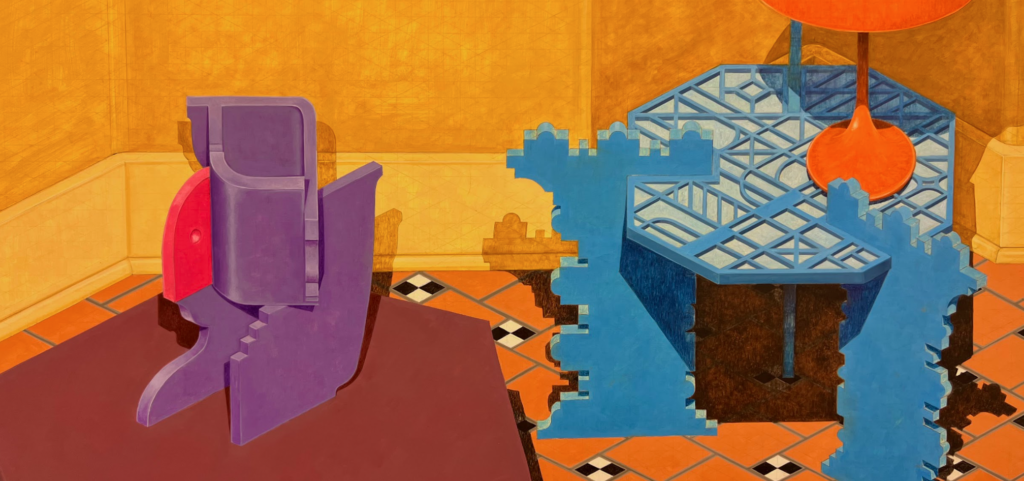 As much as he takes from the decorative styles across various eras and regions, Morrison also brings in his own aesthetic identifications from memories of places he's been. In turn, he creates opportunities for viewers to imprint their own personal real-world associations. Dream-like and surreal, as each piece resembles household furniture and is introduced in home-like spaces, we are able to welcome these strange shapes of fantasy into our own reality.
The vibrant colours and curious shapes in his paintings recall my childhood attraction to make-believe worlds where anything was possible. I think back to reading about Willy Wonka's Chocolate Factory and desperately wanting to be there or lost in Alice in Wonderland's world where the impossible was routine. Morrison's regeneration of old shapes into new constructions generates a vital experience- a newness that we can appreciate.
Morrison then brings these flattened fantasy rooms out of the paintings and into our physical reality. As 3D sculptures, whimsy and joy from fanciful imagination can come home with us and inspire our own homes. To capture your grandma's living room as your child's mind remembers it. To not abandon aged-out interior design and instead, give it new life and opportunity to remain relevant in the present.
Explore Morrison's paintings and sculptures at the CAG until May 1st, 2022.

cagvancouver.org

*All photos by Natasha Ponda