By Harriet Goodwin
After 21 years in its first Gastown location and a further 21 years across the road in its second, it seems fitting that in the summer of 2021, the Inuit Gallery made another move – this time to the North Shore's Shipyards District. We touched base with the gallery's owner, Melanie Zavediuk, about the move and what the public can experience by visiting the bright new space.
Melanie has been with the gallery since the early '90s; after graduating from UBC's Art History Program, she started working as a gallery assistant and recalls writing artist bios and logging incoming artworks. From these beginnings, she has continued building the gallery's collection of fine art, including jewelry, sculpture and graphics – all of which are a testament to Melanie and her team's relationship-building skills with artists and collectors both near and far.
The gallery is a destination for national and international art collectors and represents established indigenous Canadian artists, as well as emerging ones. What we loved about visiting this gallery was taking in the story and sense of place behind each piece, and learning about the techniques and materials used. Exhibits rotate by theme, artist, or art medium and feature work by Inuit artists (from communities across the Arctic and sub-arctic regions) and Northwest Coast First Nations artists – the split is roughly 50/50. Beyond the walls, cases and plinths, in the centre of the gallery, there is a large unit housing hundreds of prints. Elsewhere the colours and patterns in the stone sculptures are mesmerizing to see in person as you try to imagine what the natural stone looked like before the sculptor began their work.
While visiting, Melanie decided to hone in on three pieces to showcase what the collection is all about:
It is traditional within some of the Northwest Coast First Nations communities that an uncle or another family member will teach younger generations to make art. Melanie noted that over years of witnessing work by different family members, it becomes 'obvious that the past influences the present, but it is equally evident how the current generations of artists beautifully express their own voices.'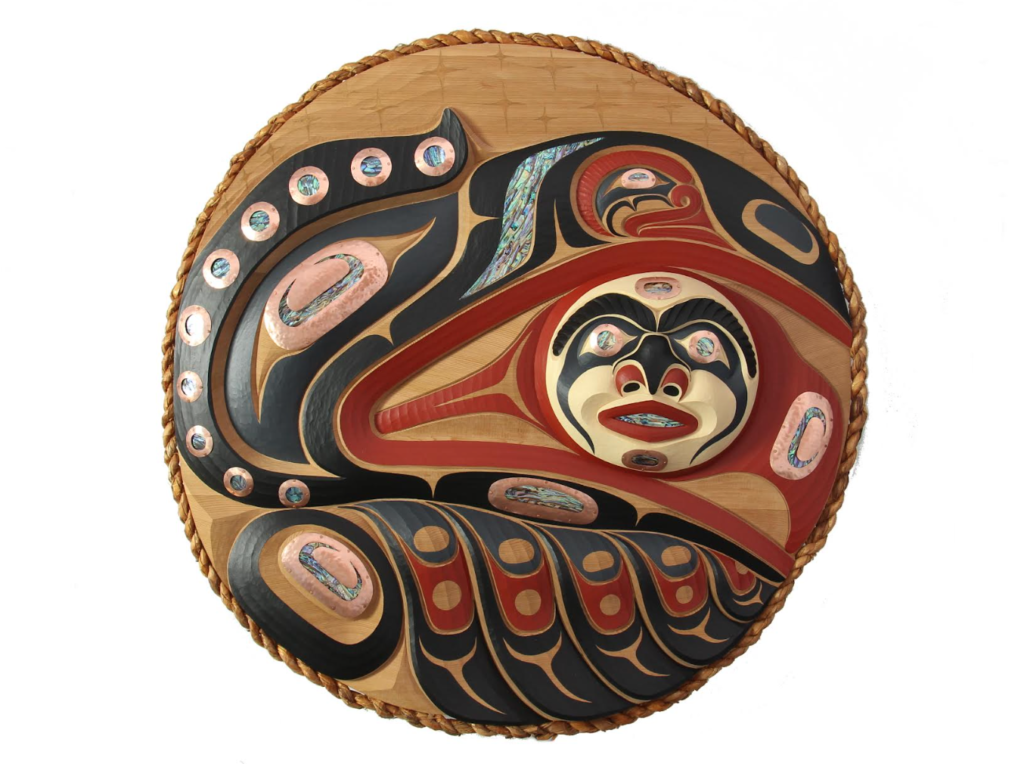 For example, Kwakwaka'wakw artist, Junior Henderson from the Wei Wai Kum First Nation has worked as an artist since 12 and trained with his uncle Bill Henderson. His piece Ten Moons is a circular panel made from red cedar, yellow cedar, cedar bark, copper and inlaid paua (a kiwi shell that substitutes for the traditionally used but scarce abalone that catches the light beautifully). In the centre of the piece, there is a raven with ten hammered copper moons around the edge of its head. In the raven's mouth is a full moon with the rounded features of a young child's face.
In Kwakwaka'wakw culture, babies have a 'Hiługwila,' a special rite of passage ceremony and blessing that has recently been revived. It takes place in a bighouse when the child is ten moons (or ten months) old. Kwakwaka'wakw teachings say that babies are still close to the spirit world, and ten moons is when they have decided to stay in the physical world. During a Hiługwila ceremony, guardians who will oversee the child's cultural upbringing are named, as the child receives their first bak̕wa̱mx̱tłe (Indigenous name) and is wrapped in a button blanket. Four of the child's 'aunties' then perform the ritual in which the child is bathed in river water, and red ochre is rubbed on their face.
Henderson's style of deep carving, fluid lines, and dramatic composition, as well as the intricate formline design in black and red paint, is very true to traditional Kwakwaka'wakw design.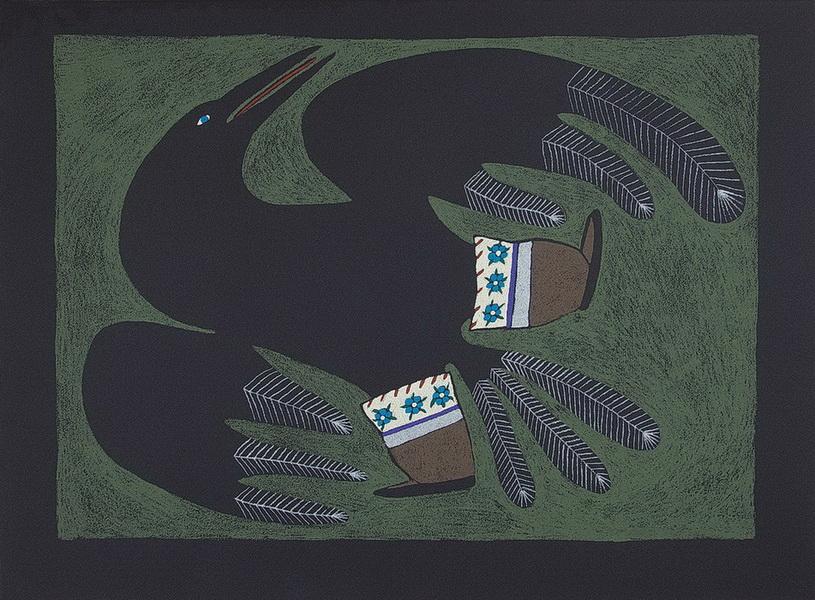 Another artist, Ningiukulu Teevee, has been represented by the Inuit Gallery for many years. She is one of the most celebrated graphic artists working in Kinngait (Cape Dorset, Nunavut) today. Melanie explained that Teevee ' is renowned for her focus on Inuit stories and legends, as well as her sense of humour and impactful graphic style.'
True to this description, at the entrance to the gallery hangs her print Ravin' Raven,' one of the 40 copies of a print commissioned by the Inuit Gallery in 2019 for the gallery's 40th anniversary. This joyful image tells the artist's favourite traditional Inuit story of when the Snowy Owl and Raven met; the Snowy Owl was given a beautiful white dress, and in exchange, the delighted Raven received a new pair of kamik (boots) to protect his feet. The Raven was so excited that he knocked Snowy Owl's kudlik (seal oil lamp) into the air and coated himself in sooty black oil, splashing the Snowy Owl's white dress in the process and thus creating the speckled white feathers that owls have.
On our visit we saw many sculptures of beings with multiple limbs, some human and others animals seemingly caught in human-like movements, such as dancing bears or seals with hands and feet! Melanie explained that transformation is a big theme in Inuit art. If there were ever a problem within a community, a shaman would turn into animal form and traverse the spirit world to find a solution to that problem.

One such sculpture is Two Bears by Koomuatuk "Kuzy" Curley. Also from Cape Dorset, Curley learned to carve from his grandparents, legendary Inuit artists Qaqaq and Mayoreak Ashoona, during the summers he spent as a child at their outpost camp near Kinngait, Nunavut. Curley produces sculptures of all sizes, some weighing thousands of pounds and others as small as a nickel. His artworks are often minimalist in style, yet are full of emotion, fluid movement, and energy. He often sculpts wildlife, the human form, and mythological creatures that reflect his culture, values, and beliefs.

In this piece, the artist is nodding to the circle of life. The striking white alabaster, two-headed polar bear has four eyes and two noses made from inset serpentine. The smooth and tactile piece has one head belonging to a younger, seemingly joyful and carefree bear looking towards the sky, and the other belonging to an older, more sombre bear whose head is bowed, looking pensive and wise.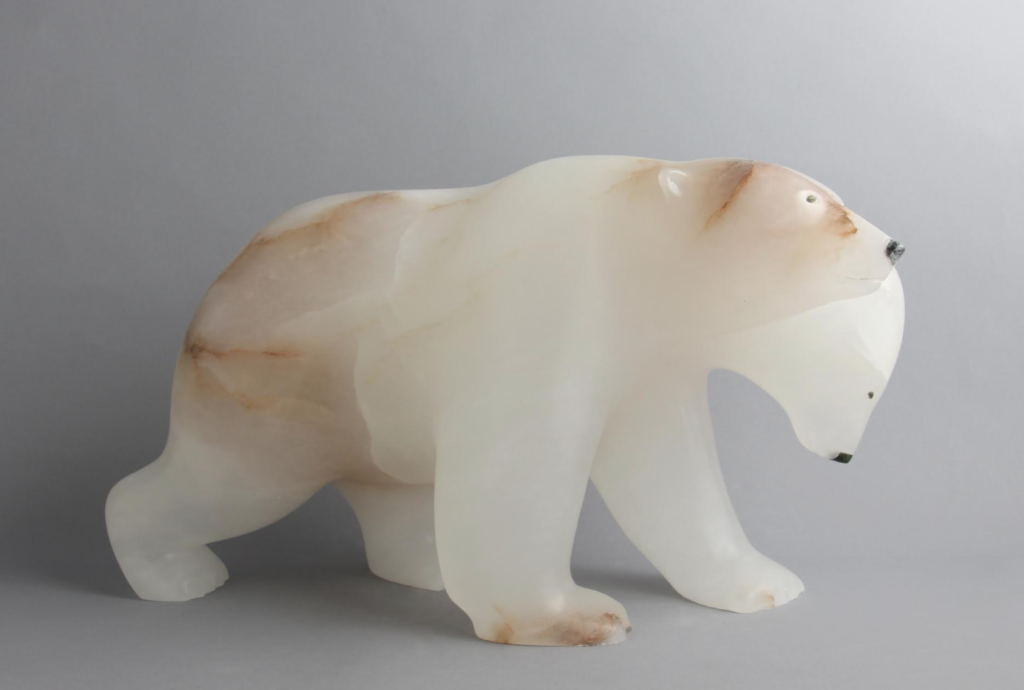 An exhibition exploring the artist's work at the outpost is planned for later this year so watch this space! If you can't wait for that, make sure you check out the gallery's exhibition, 'Small Treasures, ' planned for later this month:
Now in its 20th year, the annual 'Small Treasures' exhibit features just that – 140 miniature, predominantly Inuit sculptures. The pieces are currently on display for preview at the gallery, with the show officially opening and works available for purchase on January 28. The treasures span the 1950s to contemporary pieces. Melanie explained that 'the works are for the most part on an intimate scale that evokes the memory of a time when Inuit were nomadic, carrying all of their possessions with them.'
We got a sneak peek at these, and they are a delight to study. There is something mindful about slowing down and taking in these smaller-scale pieces, from the facial expressions of animals – the aforementioned seal transforming into a man being a firm favourite, or the family of geese and goslings. Melanie elaborated that 'with the immediate visual impact of works on a larger scale, these pieces beg to be examined or, better still, turned in the hand to fully appreciate their beauty and power'.
You can find the Inuit Gallery and more of the North Shore's cultural organizations and exhibitions on the free online map, the North Shore Culture Compass. Head to the First Nations category to learn more about the people who have lived here since time immemorial. Make sure you visit the gallery next time you head to the Shipyards, and it may inspire you to travel north one day! For now, the gallery is only a few minutes walk away from the TransLink Seabus Terminal at Lonsdale Quay.
Small Treasures runs until February 17
For more information about the Inuit Gallery, visit inuit.com

Take the Seabus to Lonsdale Quay, it's right across the street! To further plan your route there, you can use the TransLink Trip Planner.