By Miret Rodriguez
Walking into an exhibition space can often feel like walking through a portal. This was particularly true when I recently visited True to Place: stímetstexw tel xéltel at The Bill Reid Gallery of Northwest Coast Art.
Guest-curated by artist and muralist Xémontalót Carrielynn Victor (Stó:lō), this exhibition offers a look into the continuously evolving world of Northwest Coast Art. Upon entering the space, you'll pass by an eight-foot-long hanging canvas, sliced in the middle from top to bottom and tied with a cedar rope woven by Victor. It creates a warm sense of welcoming of the pieces to come. Visitors will not only be immersed in contemporary Northwest Coast Art but also given the means to understand how the works in this exhibition act as portals into the current development of Indigenous art.
As the exhibition title illustrates, the ten participating artists "keep the pencil moving forward" (translation of stímetstexw tel xéltel). By expanding narrative, stylistic, material and technological boundaries, each artist challenges preconceived notions of Indigenous art while still staying true to established principles of form, story and place.
When I entered the gallery, three paintings immediately caught my eye. At the back of the main room is a glowing tondo (a circular painting) that I recognized from seeing it earlier this year at Equinox Gallery. It was Shawn Hunt's (Heiltsuk) Moon tondo. The piece is captivating and magnetic. It pulls me in and makes my head turn, trying to make sense of what is up, what is down, and where the depiction of one animal/person begins, and another ends. My eyes quickly come to peace, realizing that all (wolf, frog, eagle, raven and human) are a composite and a continuum. Moon is an example of Hunt's recent work, where he explores Heiltsuk Cosmology through the development of imagined narratives and characters. All while presenting them in a mesmerizing and breathtaking way. While admiring it, I'm able to peek into Hunt's very particular universe, one of Heiltsuk, French and Scottish ancestry.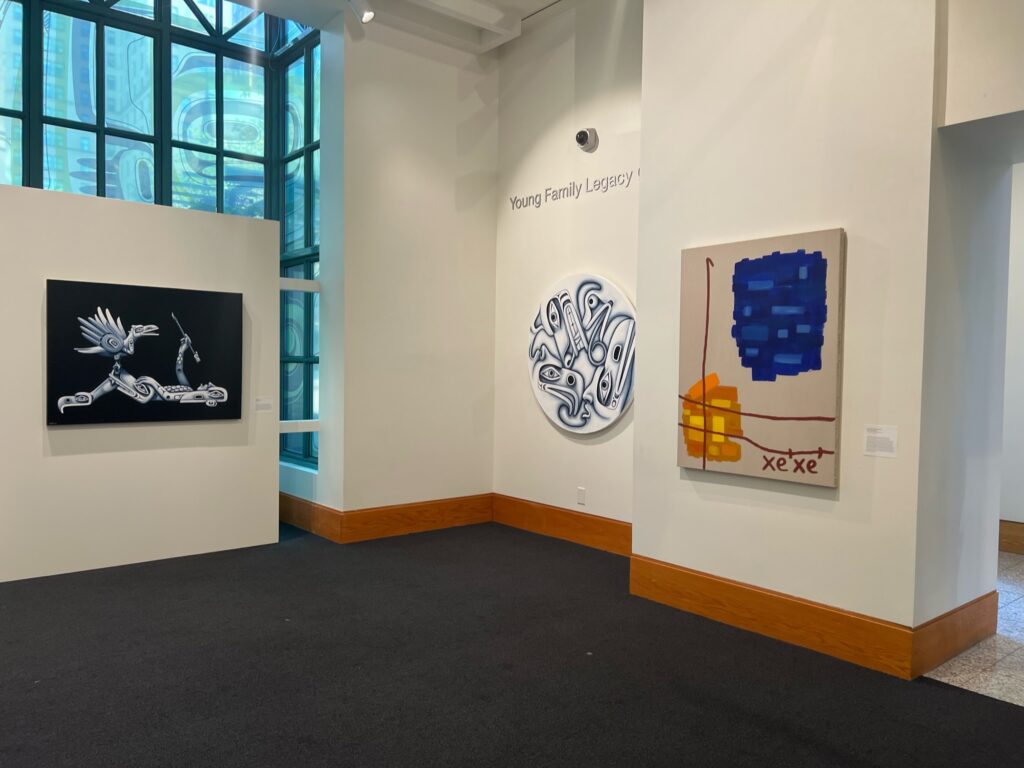 To my left, a vivid geometric painting by Crystal Worl titled Here Now hangs on the wall. Like other artists in this exhibition, Worl makes use of formline, a traditional Indigenous Northwest Coast language of design. On Here Now, Worl depicts a large muted turquoise S shape with a relieving split amidst a neon orange and yellow space carefully balanced with a contrasting and smaller circle. The colours vibrate as the hard edges of the shapes oscillate between tension and flow. "Balance is essential in formline art just as it is to our society. In Tlingit kinship, we are all bound to each other by seeking balance between opposite clans," Worl explains.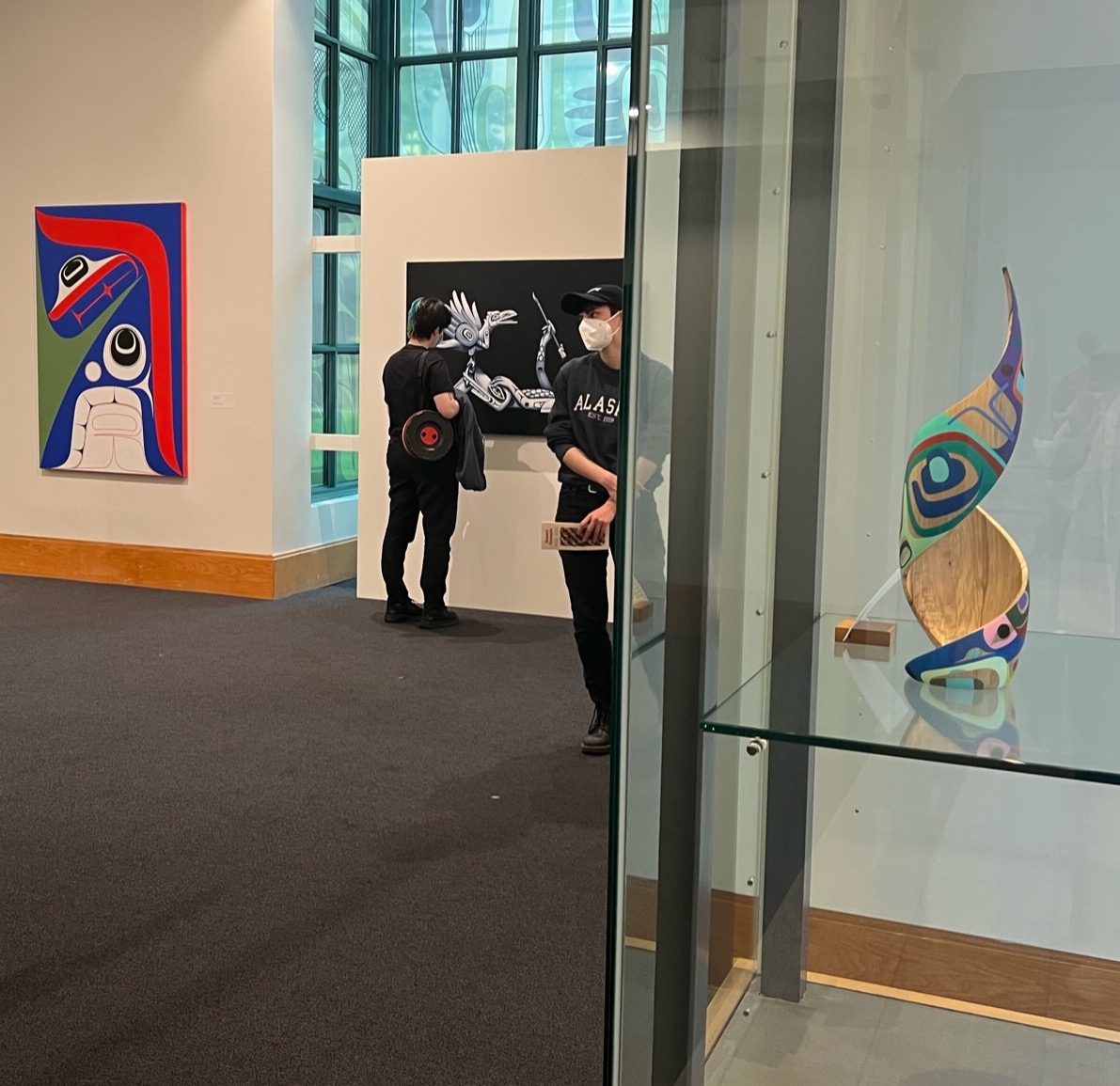 Next to this vivid composition hangs Sturgeon (healer) by Atheana Picha. A painting that shows a gradient blue and curled up sturgeon inside a red ochre space. The space surrounding the sturgeon is activated by crescents, circles and trigons; all traditional Coast Salish design elements. After walking through the exhibition and enjoying the works, I'm instantly able to see a panoramic view of the diverse voices, styles and explorations of Northwest Coast artists.
True to Place: stímetstexw tel xéltel is another successful exhibition at Bill Reid Gallery that shares contemporary Indigenous artistic voices while embracing modern curatorial voices. The exhibition samples how contemporary Northwest Coast artists continue to challenge what Indigenous art is and can be.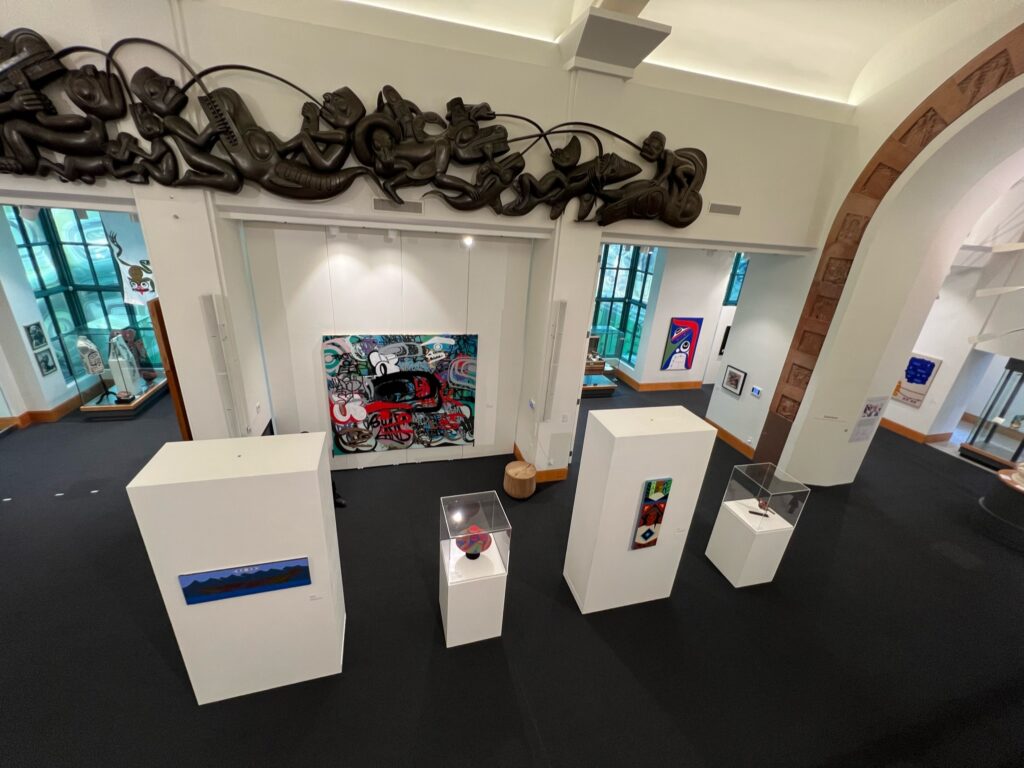 True to Place: stímetstexw tel xéltel is on until March 19, 2023. I recommended going before Oct 23, 2022 so that you can also catch Beaded Nostalgia, an exhibition showing innovative ways in which beadwork is being reshaped and reimagined by contemporary artists.
Participating artists in True to Place: stímetstexw tel xéltel:
Atheana Picha
Corey Bulpitt
Crystal Worl
Eliot White-Hill
Luke Parnell
Ocean Hyland
Robert Davidson
Shawn Hunt
Steve Smith
Thomas Jones.
For more information, visit billreidgallery.ca


Take the Canada Line or Expo Line Skytrain to Vancouver City Centre Station and walk about three blocks west.