By Madison Smart

As a leading art institution in the Lower Mainland, The Polygon Gallery champions itself in providing accessible and bold programming to engage an active audience.
This audience includes local youth, and what better way to develop these young critical lenses than within a gallery setting itself?
Of course, this can seem daunting for many families, and parents or guardians who may not know where to start or how to best introduce their children to art and "art viewing" – appreciating art while actively analyzing its themes. With their Kids First program, Polygon does an excellent job of ushering families through this process. Launched in 2018, Kids First is a fun and inspiring program geared towards children aged 5-12 (and beyond) that can be enjoyed on the first Sunday of every month at The Gallery.
The program provides families with the opportunity to create an art project prompted by the exhibitions that are currently on display. The 2022 fall and winter dates for Kids First have now opened for registration and are filling up fast.
The hands-on activity focuses on an aspect of the current exhibition that is easily digestible, which then acts as an introduction to bigger concepts.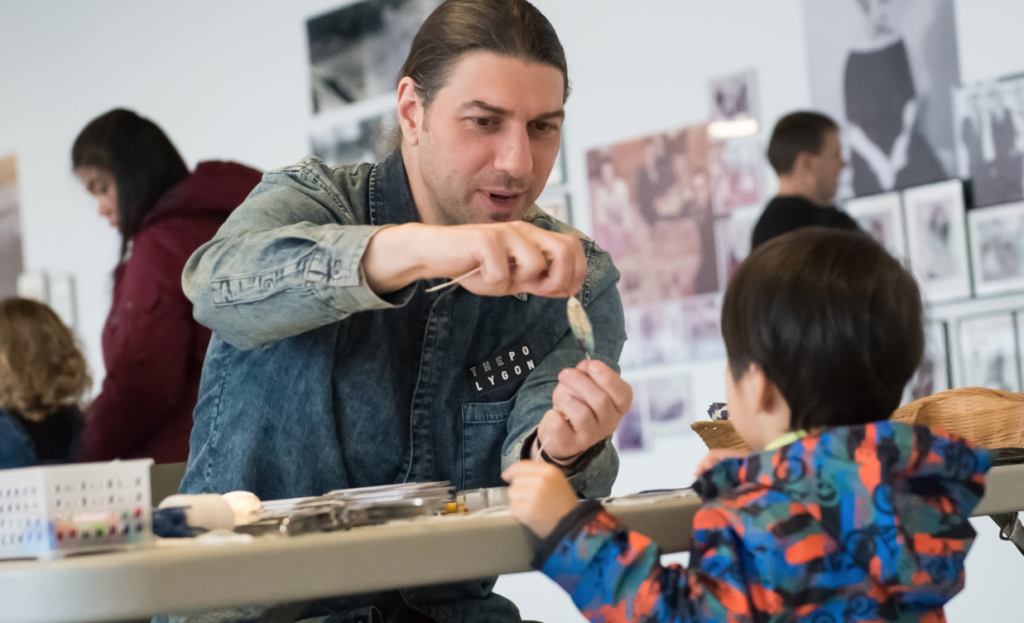 Last week, The Gallery welcomed participating families to its gorgeous Seaspan Pavilion, who were guided to make painted telephones, inspired by the current exhibition, Stan Douglas: 2011 ≠ 1848.
The project was inspired by the video installation by Douglas titled ISDN, which takes after the old-fashioned integrated services digital (or telephone) network.
"ISDN [Douglas' work] presents a fictionalized account of Grime and Mahraganat rappers exchanging beats and lyrics, using scavenged equipment in improvised recording studios in London and Cairo, respectively," explains Michael Mann, Polygon's Marketing Manager. "Sensorially immersive, the rhythms in ISDN move through a game of call and response that thwarts the parameters between what is seen and what is heard in astonishing and unprecedented ways."
Big ideas to swallow for kids. But through practicing creative techniques, a dialogue is opened (in this case around the various appearances and symbolisms that telephones can have), allowing children to be meaning-makers and to understand the artist's work in depth.
Participation is by donation and includes admission to see the exhibition on view. Gallery educators provide participants with an introduction to the show and recommend that you see it before, during, or after your session. Staff will also offer guardians ideas of how to interact with the exhibition space – what elements to point out to kids and the types of questions to ask them about the art on display. This inviting environment grants easement in a seemingly intimidating space, prompting revisitation, excitement, and curiosity – an essential foundation in sparking intellectually active youth. As Mann says, "These activities are offered in a welcoming atmosphere, designed not simply with enjoyment as their end goal, but also to build regular interactions with art into children's lives, thereby building a level of comfort with art galleries from a young age."
Upcoming Kids First dates are October 2, November 6, and December 11, 2022 at 10:15 am, 11:15 am, 1:00 pm, 2:00 pm, and 3:00 pm. All art projects will vary between dates.
Visit The Polygon Gallery's website for advance registration, though walk-ins are always welcome. Kids First is always admission by donation (at the amount you can afford). However, participation is free if you are unable to donate. 



Take the Seabus to Lonsdale Quay, and walk 2 minutes East along the water.