By Paula Burrows
Step into a realm where fashion and fiction collide at the Vancouver Art Gallery's exhibition, Fashion Fictions.

This showcase delves into designers' creative exploration of possible futures, offering a fusion of design, technology, imagination and couture. With diverse contributors, from renowned brands like Comme Des Garçons and Balenciaga to emerging talents and multicultural influences, the exhibition takes visitors through a tapestry of imaginative visions.
A spectrum of futures is imagined, from ethereal and romantic to utilitarian, dystopian, and even entirely digital. Notably, some of the garments on display were created decades ago, allowing us to witness the evolution of technology and materials within the context of fashion throughout the 20th and 21st centuries. It's a progression highlighting how designers have embraced technological advancements and cultural shifts to shape the fashion world. Amusingly, we can see the evolution of this interest in futurity develop over the decades, from the Futurists obsessed with a hypothetical "Space Age," which continues to inspire the Retrofuturist movements of the modern day.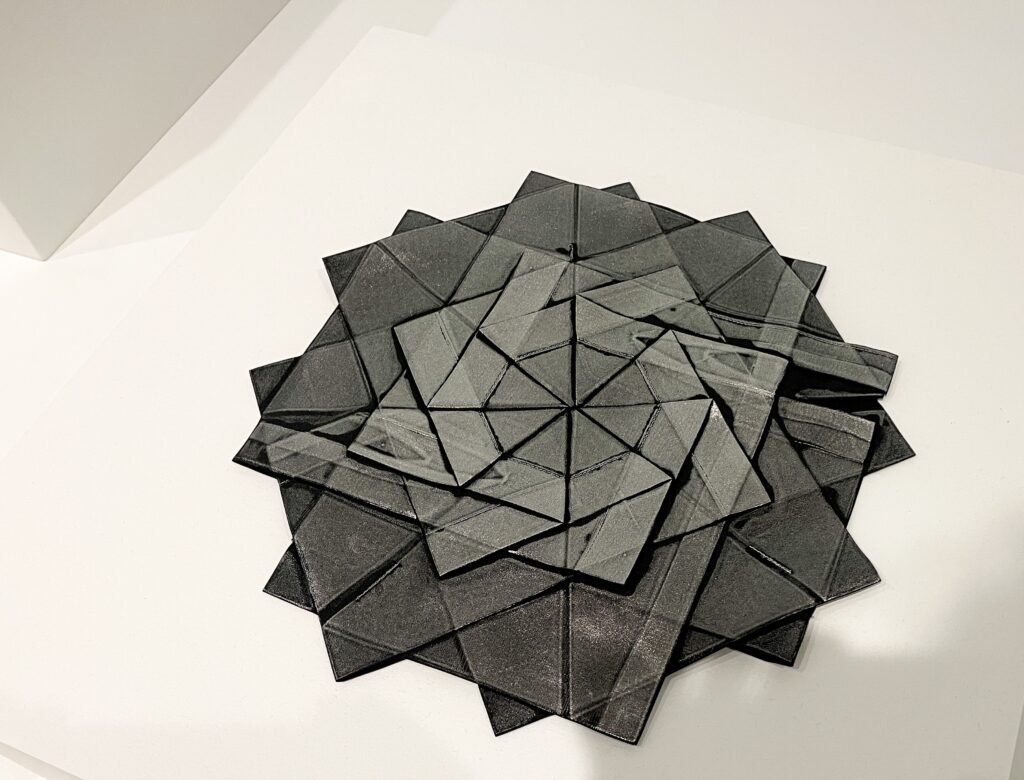 Highlighted throughout the exhibit are sources of cultural inspiration intermingled with futurism. An unmissable piece is Issey Miyake's, origami-inspired, Standard Blouse. This masterpiece showcases the fusion of traditional Japanese craftsmanship and avant-garde design – displayed completely flat (an accompanying video shows the opened garment). Fashion Fictions also beautifully incorporates Indigenous perspectives on futurity, giving voice to Indigenous artists' unique visions. These designs are particularly striking with their seamless blend of boundary-pushing creativity and cultural roots, such as Adriam Stimson's Bumble Bee Regalia stitched with over 300 Siksika beaded bees.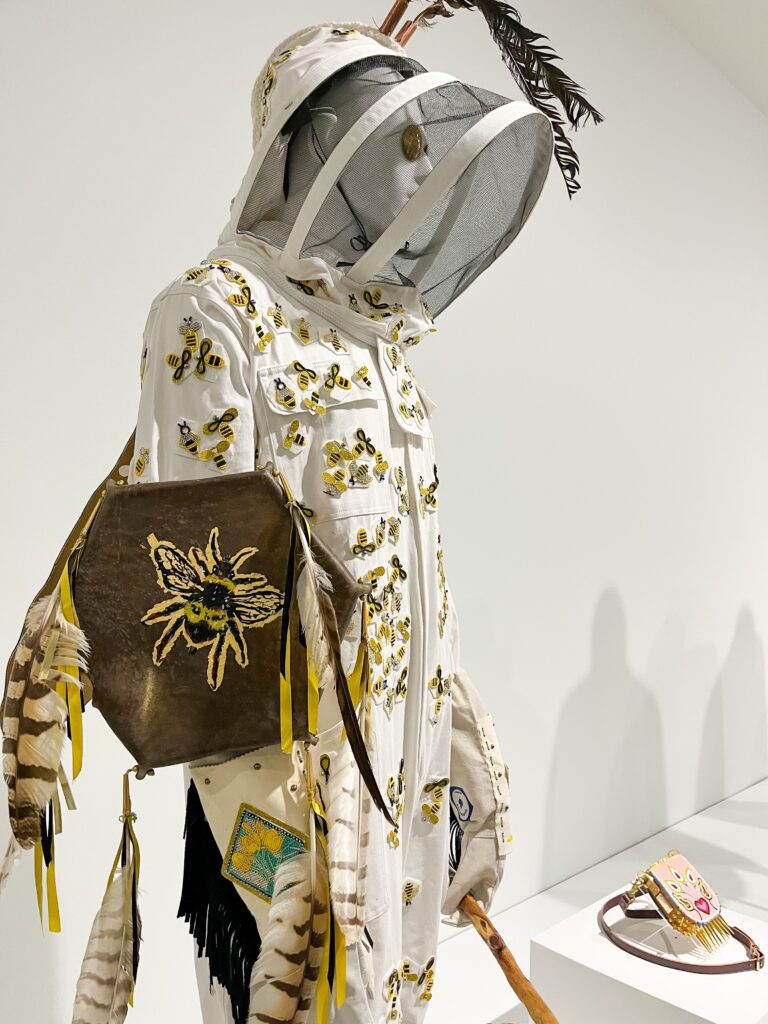 For sneaker enthusiasts, an entire subsection of the exhibition is dedicated to showcasing cutting-edge designs in footwear. Discover the progression of sneaker aesthetics and technology, reflecting the ever-changing landscape of fashion and functionality, and how streetwear has been integrated into luxury brands. Of all the show's subsections, though, my favourite has to be the hall dedicated to The Puffer. Clearly not just a fad of the current moment, this exhibit highlights designer puffer jackets suitable for many potential futures imagined over the last 15 years, from the cozy to the dramatic, to the decidedly less than optimistic.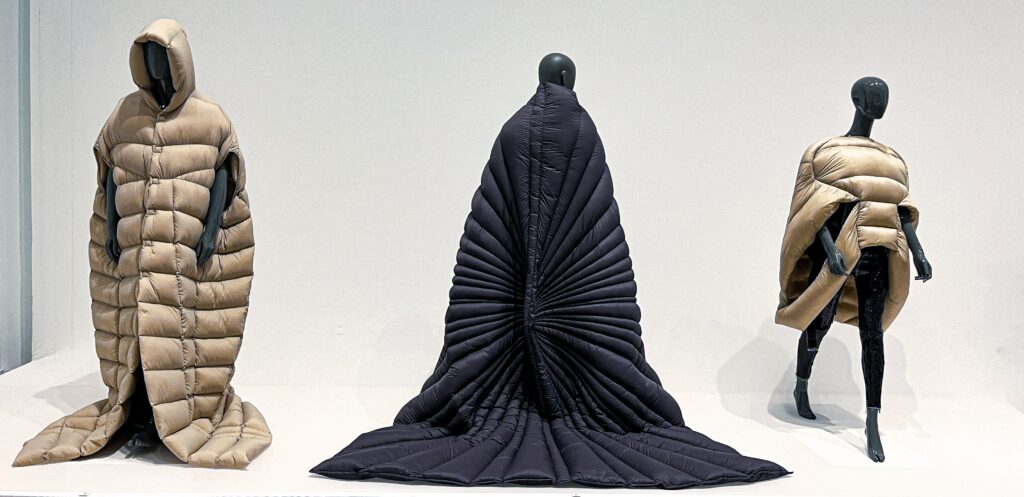 One of the unique elements of the exhibition is the research development lab, curated by the Material Matters Research Group at Emily Carr University. This research group is focused on exploring new textile creation and production modes using tools such as 3D printers and digital workspaces. Visitors can see impressive designs created from found objects within their lab in the gallery. Among the creations, a collection of vibrant wearable bags made from repurposed nylon rope takes center stage. By transforming the rope into fashionable accessories, the designer invites us to reconsider our approach to waste and envision a future where sustainability and style harmoniously coexist.
The lab researchers are not alone in their dedication to circular design principles. Another substantial section showcases the innovative work of Eco-Futurists. These visionaries develop garments and production methods that prioritize sustainability and aim to combat climate change through recycling and upcycling. Prepare to want a dress made entirely of paper!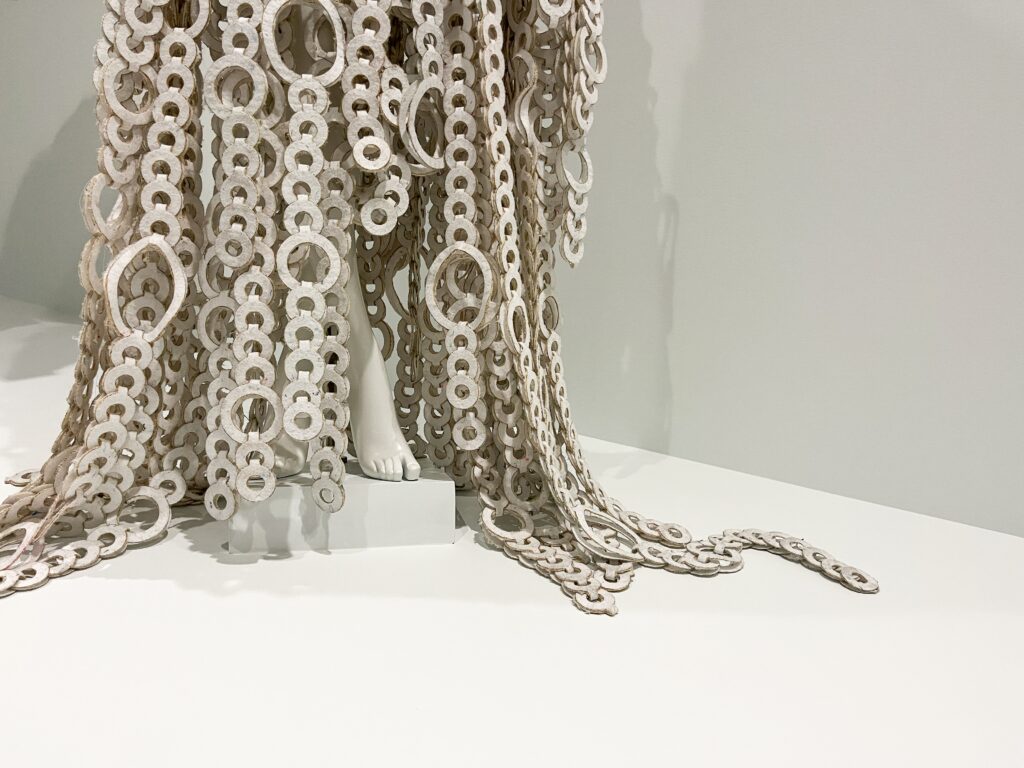 An equally impressive section is dedicated entirely to digital fashion, for those most comfortable in their online persona. From vibrant and imaginative designs to boundary-pushing concepts, this area explores the limitless possibilities that technology offers to the fashion industry.
Give yourself lots of time to take in this exhibit. It covers the entire second floor, and I know it will take me more than one visit to absorb it all. Make sure not to overlook the side rooms, or you'll miss the collection of drool-worthy Issey Miyake BAO BAO handbags! Fashion Fictions is an unmissable experience for fashion enthusiasts, art aficionados, and anyone curious about the future of design. Do fashion designers have the power to influence how we live in the world? There are gorgeous answers to the question around every corner.
Fashion Fictions runs until October 9, 2023
For more details about the show, visit vanartgallery.bc.ca

Vancouver Art Gallery: Take the Expo Line Skytrain or the Canada Line to Vancouver City Centre, then walk to Robson and Granville Street, it's just around the corner!
To easily plan the route for your next artistic outing, you can use the TransLink Trip Planner.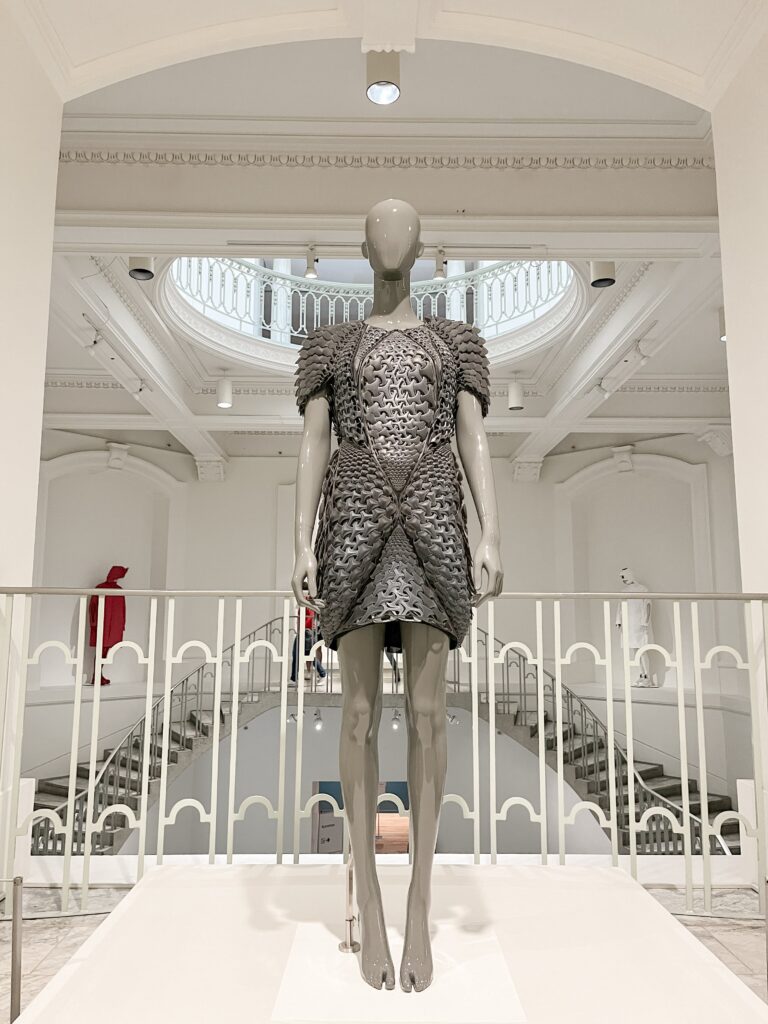 Gabriel Asfour, Angela Donhauser & Adi Gil for threeASFOUR – Pangolin Dress, Biomimicry Collection, F/W 16