By Miret Rodríguez
Spring, the season of rebirth and blossoming, seems like an appropriate backdrop for Beaded Nostalgia, a new exhibition contributing to the reshaping of beadwork.
As Aliya Boubard, the curator behind this beautiful show at The Bill Reid Gallery, says:
"This exhibition is important to me not only because I'm a beader, but also because this is my first exhibition as an emerging curator. […] To be able to bring together the four featured artists and the 50 earrings artists, and talk about beadwork in this way makes me feel incredibly grateful."
The four featured artists, Audie Murray (Michif), Hazel Wilson (Haida), Nico Williams (Anishinaabe), and Serena Steel (Secwepemc), each explore the use of contemporary beadwork as a connection to the past, the memory of ancestors and homelands.
When visiting, you can get close and personal with exceptional beaded pieces, including Audie Murray's Pair of Socks – Reclaiming, 2019. Audie beaded the soles of a pair of Billabong socks with traditional Métis flowers as a response to the use of the pan-Indigenous pattern and the blatant cultural appropriation by fashion industry brands including Billabong.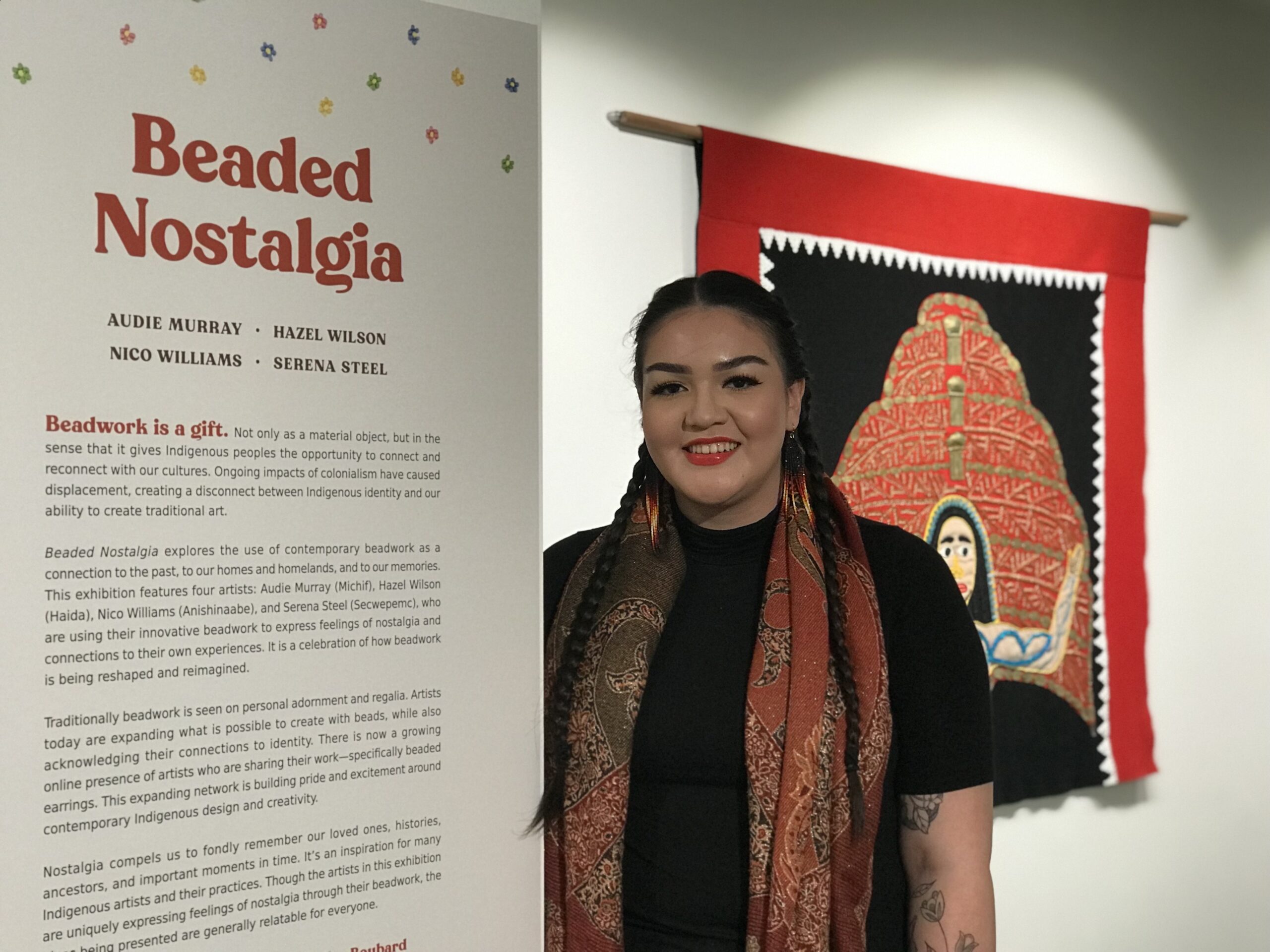 While tuning in to the online opening of Beaded Nostalgia, I was fortunate enough to be present for a particularly moving moment. The late Hazel Wilson's daughters presented the gallery with K'iid K'iyaas, part of one of the last series she completed before her passing. They expressed how touched they were to have their mother's work in the exhibition and how they could feel her energy through every sewn bead, button, stone and brass plate on the piece.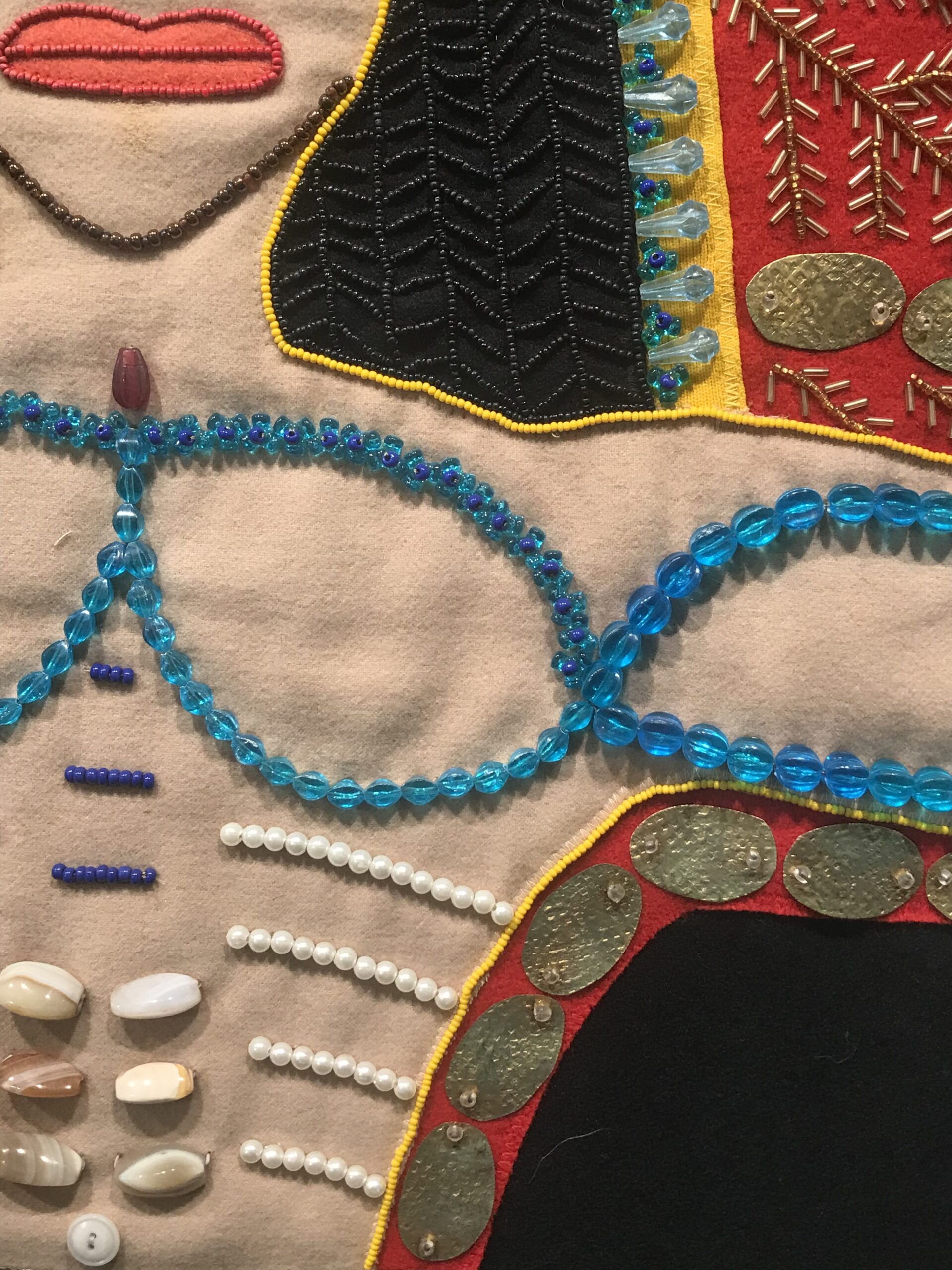 Across the exhibition panels and accompanying leaflet, you'll be able to spot printed 6-petaled beaded flowers in soft yellow, green, blue and pink. This 90s motif is taken from one of the iterations of Serena Steel's Clover portraits, 2021. Serena created these gorgeous portraits using a photo of her grandparents as inspiration. As a child, she would run up the steps of their porch to show off any four-leaf clovers she would find.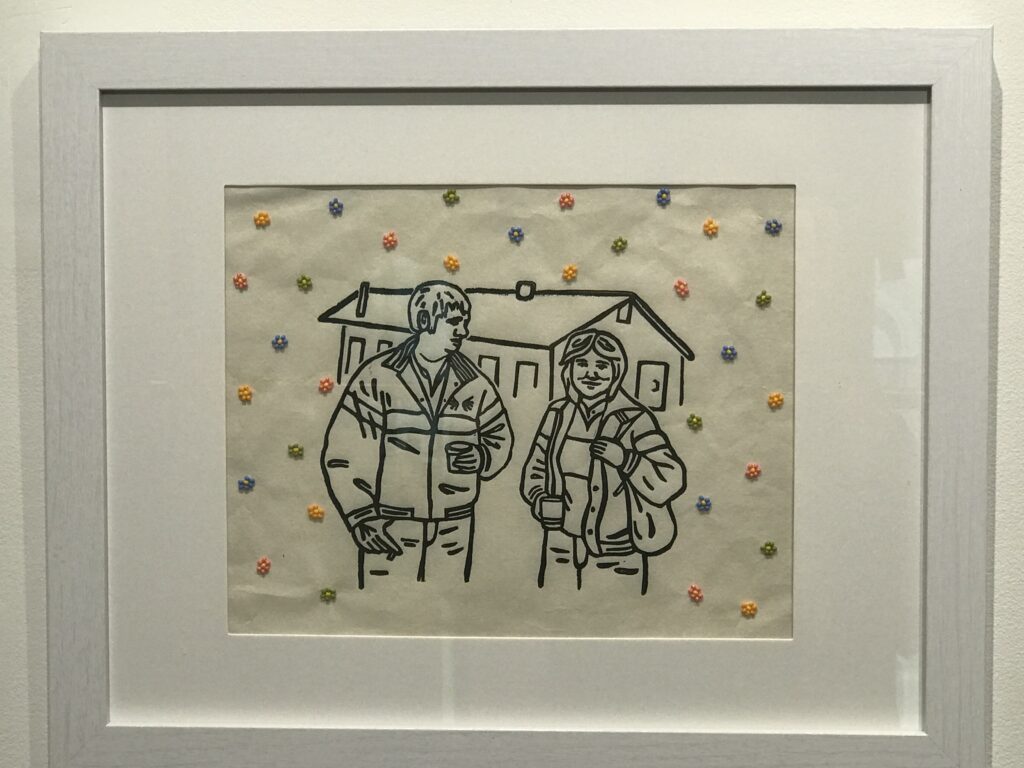 A piece that I found absolutely fascinating was Nico Williams' Hyper Blanket. It was impossible to not be drawn to the multicoloured variety of patterns, both bounded and guided by a geometry of triangles. Hyper Blanket is a kaleidoscopic, hyperbolic weave made through a peyote stitch of Miyuki beads. Think of warped squares made up of four triangles-an accurate visualization of mathematical infinity. This beaded 'blanket' is the result of a beading and math project organized by The Community Beading Project. Children and adults from the Fraser Valley and UBC areas engaged in beadwork and math work over 5 virtual sessions to create it. The piece has an open ending as it will continue to grow throughout further collaboration.

The work exhibited in Beaded Nostalgia is a testament to all the innovative ways in which beadwork is being reshaped and reimagined by contemporary artists.

You can visit Beaded Nostalgia until Oct 23, 2022
for more information, visit: billreidgallery.ca




Take the Skytrain to Burrard Station, then walk to Georgia Street and head East until Hornby Street, it's in that block!