The beauty of having so much fantastic public art at or near transit hubs is that it not only makes for free and easy to access art, but also represents how essential ease of movement is in both day-to-day life and expression.
Our next Art in Transit feature is at 22nd Street Sation in New Westminster. WANDER: Toward a Lightness of Being was unveiled by TransLink in 2019 alongside the station's expansion that happened around the same time, and it too represents the moving parts of the area, albeit on a much smaller scale. Produced by interdisciplinary artist, writer and educator Laiwan, WANDER aims to cultivate the curiosity of commuters about the natural habitat surrounding their travels, specifically the nearby Fraser River.  
The piece consists of 22 icons around the station representing microscopic phytoplankton that drift through the waterway that the New West community was built upon.
Thalassiosira, Didymosphenia, and of course, Eudorina- these tiny critters with big names can be seen in vibrant colours on enamel plaques, engraved granite stone, and in GOBO light projections as you wait for your next transit connection. Created in collaboration with UBC's Department of Earth, Ocean and Atmospheric Sciences (EOAS), each image was taken directly from the studies of program students, and then converted into graphic form, assisted by Mae Stark, and installed around the site.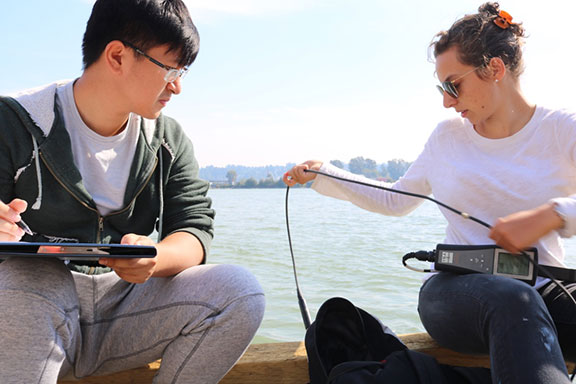 Taking in the sheer variety of creatures that inhabit the local waters, it's easy to forget how much life exists within the margins of travelling from A to B, but it's because of this motion and stimulation that so much of our natural world can thrive. With that in mind, it's not hard to grasp how this piece not only works as a playful discovery of an unseen world but also as an advocate for the lives of phytoplankton and their natural habitat.
As the 22nd Street Station bus exchange serves as a passageway for 9,000 customers each weekday, you can see how it parallels the Fraser in its daily pushing millions of life forms.
Maybe to a viewer millions of miles away, we're also just microscopic creatures catching the bus and running our routines. If so, I hope we're also inspiring vibrant tributes to the life that thrives in the tiniest spots of the universe.
*The UBC students involved in this project are Hannah Avenant, Eli Braunstein, Max Chen, Isabel Jankowski, Katarina Kusa, and Dorothy Yan, supervised by Environmental Science Director Dr. Tara Ivanochko, and assisted by Dr. Michael Lipsen, at the Department of Earth, Ocean and Atmospheric Sciences at UBC.


Take any Expo line Skytrain to 22nd St. Station!