By Kristi Alexandra
Maya Ersan and Jaimie Robson—a duo known best to the art world as their moniker Mere Phantoms—have been collaborating for about a decade. Though they met locally while attending Emily Carr University of Art + Design, their work has crossed oceans and borders.
Most recently, the duo's mobile interactive shadow installation, Shadows Without Borders, took them to refugee camps, squats, and settlements in Greece and Turkey, where they led paper cutting and shadow workshops and play sessions with refugee families.
Now, you'll find the exhibit at the Surrey Art Gallery, where it will run until August 14.
"We found this style and language and way of working that spoke to both of us, and it became its own medium. That allowed us to explore themes and ideas that were interesting to us as artists," Ersan says. "In our work, we use paper as a sculptural object and build our own light to make shadow projections."
Shadows without Borders features a 3.5 x 3.5-metre shadow projection tent and custom-made flashlights, plus a series of photographs and a video documenting the workshops they held in Athens and Istanbul.
What's different about this particular exhibit, though, is the interactivity that gallery-goers can expect.
People can add their own cut-outs to this ever-growing interactive installation and animate them with flashlights, continuing the centuries-old story medium.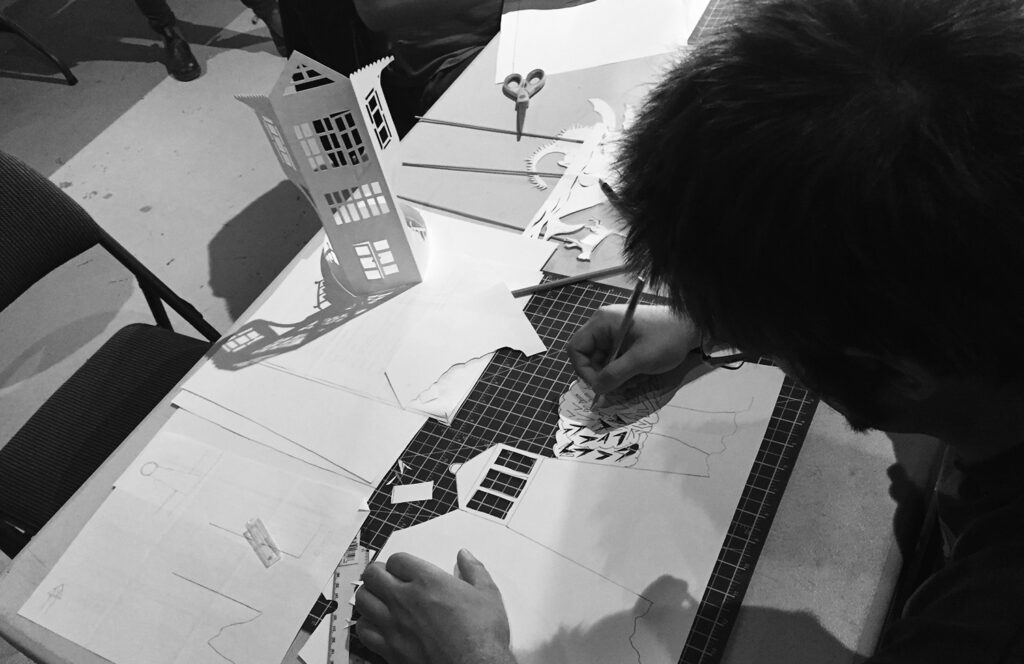 "Interactivity was very important to us," Ersan says.
"The way artwork gets absorbed and experienced by viewers is often a very one-way experience," she explains. "The artist makes something, it gets put on a white wall in a gallery, you look at it, and you enjoy it, and that's beautiful. But we were always interested in how you could use those spaces to create experiences that are a spectacle… and that are unique to you. You are holding the light; you're illuminating the sculpture. The way you see the work is unique to you. If someone else picks up the light and moves it in a different way, then they're seeing something completely different."
While some might aspire to have their works consumed philosophically, Mere Phantoms aims to do just the opposite.
"I hope it's a very absorbing and visceral experience that captures attention in a non-intellectual way–that is to say, a playful way," Ersan reveals. "We're primordially programmed to react to light and shadows in a very playful way."
In making the paper sculptures, Mere Phantoms encourages people to use as few tools as possible—such as simple drawing tools, knives and paper—so that light is the medium that makes their creations come alive.
"I hope that it leads many visitors to consider their own family stories of migration and or displacement," adds Curator Jordan Strom. "…While at the same time, opening space for them to consider the experiences of others that have been forcibly expelled and moved from their homelands in recent years."
Mere Phantoms: Shadows without Borders is on now until August 14, at the Surrey Art Gallery
For more information, visit: surrey.ca/arts-culture/surrey-art-gallery

Take the #321 White Rock Centre bus along King George Ave. and disembark at 88th Ave, walk five mins East