By Song Xianjun
In North America, lemon chicken is one of the most popular dishes in Chinese restaurants, and in a certain sense, it represents the taste of Chinese food. However, the truth is that in China, you'd need help finding this dish in local restaurants. When traditional Chinese culture is interpreted through the lens of an outside perspective (as well intended as it may be), it often is reminiscent of that plate of lemon chicken- attractive, and exotic, but lacking that genuine Chinese flavour within.

A recently opened public art project, "Home Across the Water," an ink painting exhibition by artist Jiangang Su, is an excellent opportunity to explore authentic Chinese traditional water ink art within a contemporary context.
Jiangang Su moved to Canada in 2017 and has spent five years exploring this land, his new home. In this exhibition, Su presents a series of Chinese ink wash and gongbi (fine brushwork) paintings utilizing his unique artistic mastery of traditional Chinese ink painting techniques.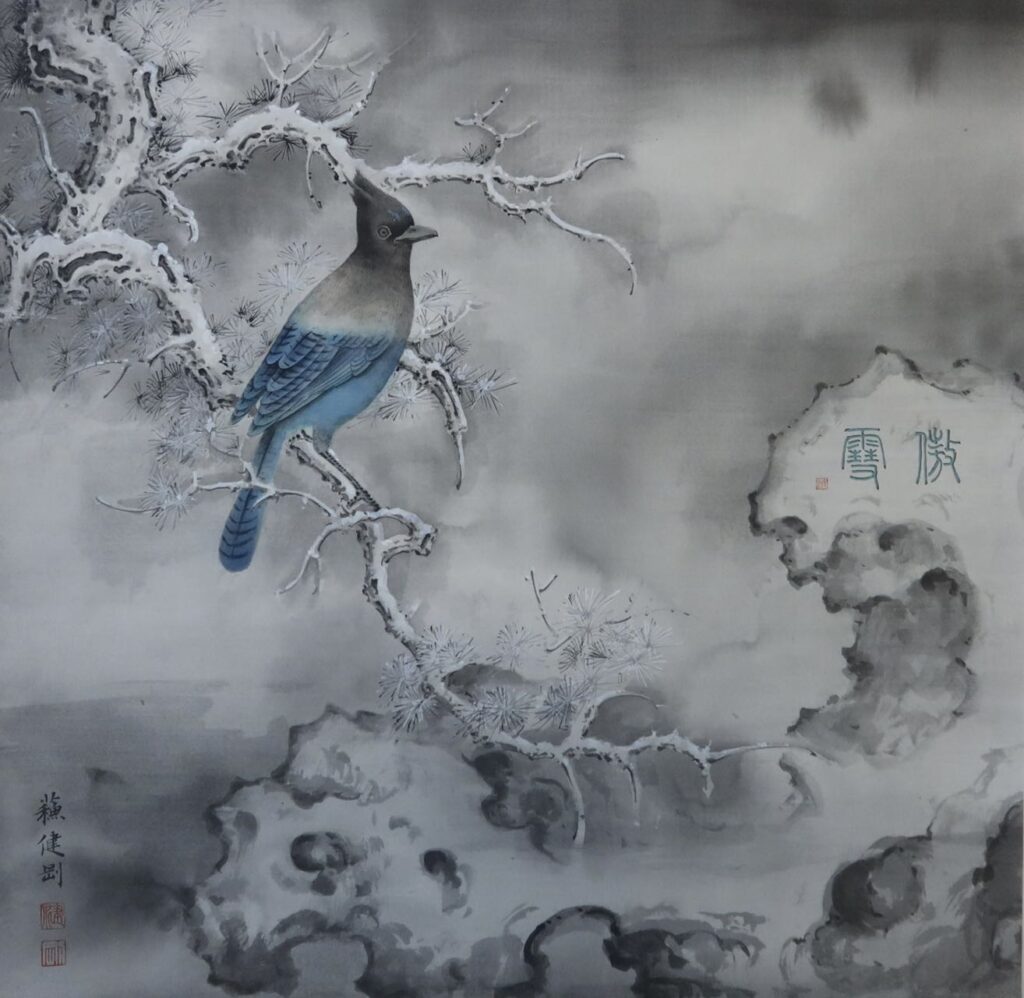 From the breathtaking three-meter-long scroll of North Shore landscape, to the detailed scenes of the local birds and flowers he encountered along our mountain paths, the artist shows the beauty of his new home through a Chinese art that dates back to the Song Dynasty, 1000 years ago.

With each painting, we meet recognizable local wildlife like a Blue Jay perched on a snowy branch, a Robin chirping upon the arrival of spring, and American Wood Ducks chilling in a nearby pond. Watching these animals through the seasons, it's easy to see Su's delight in capturing their essence in the form of these Chinese ink poems.

The exhibition is as much a tribute to ancient Chinese aesthetics as it is to Su's new artistic practice of depicting North American landscapes in his native traditional art style. Check out this show while enjoying some of the finest Chinese tea in the Lower Mainland (far better than lemon chicken) at VAN CHA Tea House in West Vancouver.

Home Across the Water is showing until May 28, 2023
For more details, visit the VAN CHA Instagram page: instagram.com/vanchatea

VAN CHA Tea House: Take any public transportation from anywhere in greater Vancouver to connect with the #250 Horseshoe Bay bus and exit at Marine Drive and 17th St. It's about a 1 minute walk towards the water from there!