Photo: Xuuya XiisGid | Yaahl Xigid| Raven Stretched Out
LED lightbox with transmounted lightjet duratrans, 2017

The majority of the pieces in this solo exhibition feature Haida artist, Terri-Lynn Williams-Davidson, using her own image in her ethereal photomontages. She boldly captures the viewer's imagination in Out of Concealment – Female Supernatural Beings of Haida Gwaii, on now at the Bill Reid Gallery.
In this engaging show, Female Supernatural Beings of Haida Gwaii are reimagined through these photomontages, as well as in short films and sound. Williams-Davidson, who is also a performer, activist, and lawyer says she wants to convey the stories and oral traditions from the Haida Nation that are passed on from generation to generation. She says these narratives explain the Haida laws, values, customs, rituals and relationships with earthly and metaphysical realms.
Haida Gwaii is an archipelago off the North Coast of British Columbia known for its wild and rugged beauty. The islands form the heartland of the Haida Nation who have lived there 13,000 years and makeup almost half of the 4,500 residents who currently live there.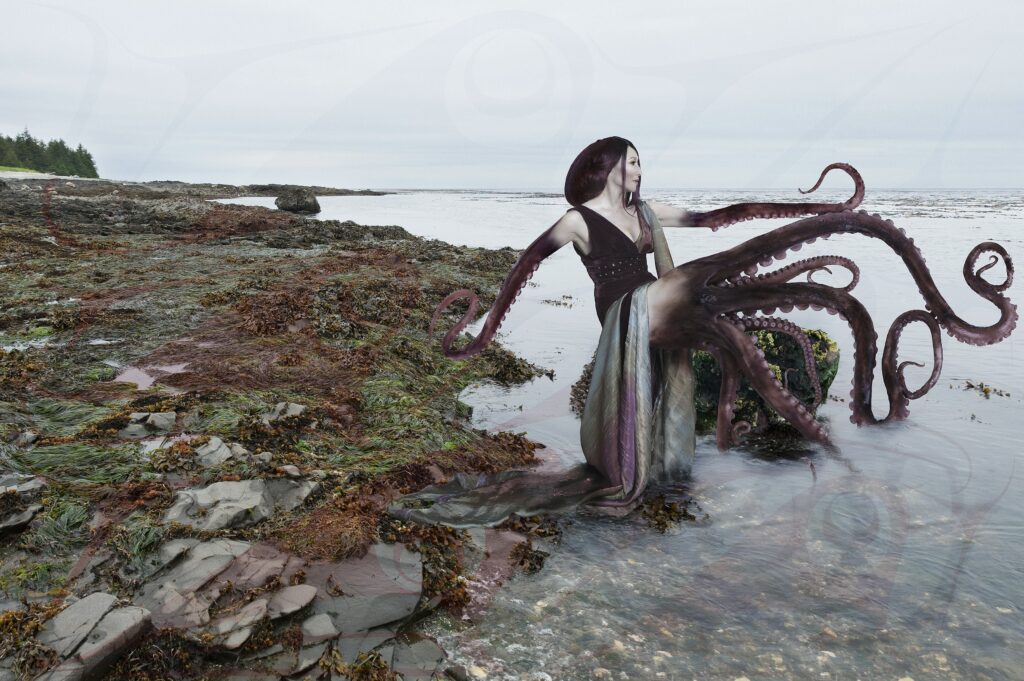 Williams-Davidson says the more she learned about Supernatural Beings from her parents and elders as she was growing up, the more she appreciated their intimate connections to the sky, land, and sea, as well as their interconnectivity with humans. She says, "Armed with oral narratives, the written ethnographic record and the power of visualization, I drew upon my experience as a Haida dancer using masks and ceremonial dress to dramatize and bring to life these Female Supernatural Beings and Crest Figures. I assumed the risk and used my image as the basis for the photographs. Most of the Beings in this exhibit are dressed in Indigenous fashion to affirm their contemporary existence. I included traditional face paintings belonging to my clan, the Gaagyals KiiGawaay, Those-Born-at-a-Reef-Called-Gaagyals, also known as the Skedans Ravens."
There are three layers in each photomontage. First, the art of the principal photographers, art director, and image compositors. Second, Williams-Davidson worked with local photographers who provided plate images of specific locations referenced in oral narratives. Third, almost every image contains Robert Davidson's art. Davidson is a well-respected and leading figure in the renaissance of Haida art and culture.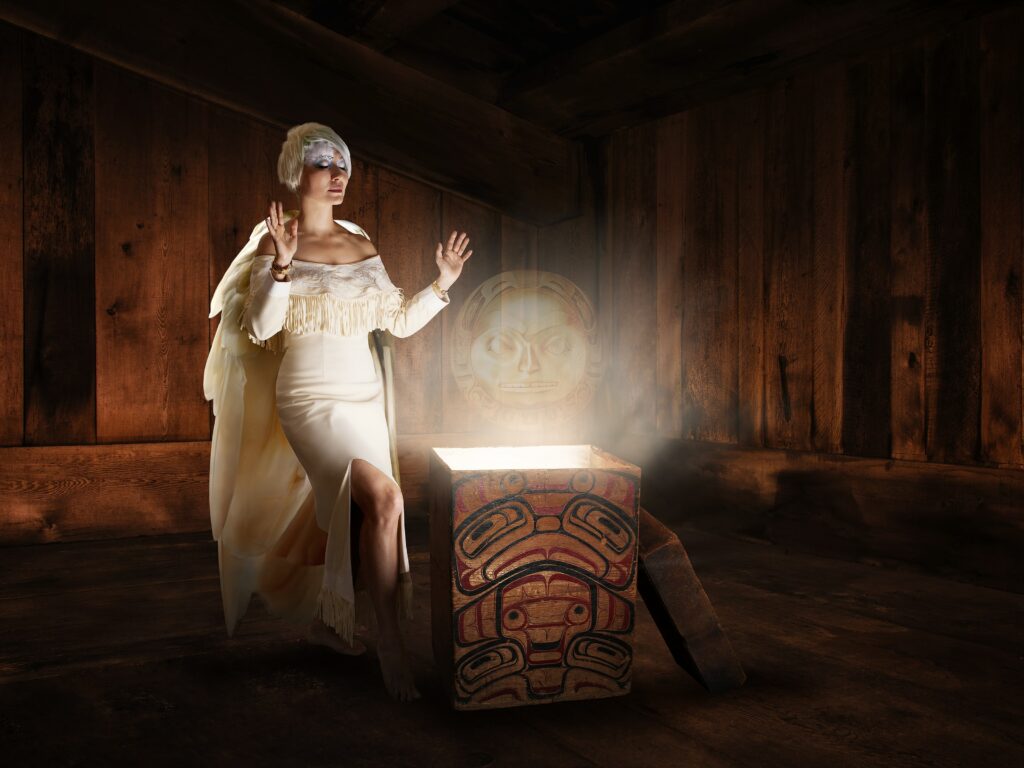 Williams-Davidson says her show "Out of Concealment aims to help people – both within the Haida Nation and the public – to see the feminine and powerful landscapes and seascapes of Haida Gwaii through a worldview where the land and sea are human and worthy of respect, not to be dominated and exploited." She says "I believe that if these Supernatural Beings could speak, they would express hope that humanity will recognize the supernatural core of its existence, and the inextricable and fragile interdependencies between humans and the land and sea."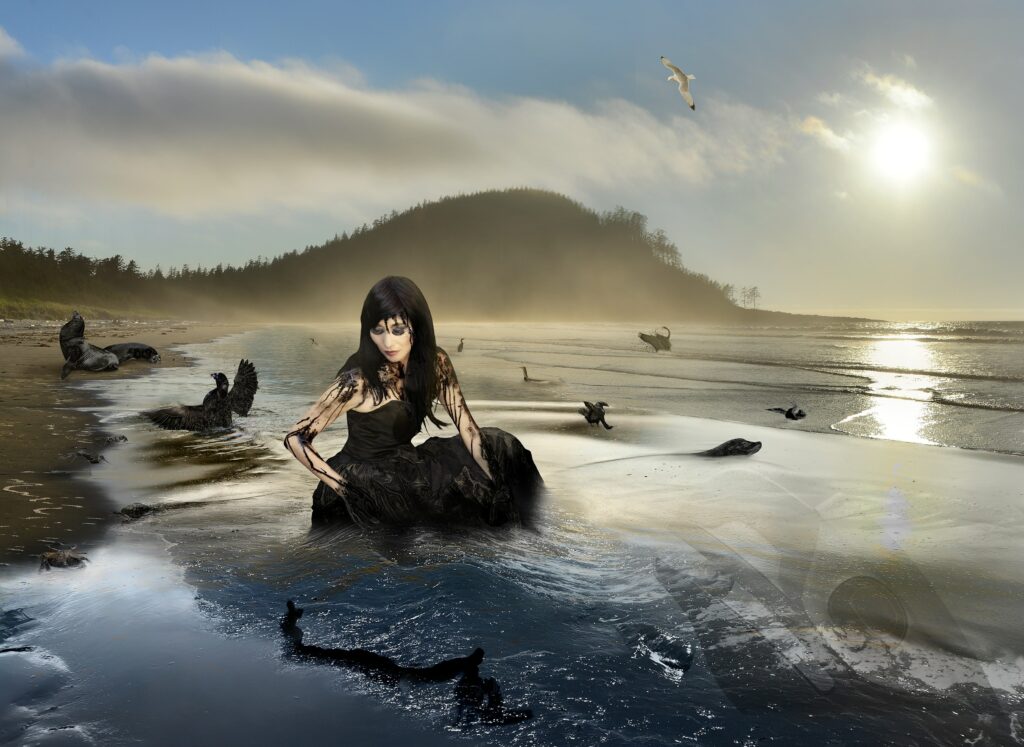 Along with the photomontages are short film and sound installations, some of the costume pieces worn by the artist in her works, and even a large black thunderbird with beautiful outstretched wings that you are invited to pose with for a selfie to bring a memory of the exhibit home with you. Out of Concealment – Female Supernatural Beings of Haida Gwaii is on until April 5, 2020 at the Bill Reid Gallery, 639 Hornby Street, in Vancouver. For more information, visit www.billreidgallery.ca.
Story by Linda Rae for West Coast Curated