Photograph by Mike Wakefield
Originally from France, the visual artist Sandrine Pelissier has been living in North Vancouver for the past 18 years. She is an active member in her community, as a co-founder of the North Shore Art Crawl, a co-founder of a weekly life drawing group, a board member of the North Vancouver Arts Council, and has been invited as a juror for public art, art grants and juried exhibitions.
Sandrine is very inspired by her Pacific west coast surroundings and paints the BC landscape, figures and still life, mixing elements of drawing and patterning into her paintings. Her work has been collected and exhibited extensively in Canada and internationally. She is also part of the Art Rentals and sales program of the Vancouver Art Gallery.
1. What medium do you work in?
Acrylic mixed media and lino printing.
2. What are you working on right now?
I'm currently working on a series of limited edition lino prints, inspired by the models of our life drawing class.
3. How does the city or community you live in inspire your art or artistic process?
I am part of a life drawing group and the models in that group inspire me to show female nudes in a non-sexual or exploitative way, with a diversity of models (age, body shape…).
4. What piece of artwork changed your life?
All of the posters by Henri de Toulouse Lautrec because of the simplification of design and his use of flat colours in large areas.
5. Where do you go, in your community for inspiration?
My life drawing class.
6. What is one word or phrase you use all the time?
I am a perfectionist so my key phrase is "perfection is the enemy of done", so I can stop at one point.
7. Who would you most like to sit next to on a flight across the country (dead or alive)?
I guess (Donald) Trump to try to get some sense into him.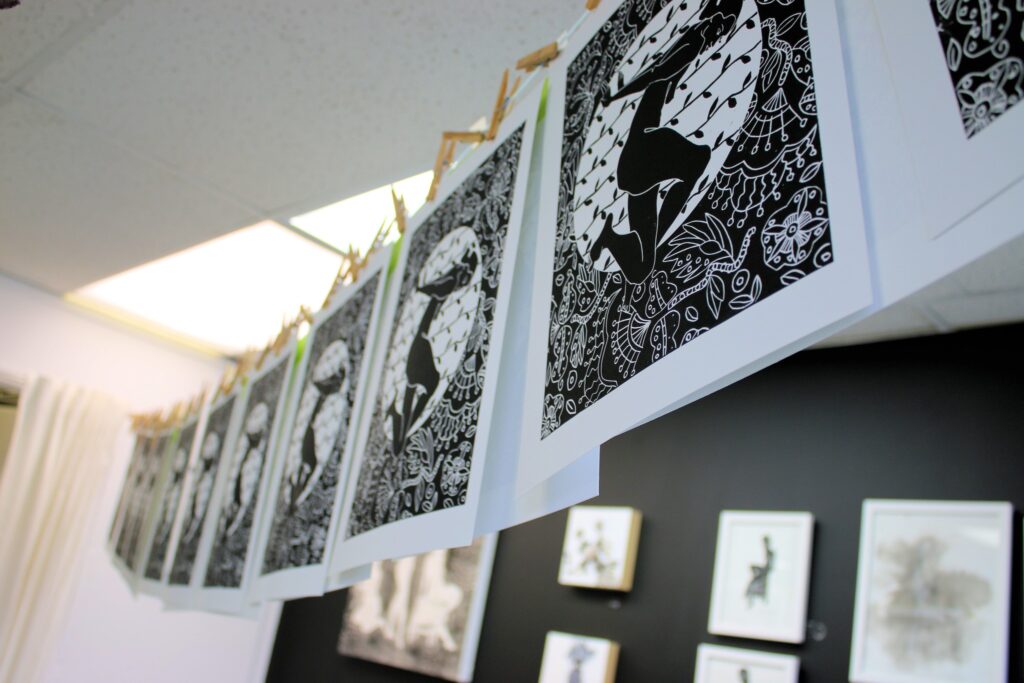 Photo: Linoprints drying, Photographer: Sandrine Pelissier
8. What was the first album/record you bought with your own money?
The Cure, Three Imaginary Boys.
9. What book should everybody read?
Maus by Art Spiegelman. He elevated the art of the comic book to the level of the best novels.
10. What can you not get enough of?
Biking on the Spirit Trail on a beautiful day.
11. What can take a hike?
Divisive politics.
12. What is your favourite invention of the last 100 years?
I would have to say the Internet as a way to access limitless free resources. Although that is a double-edged sword.
13. What is the greatest lesson you ever learned?
If you feel like doing something creative, do it, even if it does not seem to make sense at the time. You will understand why you had to do it later.
14. If you could have any talent (other than yours) what would it be?
Public speaking.
15. Where would we find you on a day off?
Enjoying a matcha latte, at a terrasse, after a bike ride.
Learn more about Sandrine's work at www.sandrinepelissier.com.
Artist Inspiration highlights local artists working in different mediums and communities in a series of 15 questions so you can get to know them a little better.