Written by Natasha Ponda
If you could know your own future, would you choose to seek it out? Would you have any questions? And what exactly would you want to know? For the openly curious, Alison Yip's current show, Soma Topika, takes a courageous plunge into the unknown to explore just that. 
At the Contemporary Art Gallery, you will find that knowing the future is slightly more complicated than just choosing the right questions and seeking a singular answer. For starters, it depends on who you ask, which is where Yip's work begins.
The show manifests into split interpretations of a series of personal questions Yip poses to both a neo-shaman and a psychic. Each piece is titled as the question asked, but is conveyed and painted as the message personally understood.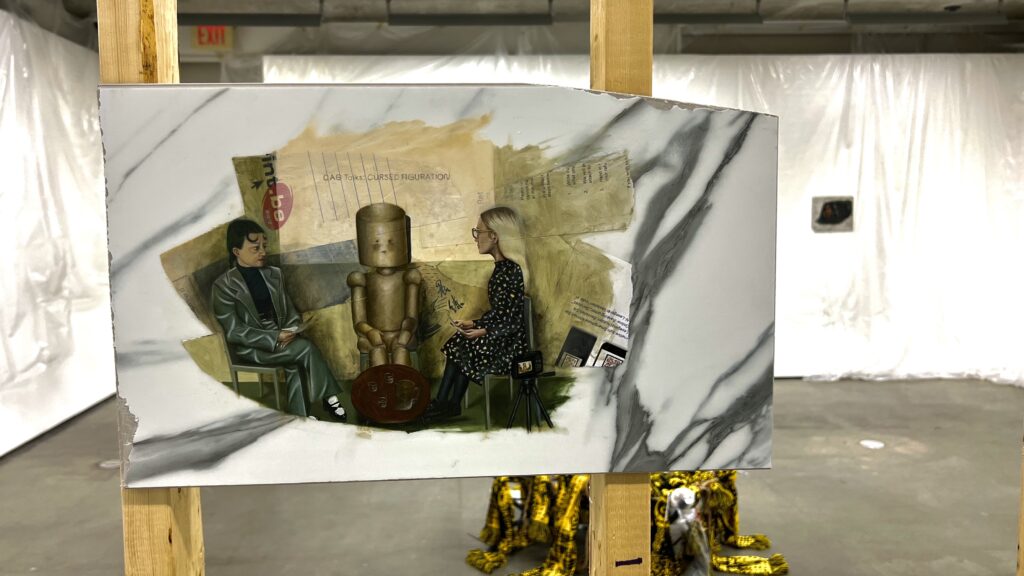 Based on the answers given by her spiritual forecasters, potential realities diverge into multiple paths. The room reflects the parallel though differing suggestions she receives. Fusing these answers into her own interpretations, Yip paints transient portals of figurative situations.
Pieces of metal sheets and laminate floor tiles are kept suspended as panels on which she chooses to paint these parallel interpretations. Taking materials of construction, she doesn't allow a completion through traditional use. What Yip demonstrates is the focus on process as opposed to a fixation on completion.
Part dream and part memory, the universal relatability of the portals she paints are of moments you would find yourself in. The situational moments she paints straddle dreams and potential anxieties. Wouldn't you love to go to a party, but definitely not be embarrassed in front of a crowd of people? What Yip's work communicates to me is a message of encouragement: that it takes courage to face an inevitable future but when it's not yet fully confirmed, allows you the bravery to explore futures not yet set in stone.
Peer into alternative realities at the CAG until May 1, 2022.
Entry is free or by donation.

cagvancouver.org

*All photos by Natasha Ponda