Written by Natasha Ponda


Sankofa: a word of West African origin, conveys the value of connecting your heritage to the present in order to properly face your future. Inspiring the convergence of 100+ objects of art, history, and tradition, the Museum of Anthropology's current exhibition, Sankofa, morphs into an embodiment of the word itself.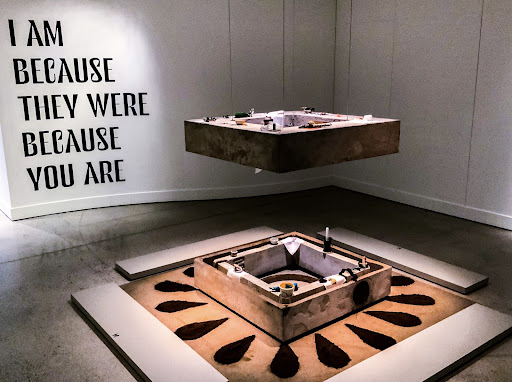 West African culture is a complex interweaving of powerful narratives. Through the network of art forms on display, the importance of ancestry is found in many aspects of West African identity. One concept that stood out to me as carrying the definition of remembering heritage, of Sankofa, was the recurring theme, nature, and notion of Orisha. In African lore and mythology, orishas are spirits or deities, and can also mean 'ancestors'.
One of many examples on display is an Engungun costume. Egungun, meaning "powers concealed" or "dry bones (of ancestors)," is a masquerade that provides an important connection between the worlds of the living and the dead. Made under special instruction and from prized cloth, it is used in an Engungun celebration originating from the Yoruba people (South Western Nigeria). The heavily stitched costume, mask, and regalia becomes a performative manifestation of an ancestor who returns to his community for remembrance, celebration and blessings. Literally stitched into the fabric of dressage itself, it provides a visual witness of memory and ancestry through movement and performance.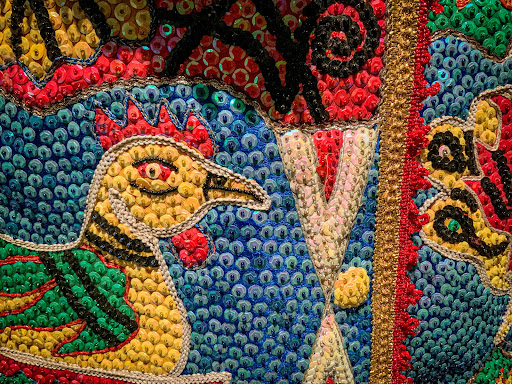 Orisha and the spirit of tradition also allows ideas concerning black history to emerge through contemporary eyes of artists and their works. Odera Igbokwe, born to Nigerian parents and now based on the unceded territories of the Masquem, Squamish and Tsleil-Waututh Nations, explores storytelling through Afro-diasporic mythologies and black resilience.
Their work seeks to mend historical fractures created by displacement. Linked by language, Igbokwe creates visual representations of personal orisha (spirit) to establish a connection with ancestral orisha. By personifying inner and ancestral spirits, their paintings and illustrations serve as corporeal connections to black history and heritage.
A sample of this can be seen in 'Nine Negro Teeth', a digital print based off the stories of enslaved Black people and how their teeth were exploited for George Washington's dentures. In Igbokwe's illustration, the teeth transform into ancestors, as human figures mirroring generational traumas of Black bodies. But more importantly, as symbols of Black resilience, etching eternal presence and determination into each one of their faces.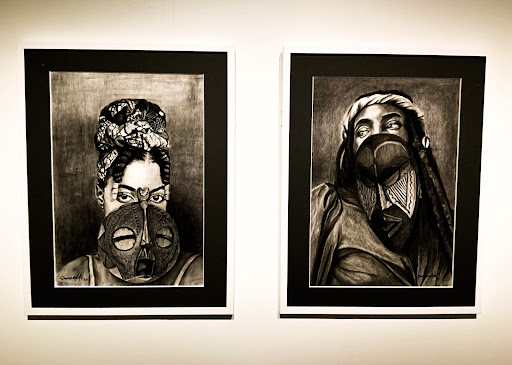 Reflecting the complexity of Identity itself, Sankofa, the show, is about self-discovery. Using art, artifacts, clothing, ceremony, and storytelling to retell history, it's a rich exhibition with plenty to take in, unpack, and explore. Side by side, the union of cultural artifacts and contemporary artworks encapsulate West Africa's rich history and its vast cultural outpour into diasporic identity.

"If there is one unifying characteristic of black identity… it is… the talent for reinvention and… new versions of traditional identity." – Wayde Compton, Bluesprint: Black British Columbian, Literature & Orature, 2001.


Sankofa is on until March 27, 2022

moa.ubc.ca
@moa_ubc